What Makes Twitter The Best Social Media Tool?
Why do we love twitter, the gargantuan social media platform that everyone loves but keeps their revenue models close to their vest?
There are dozens of reasons–minor ways it improves offerings from facebook, Google, and other platforms seeking to make a mark of their own.
For starters, you can follow without friending.
You can access a dynamic streams of ideas and resources without ever saying a word.
It's streamlined–there are links and ideas, and that's it.
You can dialogue, monologue, or lurk. It discourages (though doesn't prevent" pretension, and encourages a natural transparency.
But more than anything else, it simply works. It doesn't floor you with any single feature or gimmick, but it's reliable, always on, and easily accessible for any reason.
The following visual does an excellent job of clarifying just what makes twitter such a powerful tool–and just like twitter, in very simple, accessible terms.
1. It makes conversation quick and easy
Unlike virtual worlds and even blogging, signing up with and using twitter is incredibly rapid and takes a relatively low time investment. The service isn't very complez and only supports a handful of features.
2. It's simple and mobile
(Tweets) can be sent and received via PC and mobile devices. Mobility is making twitter a powerful tool allowing extended groups of "friends" to stay in touch while away from their PCs.
3. There is no right way to use it
Some twitter fans only want to share "what they are doing," others want to "chat" with each other and swap links. There's really no wrong or right way to use the service, and that's part of the appeal.
Incidentally, these are also reasons to dislike it, but we digress.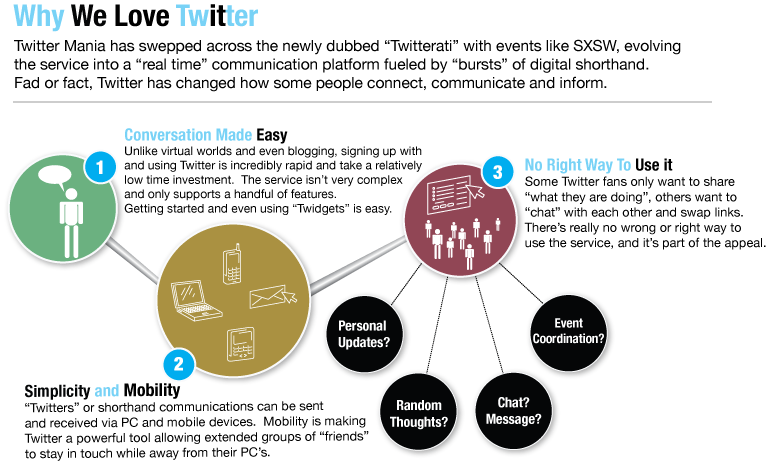 Image attribution flickr user tanjadebie and rosauraochoa