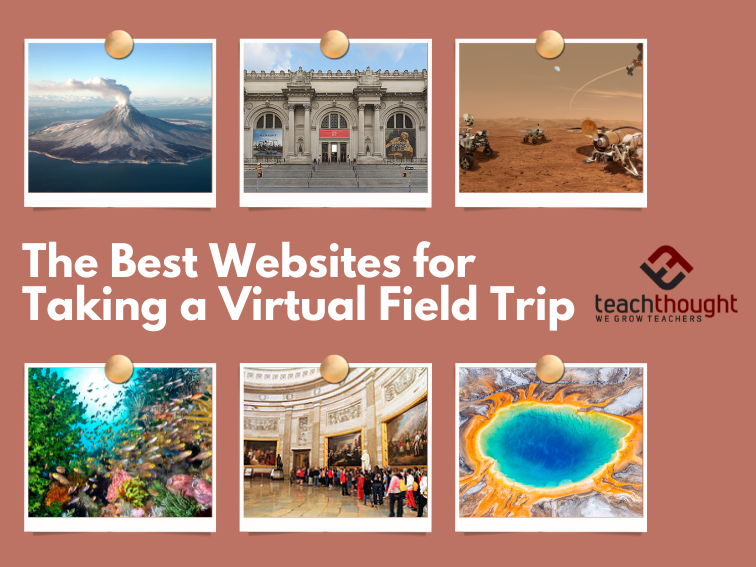 What Are The 45 Best Websites For Taking A Virtual Field Trip?
Don't have the budget for a field trip to The White House or Mount Everest? Take a virtual field trip with one of these websites. Tour the Smithsonian National Museum of Natural History. Journey through The Grapes of Wrath using Google Earth. Keep a travel journal as you visit city after city and read about their cultures and histories.
What other websites have you used to take a virtual field trip?
The 45 Best Websites for Taking a Virtual Field Trip
Access the internet's most expansive collection of high quality 360 degree images and videos.
Explore a 3D simulation of the surface of Mars, as recorded by the Curiosity rover.
Sort through 4535 panoramas, 175 360 degree videos, and 386 of Earth's most astounding locations in this stunning curation of virtual reality field trips.
Formed in 1988, this joint program of the U.S. Geological Survey studies Alaska's most dangerous volcanoes in order to predict and record their activity and anticipate hazards to natural life and property.
Edge up close to archaeological digs, gaze at the Great Pyramids, and float down the Nile with the Smithsonian Journeys Ancient Egypt field trip.
Get a glimpse of life inside the royal family — access points include the Grand Staircase, White Drawing Room, Throne Room, and Blue Drawing Room.
Become immersed in the 360 degree environment of Colonial Williamsburg, which mimics the architecture and interior design of the times with impeccable research-based accuracy.
Not only does Discovery Education grant access to some of the world's most incredible landmarks, but it also delves inside major organizations and gives students a look into specific careers.
Designed specifically to combat xenophobia, Dollar Street hosts over 30,000 photos from 264 families in 50 countries across the globe.
Home to over 1,000 gargantuan statues (called moai), this virtual field trip takes learners through Easter Island and explains the story of how land cultivation and the Polynesian rat led to mass deforestation and population decline.
Ellis Island
A virtual field trip to Ellis Island provides an excellent opportunity to teach students about immigration to the United States.
Curated by the Carnegie Science Center, Exhibit Explorations offers four thematic experiences for students in grades 3-12: engineering and robotics, animals and aquaria, space and astronomy, and health and the human body. Note: there is a fee of $200 per classroom of up to 35 students.
Explore Canadian apple orchards, animal farms, dairy production, grain harvesting, and food processing plants from your smartphone.
This is not just any museum! Get lost in the 'Blue House,' where Frida Kahlo spent most of her life. It is filled with artworks by Kahlo and her artist husband, Diego Rivera, as well as sculptures, photos, documents, books, furniture, and beautiful gardens.
Over 2000 top museums and archives from all over the world have partnered with the Google Cultural Institute to provide free virtual field trips and immersive learning experiences. Users can search by theme, collections, mediums, artists, movements, historical figures, historical events, and popular topics.
Journey through cultural, historical, and geographically significant locations all over the world. Stunning explorations feature the Grand Canyon, the Taj Mahal, Mont Blanc, and many more.
With English broadcaster, nature historian, and author David Attenborough as a guide, students 'board' the Alucia to learn all about the history and ecology of the Great Barrier Reef.
Geared for students in grades 6-8, this virtual field trip teaches about coastal wetlands, lake sturgeon, invasive algal blooms, and other key components of the Great Lakes' ecosystem.
This free course, featured on Khan Academy, highlights the expertise from Disney Imagineers in a range of categories. Students can immerse themselves in story development, conceptual design, math, physics, engineering, character development, and theme park design.
The Met 360 project takes tourists through the Great Hall, Met cloisters, Temple of Dendur, Met Breuer, Charles Engelhard Court, and Arms and Armoir Galleries.
With this interactive 3D map of Mount Everest and the Himalayans, users can learn about the history of the dangerous ascent and climb to the peak from the safety of their own classrooms!
Boston's Museum of Science continues to add more exhibits to excellent curation, including Sounds of the Arctic, COVID-19, Bird Flight Patterns, and The Science Behind Pixar.
NASA at Home: Virtual Tours and Apps
NASA grants free access to their facilities, laboratories, and operation control centers in this hub of featured tours. Explore Artemis, the International Space Station, astronaut training simulations, Hubble Space Telescope, a tour of the moon, and other planets.
Students can get an insider perspective of supersonic wind tunnels, electric propulsion laboratories, simulated lunar operations, and zero-gravity research facilities.
Feel like you're a part of history through the National Constitution Center's virtual exhibits, which include Civil War and Reconstruction: The Battle for Freedom and Equality, American Treasures: Documenting the Nation's Founding, Hamilton: The Constitutional Clashes that Shaped a Nation, and Signers' Hall.
National Geographic 360 Videos
This is hands down one of the best free curations of virtual field trips. Immerse yourself in Viking battles, underwater national parks, inside oil spills, New Zealand caves, and over 50 of the world's most incredible locations and habitats via National Geographic's YouTube channel.
Wander the ancient paths of Pompeii to understand the devastating volcanic eruption of Mt. Vesuvius in 79 AD, and the quick aftermath that covered an entire city in ash.
Reefs Go Live
The Central Caribbean Marine Institute's evolving curriculum offers lessons designed to connect learners with real-time coral reef activity.
Shedd Aquarium
Offering virtual field trips for students in grades K-8, the Shedd Aquarium features exhibits on turtles, animals of the Amazon, penguins, sharks, animal defenses, coral reef relationships, squid dissection, biomimicry, and other programs. Note: while some programs are free, most run from $95 to $125 per program/group.
View the constellations of the night sky, atmospheric conditions, and other deep sky objects from any location in the world.
The American Museum of Natural History
Customizable field trips feature the Butterfly Conservatory, Hall of North American Mammals, Hall of Planet Earth, and Hall of Human Origins. The AMNH offers a free downloadable Teacher's Guide to help support students during the virtual field trips.
The Bronx Zoo
Bring one of the best zoos in the U.S. to your classroom! Virtual field trip offerings include exhibits on animal senses, animal diversity and adaptations, ecosystems and habitats, junior scientists, wildlife superheroes, and conservation innovation (for grades K-8).
Boasting over 2,000 years of history and more than 3,000 miles across many provinces in Northern China, the Great Wall of China is accessible through virtual tour, which includes 14 high resolution scenes.
The National World War II Museum offers a free virtual expedition to learn about the science, facilities, and events of the creation of the atom bomb. Explore nuclear reactors, undercover laboratories and test sites, and innovations that brought about the end of World War II.
Visit some of the U.S.'s most popular national parks and landmarks, including Crater Lake, the National Mall, the Statue of Liberty, Yellowstone, and more!
This curation of virtual field trips enlightens students on the secret life of corals, the Borneo rainforest, American deserts, Chinese great forests, and Peruvian coastal ecosystems, to name a few. Educators can also access curriculum resources designed for students ages 5-11, 11-14, and 14-18.
The Smithsonian National Air & Space Museum
Take a look through the National Air and Space Museum in Washington, D.C., as well as the Steven F. Udvar-Hazy Center. Students can also immerse themselves in the virtual cockpits of various spacecrafts, aircrafts, and orbital workshops.
The Smithsonian National Museum of Natural History
Feel like you are inside the Smithsonian NMNH permanent exhibitions, and view current exhibitions, which could features subjects like the African Bush Elephant, Hall of Fossils, Eternal Life in Ancient Egypt, Hall of Geology, Gems, and Minerals, and Sea Monsters Unearthed: Life in Angola's Ancient Seas.
Venture inside all of the public rooms on the Ground and State Floors of the White House.
This virtual tour offers unique insight into the importance of the Doomsday Clock, which was designed to warn the public about how close we are to destroying the planet Earth with manmade technologies.
This 11 minute video takes students 'under the canopy' — the best way to explore the depths of the Amazon rain forest from thousands of miles away!
Gaze at the Capitol Rotunda, National Statuary Hall, Library of Congress, significant Congressional caucus rooms, and more.
What was once Google Expeditions is now VR Expeditions 2.0, designed by RobotLAB. Educators can submit a quick form to gain information on available tours by elementary, middle, and high school grade levels.
Explore daily live safaris broadcast from the African wilderness! The virtual field trips allow you to interact with game rangers, ride in safari vehicles, and view wildlife from the vantage point of drones, balloons, rovers, remote cams, and on-foot journeys.
One of the best virtual field trip hubs on the internet, YouVisit grants access to colleges and universities, businesses, events, and famous landmarks, such as Machu Picchu, the Forbidden City, Ancient Rome, the Palace of Versailles, the Alamo, and the Louvre Art Museum.