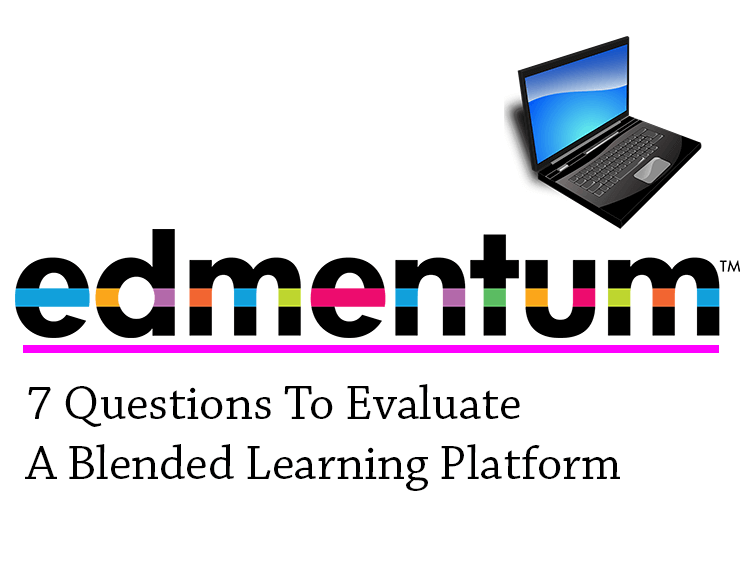 Evaluate A Blended Learning Platform With These 7 Questions
contributed by Rob Rueckl, edmentum.com
The last two decades have seen a continuous transformation in schools around the world, as districts and administrators tailor their classrooms to meet the standards of the digital age. According to the Bill and Melinda Gates Foundation, 31% of teachers across all grades now use technology and digital tools as part of their efforts to personalize learning.
But finding the right technology solutions can be daunting.
For principals and superintendents, the process starts with choosing a blended learning program that is best suited to their specific needs and situation. Based on our experience partnering with thousands of schools nationwide to deliver customized technology solutions, here are seven questions you might find helpful in evaluating your blended learning investment options.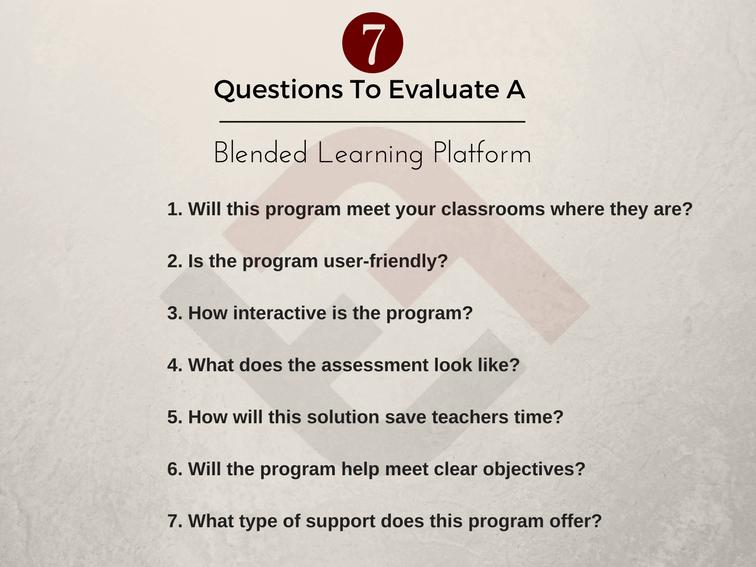 7 Questions To Evaluate A Blended Learning Platform
1. Will this program meet your classrooms where they are?
Effective education technology is never "one size fits all." Every school district is at a different place incorporating technology into their classrooms. Superintendents must evaluate their progress in adopting technology and assess if their school will be able to fully operate the program given their existing resources.
Factors to consider include number of devices available to students, internet bandwidth, and number of support staff. The learning solution must be specifically geared to their school's competencies.
2. Is this program user-friendly?
While education technology grows ever more complex in its capabilities, this should never come at the expense of ease of use. Simplicity should be the goal to ensure usability in the classroom. Decision-makers will look at such factors as ease of interface engagement, reactiveness, visual display, navigation, and data display.
Programs should be easy to use across all user bases, fitting the unique needs of administrators, teachers, and students.
See also How–And Why–We Flipped Our Teacher Staff Meetings
3. How interactive is the program?
Any worthy technology solution will enable seamless interaction with students and teachers, offering highly interactive interfaces and dashboards to create a welcoming space for teacher-student interaction on a regular basis. Ideally, students should be able to choose their own virtual activities and exercise control over their own learning, while teachers are empowered to step in whenever a student needs deeper instruction and guidance.
4. What does the assessment look like?
An effective personalized learning solution will feature tools that help educators understand which instructional approaches and interventions are working and how a student's skills are evolving. Not only should the solution help in evaluating students' progress, it should also offer actionable data and recommendations on the next best steps for the individualized learning path.
5. How will this solution save teachers time?
Principals and superintendents should consider how a program will really make a teacher's minutes count. Will they save time giving instruction? With administrative work like organizing and grouping? With grading lessons and quizzes? Or will it simply add to the demands on their time? One goal of technology should always be to help teachers spend more one-on-one time with students.
6. Will the program help meet clear objectives?
Will the program display goals that are compatible with your specific state, district or school standards? Does it concentrate on instruction, assessment or both? The program should be strong in areas that the school is currently weak in, and offer solutions to improve on those weaknesses. Look at the program's key components and evaluate if these are the elements your district needs.
7. What type of support does this program offer?
A great learning solution will support teachers and students in myriad ways. The program should offer advice and instruction during the introductory phase and throughout the course. Resources should be easily accessible through things like links to online help and easy-to-follow instruction manuals.
Technology can be a powerful resource for teachers, students, districts and schools, but finding the right solution requires due diligence. A great solution will be flexible, interactive and user-friendly, with excellent technical support. It will meet schools where they are, deliver assessment and data against clear objectives, and save teachers time.
Asking these seven questions will help educators identify solutions that meet these criteria and benefit them the most.
Rob Rueckl is the CEO of Edmentum. Built on fifty years of experience in education, Edmentum solutions currently support educators and students in more than 40,000 schools nationwide. For more information.