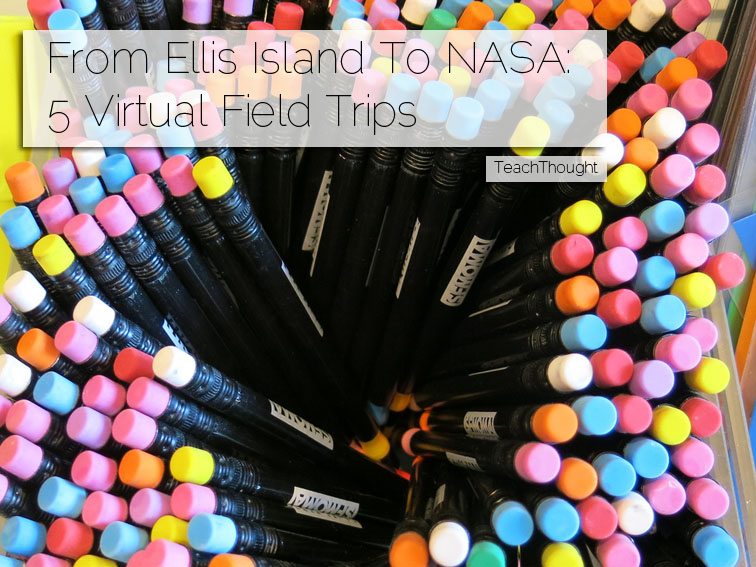 From Ellis Island To NASA: 5 Virtual Field Trips
contributed by Lisa Daniels
In an age of shrinking budgets and rising fuel prices, an increasing number of schools are looking to virtual field trips as a less expensive way to provide out-of-the-classroom experiences.
Virtual field trips began to appear in the mid-1990's, and have slowly gained traction. They naturally complement traditional classroom settings. But, they are also a great tool for parents and homeschooling groups, specifically at the elementary and middle school levels. At their best, virtual field trips:
reinforce classroom learning and deepen conceptual understanding,

provide real-world, hands-on experiences,

connect students with experts, members of the community, role models and mentors,

and spark students' imagination and creativity.
Planning Your Trip
From Ellis Island To NASA: 5 Virtual Field Trips
Just as with a regular field trip, a well-planned virtual field trip should dovetail into your curriculum. It should also include an engaging platform that will hold students' interest and fully immerse them in a subject. Perhaps the greatest challenge of the virtual field trip is wading through the scores of Web sites that promise to be virtual field trips. Many are little more than pages of text with moving graphics.
Your best bet is to explore well-known institutions. But, even those can fall short. Take the Smithsonian Museum of Natural History. It offers a virtual tour that allows you to "walk" the halls of this incredible museum. The downside is that you can't interact with most of the exhibits, and that's what keeps it from feeling like a real field trip.
For a virtual field trip to truly be successful, it must have the power to transport your students to another place. One of the hallmarks of a great virtual trip is an engaging video or real-time live stream. It will also have activities for virtual hands-on exploration and include resources and materials for teachers. Here are five examples of field trips that make the grade.
Perhaps the gold standard in interactive, virtual field trips. This full-on immersion into American history is a live stream or broadcast program complete with characters and experts. As a part of the live event, students can call or email questions directly to the participants. It comes with access to videos and primary sources. And, they are tied to common core curriculum standards.
The only downside is the cost: $50 a trip, $250 for the year's series.
2. Ellis Island
With its virtual trip to Ellis Island, Scholastic has done an outstanding job of integrating video, primary source documents, audio and images into an engaging format. It's easy to navigate and beautifully laid out. Unlike Colonial Williamsburg, students will not have the opportunity to interact "live" via email or phone, but this is really the only negative in an otherwise stellar resource.
3. NASA Digital Learning Network
How many kids get to say the words "all clear, mission control" to someone who actually works for NASA? Give your students the chance to go to Mars or explore asteroids with this interactive digital program. These events are conducted via video conference or Web conference. Students can engage directly with NASA personnel and, in some instances, with students from other schools.
NASA has tied the programs to NSTA science standards. They also have additional resources for students like the NASA Station Spacewalk Game. They provide teaching tips and activity suggestions.
4. MoMA Destination Modern Art
Done in a cartoon style, this site offers a tour of Museum of Modern Art and the P.S. 1 Contemporary Art Center in New York. While it does not have video or live-stream elements, it is a clever way to access a MoMA gallery without traveling to Manhattan. As students "walk" through the gallery, they click on a piece of art to find related activities.
They will hear facts about each artist and can closely investigate each piece. They may be asked to write a poem or a story or create their own works of art on the screen. It also has ideas for projects they can do at home or in the classroom, and provides additional materials for teachers, tips for teaching with art, and even apps that allow kids to create and share their art.
5. Create Your Own Virtual Field Trip
Not every classroom or learner will be satisfied with a prepackaged virtual field trip. Educator Christi Wilson encourages teachers to tap into the power of Skype to bring experts or authors or community members into their classrooms.
(To a point, here are 50 Ways To Use Skype In The Classroom.)
You could connect with an illustrator and take a virtual trip to their studio to learn about creating children's books. Or, perhaps you could virtually visit a scientist's lab to learn more about their work. These kinds of virtual field trips might require a bit more legwork from you, and you would want to provide a small honorarium for your speaker.
However, they give you to access a truly unique and valuable experience without ever leaving the building.
Your Contribution
Now, let's make this beginning list of 5, 50. Take to the comments with resources you're aware of, or even virtual field trips you've taken yourself.
Lila Daniels is a freelance writer living in southern Vermont. Lila has a degree in Fine Art as well as a Master of Arts in Teaching. She has worked in higher education publishing and as a high school teacher. As the mother of two boys, Lila knows the value of creating engaging, interactive learning experiences for all children, and freelance writes for onlineschools.com; image attribution flickr user torbakhopper