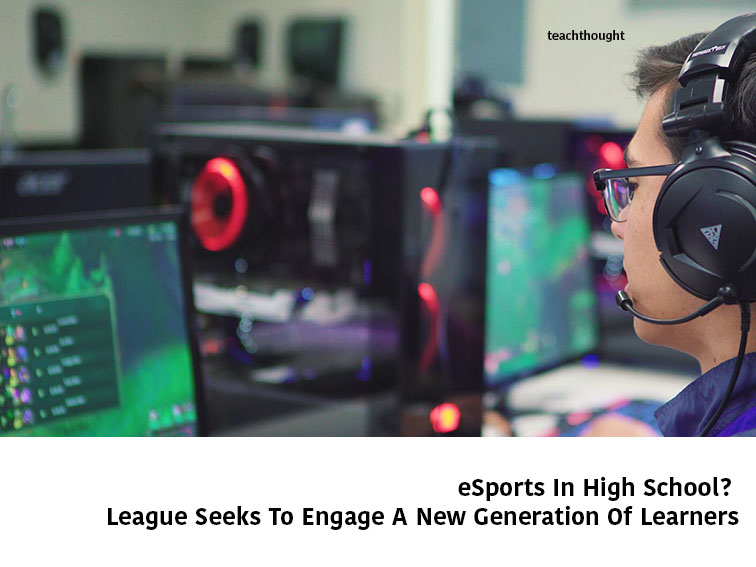 eSports In High School? One League Seeks To Engage A New Generation Of Learners
contributed by Claire LaBeaux
The North America Scholastic Esports Federation has enthusiastic support of teachers and administrators–and it's drawing in a subset of students that typically are not otherwise engaged in school.
eSports competition is facilitated through organized, multiplayer online video game competitions. eSports isn't the 'next big thing,' it's the current big thing. Youth are gaming in record numbers, and the Federation enables kids to do what they love in a positive environment with guidance from team coaches and near-peer mentors.
Anthony Saba is Head of School at Samueli Academy, a charter high school with two teams. He said, "Kids are going to game anyway, so creating a healthy atmosphere with academic accountability is a good thing. Research demonstrates a strong alignment between competitive engagement and in-school academics."
"It's also great for school culture. The broader the choice of extracurricular activities, the more likely we are to meet diverse students' needs and interests and get them invested in school," continued Saba. "We had over 60 students (out of 500) come to an eSports interest meeting… we've never had that many students show an interest in any one sport or activity (except maybe soccer) since the school opened. The overwhelming majority of our club and Federation players are not involved outside of the classroom in any other way. The Federation really has helped frame a great experience, with academic expectations and requirements, for students who would otherwise go straight home at the end of every day."
While gameplay and rivalries are the cornerstones of the Federation, experts see an opportunity to weave STEM (science, technology, engineering, and mathematics), English Language Arts (ELA), and social emotional learning into one of the most popular pastimes for students today. eSports strategically connects students' natural interests with the skills they'll need to land the coveted careers of the 21st-century.
Dr. Mimi Ito, Professor of Cultural Anthropology at UC Irvine, researches how young people engage with digital technology. "eSports provides a way for young people to hang out with their friends in a really active and positive way," she said. She recognizes the amount of work it takes to get good at games like League of Legends (one platform used by NASEF). "Students are engaged in 21st-century skills and problem-solving, and they're understanding how to connect their own problem-solving with a whole community of players." 
The ability to think creatively to solve problems and to work collaboratively and productively with a team will equip students for evolving careers in all STEM fields (not just those related to gaming).
"The Federation has been carefully constructed with an academic framework incorporating STEM, ELA, and social emotional learning, as well as Career Technical Education," said Constance Steinkuehler, professor of informatics at UC Irvine, and leader of curriculum development and related research. "This is relevant, forward leaning, and tied to future careers both inside and outside the tech industry."
Educational elements include:
| | | |
| --- | --- | --- |
| Code of conduct | Hardware / building a PC | Managing people and resources |
| Healthy gaming and nutrition | Analyzing game data | Professional communication |
| Biomechanics of gaming | Casting and streaming a game | Collaboration |
| Participating in an online society | Strategic aspects of League of Legends | Event planning |
Through the Federation's spring 2018 season, Steinkuehler and a team from UC Irvine evaluated existing and potential alignments between organized esports and school subjects, as well as social-emotional learning. A full high school curriculum centered on eSports is also under development.
Based on the early success of the Federation, plans are underway to make the combination of a structured eSports league and an eSports-centered curriculum more widely available in the future. Specific questions can be directed to Federation leadership, and you can learn more about the Federation at ochighschoolesports.org.
Tiffany Bui, a biology teacher at Mission Viejo High School and General Manager for the school's eSports team, summed up the experience of the team so far. "There's a lot of team building and problem-solving that happens while playing in the Federation," she said.
"It doesn't feel like learning to the kids because they're having so much fun, but they are! Through the coaching and development, each student is improving as a person and a player. In just a few short weeks, I've watched their communication skills improve, seen them cross language barriers and gender stereotypes to welcome new players to the team, and observed them trying new maneuvers and adjusting their gameplay to adapt to each other's styles and strengths.
"It's all very exciting!"