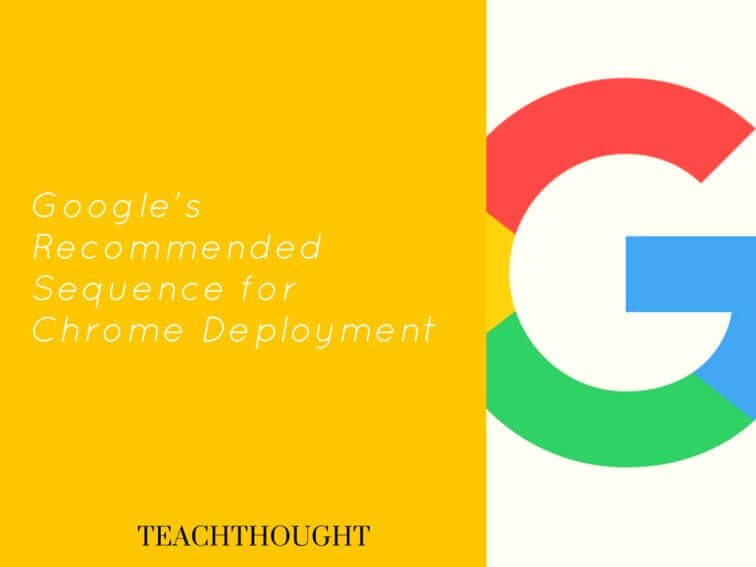 A Google Chrome Deployment Guide For Schools
by TeachThought Staff
Considering Google Chromebooks for your schools or district? Interested in what the rollout might look like, as opposed to Windows devices or iOS?
Or maybe you're ready to deploy them and want to know what to look for–updating to the latest version of Chrome, handling networks and passwords and related logistics? Google's first-party guide for Chrome Deployment should be a first-stop for you, even if it fails to answer every question you have.
Google's Recommended Sequence for Chrome Deployment
Google recommends the following sequence for Google Chrome deployment:
"The Chrome Device Deployment Guide is for IT administrators who want to deploy Chrome devices in their school or business. It covers how to prepare, enroll, and connect Chrome devices to your network. This guide also instructs you how to use the Admin console to remotely manage Chrome devices, including how to set and deploy device and user policies across your organization.
This guide is a companion to the Chrome Device Quick Start Guide and describes in greater detail the key decision points when deploying Chrome devices to a large school or business. This guide also covers the key settings to configure, including cloud-based policies, Chrome apps, and how to deploy Chrome devices for specific use cases."
You can also download the pdf here, or directly from Google if the embed doesn't show properly for you.