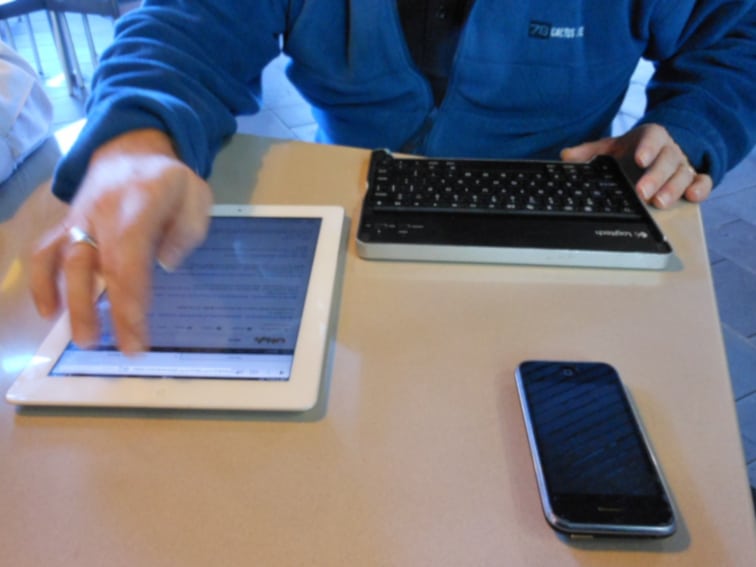 How To Take Your Teaching Experience Online With Video Courses
contributed by John Mason
Disclosure: This content was created and promoted by IG
Online courses are an excellent way to generate passive income.
If your online course becomes a success, you may even make it a full-time job. This is good news for teachers. However, taking your teaching experience online has a few nuances you should understand. For example, video quality normally needs to be very good if you're uploading courses for publishing. You'll also need to know about sound quality, creating online sections, quizzes, and there's even marketing to conquer. This all may sound a bit overwhelming, but once you launch your first video in the online marketplace, the following videos are much easier.
Ready to launch your online teaching career? Let's dive in!
Brainstorm a Course Topic
Your first video topic is important because it sets the tone for future videos. You want to choose a course topic that you are knowledgeable about, as well as passionate.
The best online courses always have upbeat, passionate teachers.
Teaching online needs to be toned down for the everyday person. You don't want to confuse your online students with heavy industry jargon or complex algorithms right out of the gate. Keep your topic fun, natural for both you and your audience, and above all, something that people want to watch. You could have the best online course in the world, but if no one wants to learn about it, you'll end up with zero students.
Ensure a Strong Market Demand
It will take you a few weeks to create and launch your online course, so be sure there is a market demand. This ensures you didn't sink hours of time into an online teaching video without a return on your investment. One of the best ways to find out if your online course has a following is to search your course idea on Udemy, Coursera, or other online learning platforms.  
According to MIT Technology Review, "More than 29 million people have registered to take classes at Coursera, an online platform that hosts more than 2,000 courses from universities such as Stanford and Yale." Even if there's a lot of competition, go for it, because this shows a high demand for your topic of choice.
Put Together Your Online Course Content
This may be one of the most challenging parts for new online teachers. The reason is all about finding time to get your course content researched and typed out into a lesson outline. There is also an element of procrastination. One great online course strategy to get this step accomplished is to watch a few highly rated online courses to see what their flow is. You may have loads of knowledge on the subject, but you don't want to overwhelm your students.
What are the most valuable takeaways for the online course topic? What do students need to learn to be successful? What are those steps? These questions can help you decide what to put into a structured course outline, and what to avoid.
Plan Content Delivery
Once you have your content put together in a concise course outline, it's time to decide how to deliver said content. This can actually make or break your online course video. If you are using many PowerPoint slides, the course may become boring. If you are on camera too much, the content may not be as powerful to your audience. It is definitely a delicate balance and art in online content delivery. You should use a bit of talking head time, along with supportive slides, data points, and key information. You can think of it as a series of little handouts. There are also a growing number of online courses using whiteboard instruction, like Moz's Whiteboard Friday. This gives the students the in-class feel.
Time to Film Your Online Course
The production of your online course can be challenging until you get the hang of the equipment and speaking to a camera. But again, with a little practice, you will be whipping out videos with little friction. Set up your camera and do a few video samples. These samples allow you to tweak lighting, your distance to the camera, sound, things in the background, outside noise, and more. Once you have all your raw video shots, it's time for post-production editing. The editing process will actually take longer than shooting the online course, and it should. You want to be sure everything is edited well with all your supporting screenshots in place and visible.
Start a Marketing Campaign
Marketing is a very important aspect to the success of your online course.
The basics you'll need are a WordPress website and social media. These will be the online channels you can leverage to capitalize on keywords for your course and connect with students. First, choose a name. Many online teachers will just use their real name, but if you want to set up a consulting business based on your industry knowledge, another name may be better.
Next, secure your domain name via a website hosting service and start building your website. Be sure to get WordPress for your website, and you can use this step-by-step guide by DreamHost to help. After your site is up and running, connect it with your social media networks and begin promoting your new online course via social, blogs, and even social media ads. Once you begin getting feedback from students, you can apply it to your next videos.