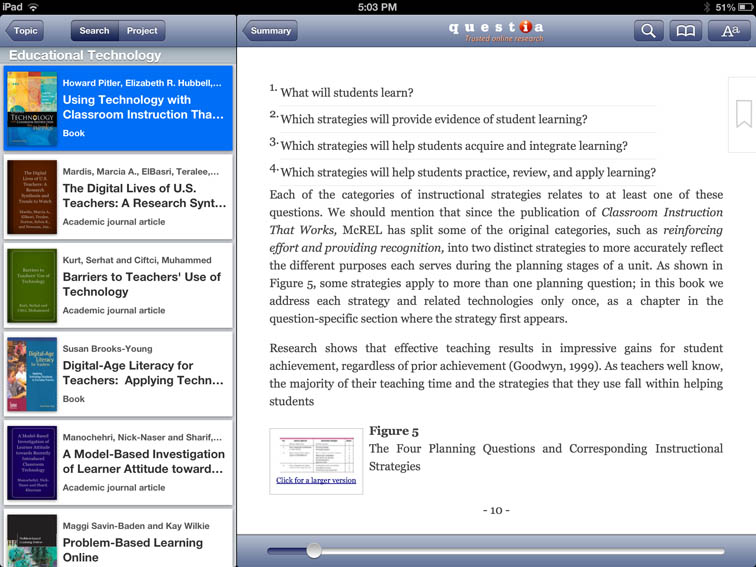 Questia: An Innovative Educational App
Innovative Educational Apps is not a traditional review, but rather a quick, simple way to keep you up-to-date on the very best in educational apps. We simply shine a light on an apps we think are worth your time to check out. If you know of an innovative/interesting/effective app you think we should check out, let us know.
App: IBM Think
Platform: iOS

Price: Free/Paid
Grade Levels: 6-12+ (tending more towards the latter than the former)
Content Area: All
What Is It?
A search engine for credible academic resources, providing research on the go for mobile learning.
What Makes It Innovative And/Or Worth My Time?
A helpfully narrowed focus on better researching through a streamlined app and the ability to create "projects" to collect resources.
Developer Description:
"Questia is an online research and paper writing resource, helping students find and cite high-quality, scholarly research. Questia combines a deep library of 75,000 online books and 9 million full text articles, along with easy-to-use search engine and time-saving tools that help students write better research papers faster.
The books and periodicals within the Questia Library are all credible, scholarly, published content that students and researchers can cite with confidence. The Questia Library is organized in an easy-to-use category structure that can be browsed with efficiency, allowing you to quickly drill down to one of 7,000 specific research topics. Each of these topics is created by Questia's librarians and carefully linked to recommended books and articles for research on that topic. You can also search the full text of all of the books and articles to locate relevant publications, plus search within books to locate specific pages of interest.
As a free user, download the app for permanent access to 5,000 free public domain books plus thousands of high quality, published journal articles. With this app, you can save this research to your projects, can bookmark and highlight, and can reference them later. You can really take your research on the go.
You can also subscribe to Questia to be able to transfer work between the app and your account at www.questia.com. If you are already a Questia.com subscriber, the free download of this application will give you full mobile access to your account for as long as your subscription is active without any additional costs. You not only have mobile access to the entire Questia collection, but you have full access to bookmarked pages, saved books and articles, and the highlights you have created at questia.com. From there you can easily quote & cite publications, create automatic bibliographies to truly write a better paper, faster."