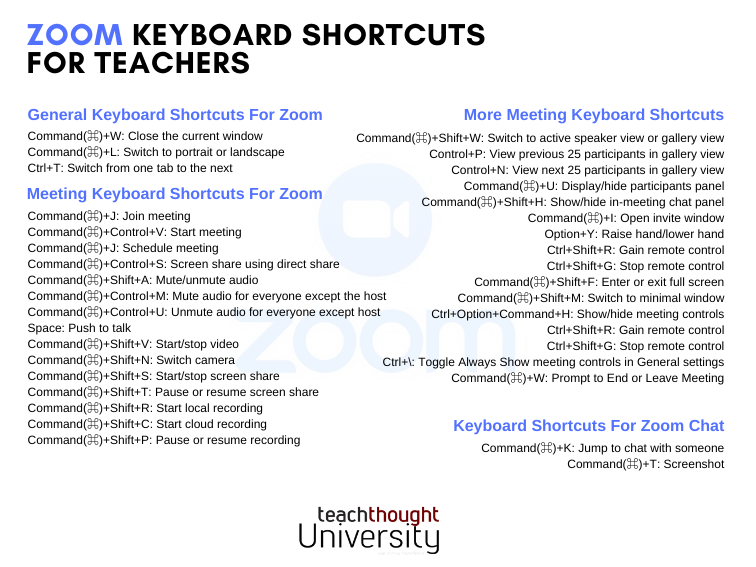 The Most Useful Keyboard Shortcuts For Zoom
by TeachThought Staff
Do you use Zoom in–or as–your classroom?
While many of the keyboard shortcuts beyond CTRL-C for copy and CTRL-V for paste and CTRL-X for cut can be intimidating–and sometimes not seem like a shortcut at all–if you use Zoom often enough as a teacher, some of the following keyboard shortcuts may actually come in handy to more effectively manage your digital classroom without dragging the mouse pointer around, inadvertently opening other windows, or otherwise slowing the flow of the Zoom class.
And you can find more remote teaching tips for student engagement, if that's useful.
Below, we've shared all of the currently published keyboard shortcuts for Zoom, highlighting a few standouts to start with in bold.
General Keyboard Shortcuts
Command(⌘)+W: Close the current window
Command(⌘)+L: Switch to portrait or landscape view
Ctrl+T: Switch from one tab to the next
Shortcuts For Zoom Meeting
Command(⌘)+J: Join meeting
Command(⌘)+Control+V: Start meeting
Command(⌘)+J: Schedule meeting
Command(⌘)+Control+S: Screen share using direct share
Command(⌘)+Shift+A: Mute/unmute audio
Command(⌘)+Control+M: Mute audio for everyone except the host (only available to the host)
Command(⌘)+Control+U: Unmute audio for everyone except host (only available to the host)
Space: Push to talk
Command(⌘)+Shift+V: Start/stop video
Command(⌘)+Shift+N: Switch camera
Command(⌘)+Shift+S: Start/stop screen share
Command(⌘)+Shift+T: Pause or resume screen share
Command(⌘)+Shift+R: Start local recording
Command(⌘)+Shift+C: Start cloud recording
Command(⌘)+Shift+P: Pause or resume recording
Command(⌘)+Shift+W: Switch to active speaker view or gallery view, depending on current view
Control+P: View previous 25 participants in gallery view
Control+N: View next 25 participants in gallery view
Command(⌘)+U: Display/hide participants panel
Command(⌘)+Shift+H: Show/hide in-meeting chat panel
Command(⌘)+I: Open invite window
Option+Y: Raise hand/lower hand
Ctrl+Shift+R: Gain remote control
Ctrl+Shift+G: Stop remote control
Command(⌘)+Shift+F: Enter or exit full screen
Command(⌘)+Shift+M: Switch to minimal window
Ctrl+Option+Command+H: Show/hide meeting controls
Ctrl+\: Toggle the Always Show meeting controls option in General settings
Command(⌘)+W: Prompt to End or Leave Meeting
Keyboard Shortcuts For Zoom Chat
Command(⌘)+K: Jump to chat with someone
Command(⌘)+T: Screenshot