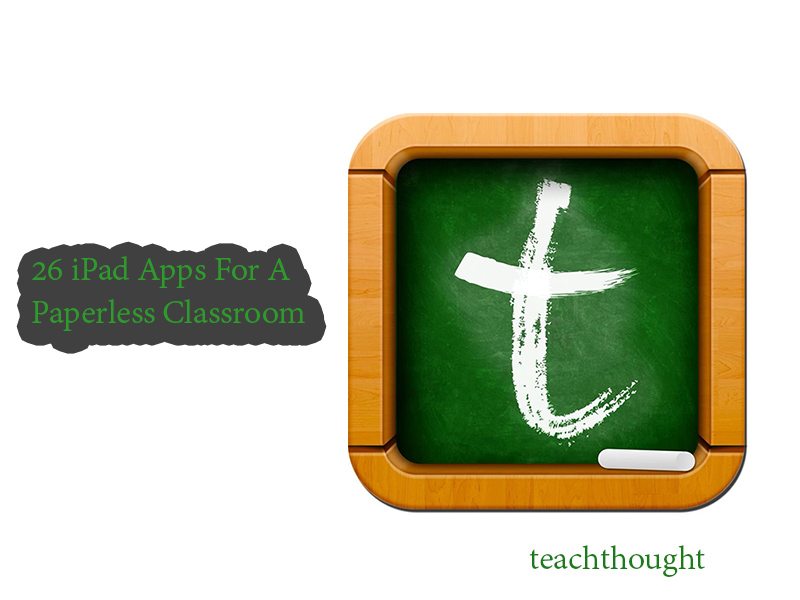 26 iPad Apps For A Paperless Classroom
by TeachThought Staff
The paperless classroom is a compelling concept for what it symbolizes as much as anything else.
While it sounds sleek and futuristic and easy to organize and environmentally friendly, the reality is that paperless classrooms aren't that simple. The "environmentally-friendly" part, for example, is wildly subjective: the costs of manufacturing–and eventually recycling and disposing of–tablets versus the loss of "renewable" trees and the subsequent waste that is environmentally friendly.
The same with being organized. When files are easy to find and save, that leaves more to sort, organize, and curate. And so on. So becoming a "paperless classroom" isn't the utopia that'd make the decision to go fully digital such a no-brainer.
But what it represents is important. Cloud-based collaboration. Mobile access. Simple sharing. Quick searching. Curriculum tagging. In short, the potential for agility, responsiveness, and personalization in teaching and learning. No, it's not that simple. Nothing is. Assessment form, bandwidth, COPPA concerns, and more muddy the waters.
But if you're looking for tools to give it a go, the following 26 iPad apps for a paperless classroom can help.
26 iPad Apps For A Paperless Classroom

25 Apps For A Paperclass Classroom
25 Apps For A Paperclass Classroom, by TeachThought.