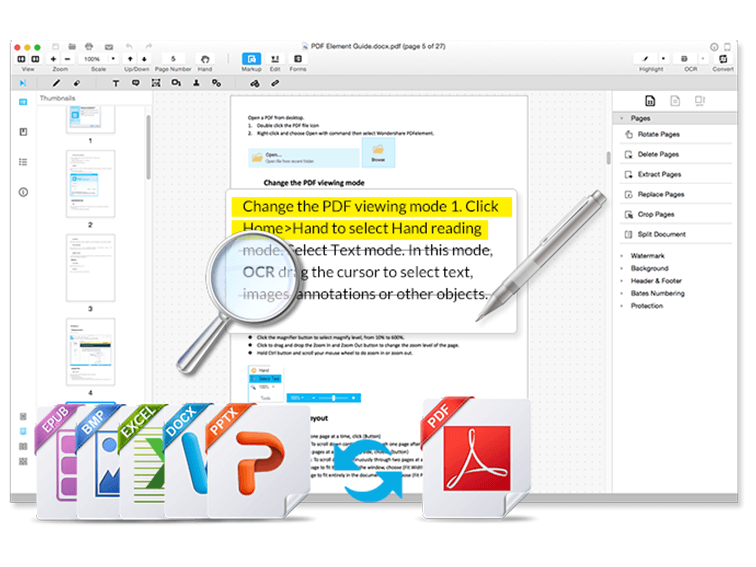 Simple Ways Teachers Can Work With PDF Files
Ed Note: This post was created and sponsored by Wondershare PDFelement
Teaching is a noble profession and can utilize the benefits of technology to improve teaching and learning. To improve teachers' work, effort must be made to improve information sharing between teachers and students.
One great tool for information sharing is the use of PDF files. A teacher will likely need to develop notes for students, work with PDF files by creating new PDF documents, organizing, editing, splitting, merging and sharing PDF documents, and more. This article will look how a PDF editor can improve your work as a teacher, and will also describe some methods to make it happen.
How Teachers Can Work With PDF Files: 3 Scenarios
One reliable PDF editor that can improve teacher's work is Wondershare PDFelement. Now, let's look at the following scenarios and see how this tool can help the teacher.
Scenario 1: A teacher finds some useful material in a book and wants to share with the students in class, but it's too long to write it down. What can the teacher do?
Solution
The teacher can use the Wondershare PDFelement OCR tool which is a tool that can convert scanned PDF files and allow users to edit text, images and pages of their scanned PDF files. The tool is simple for both beginners and professional users, as it has the ability to recognize text from scanned images file in PDF format.
Ans with the OCR technology, scanned documents can be converted into fully editable document that allows educators and students to edit, search, format, and resize the text. Below is the step by step guide on how this can be done.

Step 1: The teacher takes some photos of the material with their device of choice.
Step 2: Using Wondershare PDFelement, the teacher converts these pictures into a PDF (Portable Document File).
Step 3: The teacher then uses the advanced OCR to convert it into editable text again and edit the part that is required.
Scenario 2: A teacher would like to save all the homework from the students of the same class as a file on a computer to make it convenient to search in future. How can this be achieved?
Solution: Wondershare PDFelement can also help solve this problem. It has the ability to create new PDF files and convert them to other formats.
The supported output formats include Microsoft office word, excel, PowerPoint, text, RTF, Epub, Html and image formats like BMP, JPG, GIF, Tiff, and PNG. In this case, the teacher can create and convert the homework to PDF files, combine them, and save them all in a file.
The following is the step by step guide to help the teacher.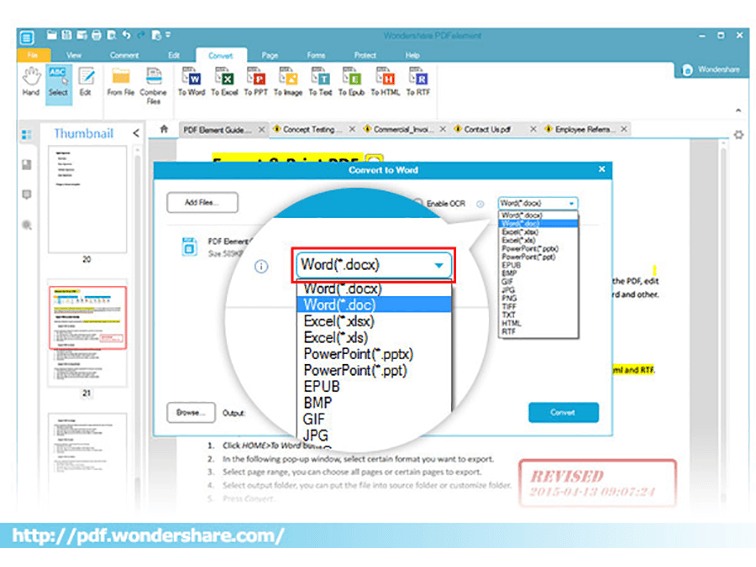 Step 1: Since you have multiple files needed to be saved as PDF format, open your Wondershare PDFelement and click the "Combine PDF" button in the home window.
Step 2: A pop-up window will surface. Click "Add files" and add the individual homework or, better still, drag and drop the files to the window. (You can also hold down the "Ctrl" key and click the individual homework files one by one before uploading them at one time.)
Step 3: Next, click the "Save" icon on the top of the window to save the file as PDF on your computer.
Scenario 3: A teacher wants to help their student modify an essay or other kinds of writing.
Solution: Editing an annotation function of this software will be useful to the teacher in this scenario. With this program, you can edit texts, pages, images etc. You can also annotate PDF by adding comments, highlighting PDF, drawing mark-ups and adding links.
Students can also comment on one another's work through the same process in peer editing.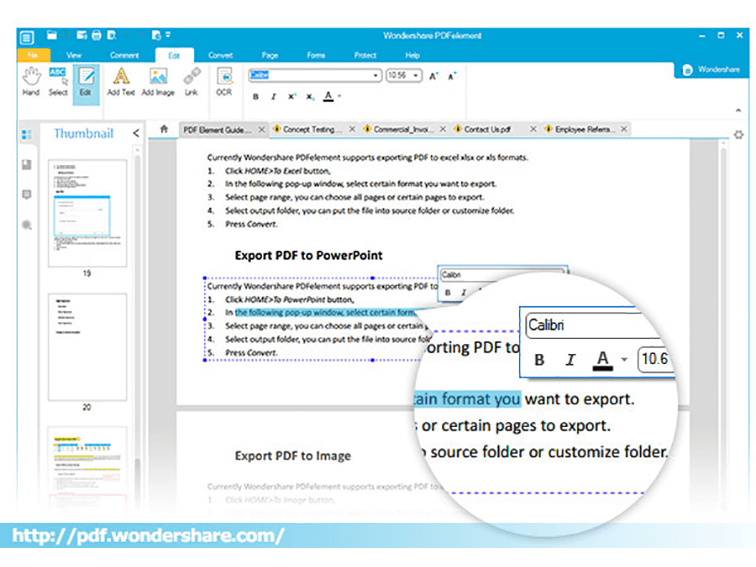 To modify PDF texts on an essay, follow these steps:
Step 1: Open the Essay, then click the "Edit" tab.
Step 2: Click on "Edit Text" to edit text on the essay.
Step 3: After editing any part select file, click the "Save" button.
Summary
Other features that could be useful for the teacher include creating forms for students, filling the forms, and signing forms or sharing documents from data team or professional learning community meetings. These are easy tasks that can be done with Wondershare PDFelement.
Wondershare PDFelement is an efficient all-in-one PDF editor that can help you work with PDF documents. It is easy to use, fast, friendly user interface and above all, as a busy teacher, it is an efficient tool that will improve your work at an affordable cost.
3 Simple Ways Teachers Can Work With PDF Files
Disclosure of Material Connection: This is a "sponsored post." The company who sponsored it compensated us via payment, gift, or something else of value to write it. Regardless, we only recommend products or services we use personally and believe will be good for our readers. We are disclosing this in accordance with the Federal Trade Commission's 16 CFR, Part 255: "Guides Concerning the Use of Endorsements and Testimonials in Advertising."