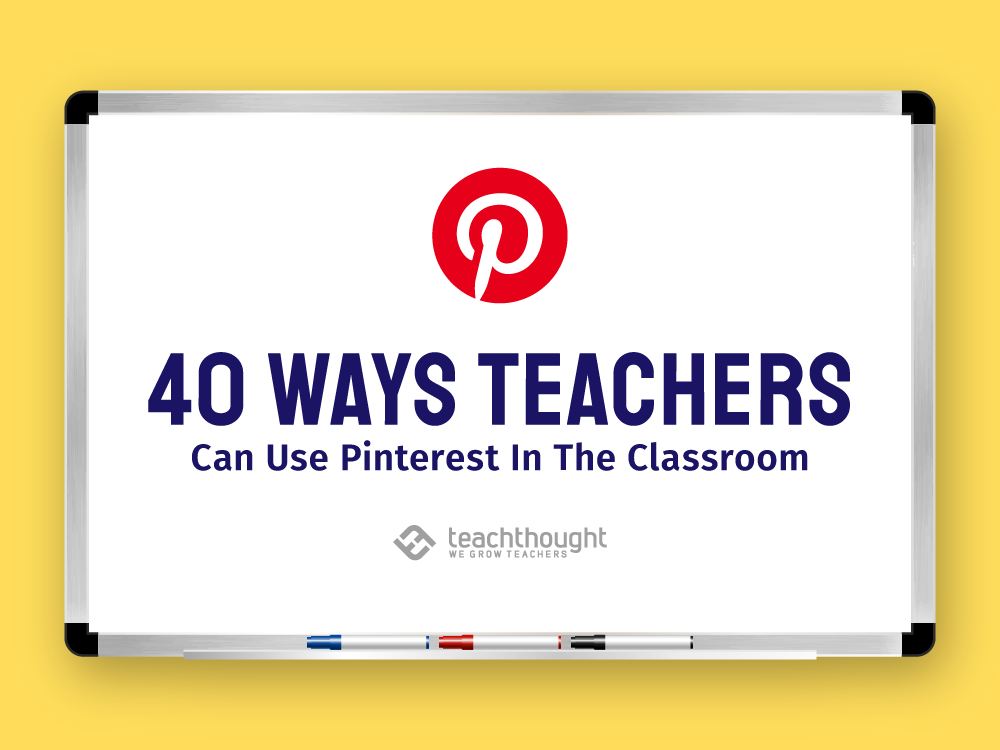 How Can Teachers Use Pinterest In The Classroom?
by TeachThought Staff
There are a lot of great technology tools out there for teachers that can make it easier to connect with other educators, get ideas for classroom activities, and find inspiration.
One of the most popular tools for teachers is Pinterest. Using Pinterest, teachers can save everything from photos to blog posts in one easily accessible and usable place. While it has become increasingly crowded with pins to paid products and services, it remains an indispensable tool for the social media-inclined teacher.
Not sure where to start? Check out some of these great ideas on how teachers can use Pinterest–and follow TeachThought on Pinterest while you're at it!
Get ideas! Probably the best way to use Pinterest in the classroom is to–like a curated Google Image search–use the visuals you see to come up with ideas for project-based learning, critical thinking, maker education, and more. This is, of course, a vague tip–of course you want ideas. But the sheer volume of pins on Pinterest make this by far the most common way to use it to improve your teaching.
Monitor trends in education. Pinterest is very 'trendy' and while we can argue whether or not this is good or bad, it's a great way to monitor patterns and trends in education.
Help students think critically about social media: the patterns, tools, tendencies of social media. Because Pinterest is so visual and easily 'skimmable,' it can be a useful tool to glean trends from (as seen above).
Curate exemplar models of student work. You can use it for student and parent conferences or in subsquent years to show students what 'exemplar models' of assignments can look like.
Help students create digital portfolios. Help students curate digital student portfolios for their own growth, or to take to the 'next grade' level or apply to college. If there's a good reason to save student work, Pinterest is a useful tool to do so.
Get inspiration for decorating your classroom. Looking to liven up your classroom? There are tons of photos of great classroom setups, from kindergartens to high school that you can use for inspiration.
Organize your ideas. Do you find yourself jotting down ideas or bookmarking websites and then forgetting about them? Pinterest can help you keep these ideas organized and easy-to-find when you need them.
Design a better classroom. What you have on the walls, the way you organize the desks and tables and learning stations. The organization of your classroom library. Even a great bulletin board display can make kids excited to learn and proud to see their accomplishments on the wall. You'll find some amazing ideas for creating your own when you browse Pinterest.
Follow teachers who think differently than you. Step out of your comfort zone and grow!
Get fun ideas for student-led projects. If you follow and skim the right boards, the possibilities for student-led PBL via Pinterest is considerable!
Learn how to get crafty. Pinterest is full of great craft ideas, both for you and the students. Pin a few to have fun with later on.
Look for ways to organize your classroom. Classroom lacking organization? Search through pins for some great, often very creative, ways to keep your class neat and tidy–and fostering student engagement!
Swap lesson plans with other teachers. Pinterest is full of lesson plans that you can use and adapt to your own needs. You can also show off your own great ideas by pinning photos and blog posts on your own.
Locate amazing images for your lessons. Pinterest is a very visual resource, which is what makes it such a great place to look when you're trying to find images for a lesson or a lecture. There are tons of material that is historical, contemporary, art historical, or just plain interesting to look through.
Have students pin project ideas themselves. Pinterest can also be a great place to get students working. Teachers could have students pin ideas on a board that relate to a particular project they'll be working on.
Use pinning as part of a lesson. Of course, pinning itself could also be an educational experience. Students could have to pin items that fit a certain set of criteria as part of a lesson.
Collect ideas for virtual field trips. Let your kids travel the world through the web when you find creative online field trips on Pinterest, or build your own through great images.
Make group work visual. Whether you're working with your colleagues or helping students to work on a group project, Pinterest can be a great place to collaborate. Share images for presentations or links to papers, resources, and research.
Have students photo journal on Pinterest. There are numerous ways students can use Pinterest to journal. How about a series of photos captioned in a foreign language? Or documenting a trip they took? The possibilities are endless.
Find loads of printables. If you're in the market for some printable games and lessons for your students, you'll find tons of great stuff on Pinterest.
Pump up your science lessons with amazing experiments. Search through the pins on the site for some ideas that can help bring science to life for your students.
Get ideas on how to make learning more hands-on. There are pages and pages worth of pins all about hands-on projects for students. Take advantage of some to make your lessons more interesting and memorable for your students.
Find great books to use in the classroom. It can be tough to choose books for young readers that are both fresh and age appropriate. Luckily, you'll find some help on that when you look through Pinterest.
Look for grade-specific materials. Need to search by grade? You can do that, too! If you find boards you like, make sure to follow them.
Collaborate with other teachers and educators. Through Pinterest, teachers can create collaborative boards. This makes it simple to work together on projects, build better lessons, or just connect over shared ideas.
Start a conversation. Inspired by a lesson plan or image posted by another educator? Tell them! You can comment on their pins, offering you a chance to learn more and connect.
Share what you're doing in the classroom. While it's great to sit back and take in all the images other people have shared, you shouldn't be afraid to share your own as well. Pin your favorite classroom projects so that other teachers and students can make use of them as well.
Find out about great reads. Whether you're looking to be inspired or find non-fiction reads about managing your classroom, look to pins from teachers on Pinterest for some recommendations.
Get links to great tech resources. Pinterest is a great place to find out about new tech resources for teachers, including places to print off materials, track your students, or get free educational videos, among other things!
Look for new and innovative teaching methods. Don't get stuck in the past! Learn about new ways to connect with and manage your students from blog posts linked to on Pinterest.
Find out about awesome new educational products. You can pin pictures of the latest and greatest in educational products, though some may be dream purchases.
Promote your own work or blog. Show off your teaching skills and creativity on Pinterest. You can use it to promote your blog, photos, or anything else you think is worth sharing.
Learn how to help with behavior management. You can find pins and talk with other educators for new ideas on how to handle your students, from rewarding them for doing well to handling a disruptive kid.
Find amazing teaching blogs to read. If you're looking for more reading material, you'll find it on Pinterest. There are loads of teacher blogs and educational posts pinned that you can look through.
Develop as a teacher. You might not have thought about using Pinterest as a teacher personal development tool but it works for that as well if you use it intentionally. Find ideas that can help you push your teaching to the next level.
Find other teachers and network! Seek out other teachers on Pinterest so that you can share ideas. You can find your coworkers or strangers and start following each other.
Stay on top of trends. It can be hard to keep up with the latest trends in education and well, everything else. Check out the latest pins on Pinterest for an update.
Find tutorials. Not sure how to take on a project or tackle a new technology? You can use Pinterest to find helpful tutorials that'll make it a snap.
Find inspiration. Being a teacher can be pretty hard work and sometimes you might need a little pick-me-up. You'll find tons of inspirational quotes and photos that will help you get through even the hardest day.
Create dream classrooms. There are some truly beautiful classrooms posted on Pinterest. Collect your favorite ideas and build a board that represents your ultimate dream classroom.