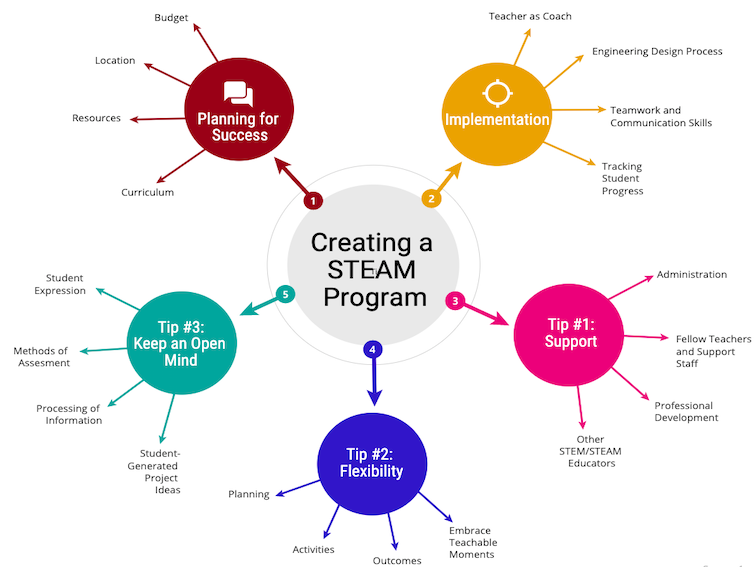 How To Implement A STEAM Program In Your Classroom
contributed by Caleigh Heenan
In Part 1, we looked at tips for planning a STEAM program in your school. Today, we're going to take a look at tips for actually implementing that program in your school or classroom.
In traditional teaching, teachers assume the role of content or knowledge provider. Within the STEAM studio, a teacher's role is to be a coach for the students. The transition between these two roles can be difficult at first, but it is also extremely rewarding. Coaches support the students by helping them to analyze information they find, provide ideas for expansion or exploration, and support them through the design process.
Lessons typically begin with a quick introduction of the lesson and a wrap-up, but the majority of the class period is spent with students working on projects.
There is no 'I' in STEAM
In addition to the change in the role of the teacher, the delivery of lessons must also change dramatically. Each lesson in the STEAM studio is built around the Engineering Design Process: define/ask, brainstorm, plan, create, and reflect. Early projects should focus heavily on teamwork and communication skills, as these skills will ensure student success. My students often say that there is no 'I' in STEAM, but there is a 'TEAM.'
As students may work through this process at a different pace, it is important to keep track of student progress. To aid in the process, students complete an exit ticket (digital or paper) that shows where they are in the design process. It allows the teacher to quickly review student growth and plan coaching sessions for the following class period. In the STEAM studio, the students have a say in how they create and show their learning.
While the project may have a specific goal, students are always presented with a choice in how they show they have mastered the goal. This could be through a video blog post, a written blog post, a poster, or through a page on an ePortfolio. At the beginning of the year, the students did not embrace the reflection stage; they simply wanted to move onto the next project and create. However, choice allows this part of the learning process to become a step that the students are excited to reach.
A Sample Exit Ticket from a Third Grade STEAM Lesson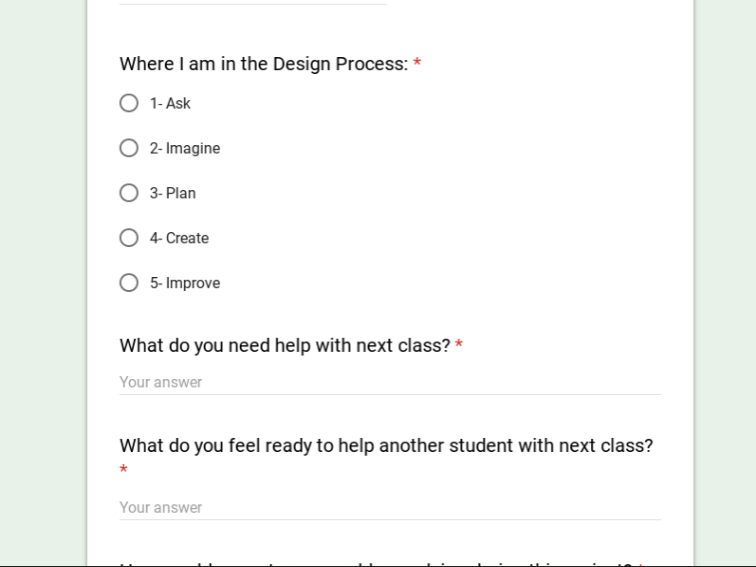 In looking back on this past year, I'm proud to say that our STEAM program is off to a great start. Students are excited to come to class, and they are less hesitant to tackle tough problems. Their creativity shines through in each project, and they love to share their findings with their peers and their teachers!
Looking forward to next year, many changes are in the works. Now that students know the design process and the components of STEAM so well, our school is looking to take our studio on the road! We will be working to help teachers integrate STEAM lessons into their daily instruction.
Inside the STEAM studio, new furniture will be brought in to further support collaborative learning. This includes new tables with castors to allow flexibility in the overall layout of the room. Finally, the curriculum will be revamped and realigned. Some projects will be adjusted to build upon the strong baseline that students will already have at the start of next year.
My experience this year has been incredibly positive. However, that doesn't mean that implementing a STEAM program was easy or unproblematic. In fact, creating this program was one of the largest professional challenges I've ever faced. In those moments where I question my impact or my ability, I simply look back at what my students have accomplished to see that all the hard work IS worth it.
For those of you who are starting a program or thinking about advocating for the creation of one, the best advice is to simply jump right in! While it may seem extremely intimidating and feel overwhelming at times, the benefits for your school and your students will make the entire experience worth it. The keys to a successful launch are planning and collaboration. The more people you can recruit to help you get the program rolling, the more successful the program will be.
Below are some additional recommendations to keep in mind as you prepare for your STEAM or STEM program.
4 Tips For Implementing A STEAM Program In Your Classroom
1. Ask for help early and often.
Do not be afraid to ask for support. No matter one's prior experience, teachers in one's building are instrumental in helping to learn about classroom management in different grade levels, as well as providing ideas for topics that could build on what the students are already learning in the classroom.
Additionally, the sheer number of materials involved in many of these projects can be overwhelming. Principals can help by providing Instructional Aides, particularly in the younger grades, as well as providing opportunities for professional development that covers best practices in teaching STEAM.
Finally, seek out other STEM/STEAM educators and join several Professional Learning Networks (PLNs). PLNs will help in staying on top of current trends and will be instrumental in answering questions you may have throughout the year.
2. Be flexible–especially at first.
Despite your best efforts, learning in the STEAM studio will be messy and unpredictable, and that's part of the beauty!
True, authentic learning does not fit neatly into a scripted lesson plan or small-group instruction. It lies in those teachable moments and those conversations that lead the class in a completely different direction than you predicted. Those are the moments that you, and your students, will remember at the end of the year. Embrace them!
3. Keep an open mind.
When students are in charge of their learning, they are choosing how they want to express themselves. While you may feel that one or two methods would be best for sharing what they've learned, they may be processing the information in a unique way.
I've learned from experience that letting students have that control may backfire at first, but the students truly learn from these mistakes and become some of the best communicators in the classroom. I've had students propose ideas for projects this year that seem completely crazy or boring to me, and the other student are riveted and complete some of their best work yet. I've learned that real learning can occur any and everywhere, and it's our job as STEAM educators to be right beside or just behind, not in front, of our students on the journey.
4. Let students lead!
One of my biggest fears in starting a STEAM program is that my students would know more than me. They would know more about the technology, more about the topics, and more about engineering. Guess what? They do, and that's the best part!
They may know more about those things, but I know how to help them be the best versions of themselves. I can help them with perseverance, organizing their thinking, and presenting them with challenges and problems to help expand their ideas and stretch their skills. I can coach them through working in difficult teams and help them set (and reach) goals they have in life.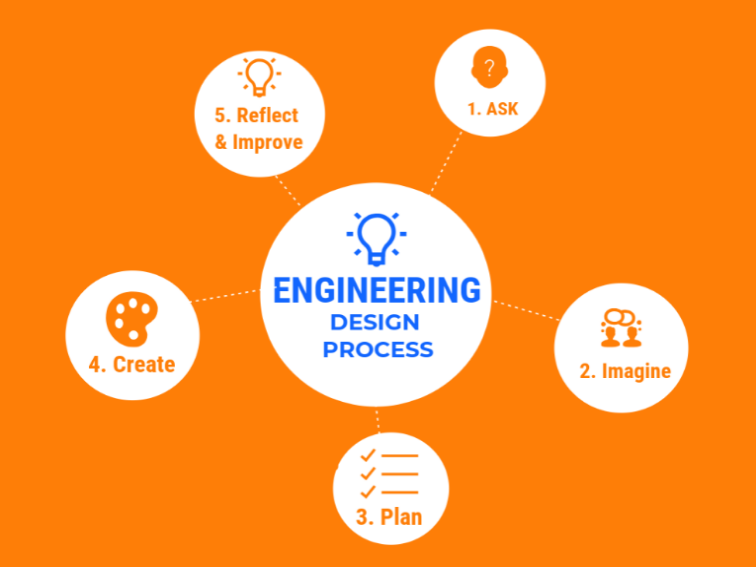 Conclusion
Creating and implementing a STEAM program has been a great challenge, but it has come with the greatest rewards. Remember to be flexible, open-minded, and ask for support. Remember, STEAM can't exist without a 'TEAM.' Think through your budget, location, resources, and curriculum.
Finally, let students lead their own lessons. Be the coach and support they need to successfully solve challenges. We owe it to our students to provide authentic learning experiences that help them become life-long problem-solvers and learners, and if we want our students to take risks, we should be willing to do the same.
Resources
Harapnuik, D. (2018). COVA [web log post]. Retrieved from
http://www.harapnuik.org/?page_id=6991
NMC/CoSN. (2017) NMC horizon report: K-12 edition. Retrieved from
TeachThought Staff. (2019). The push for stem education.