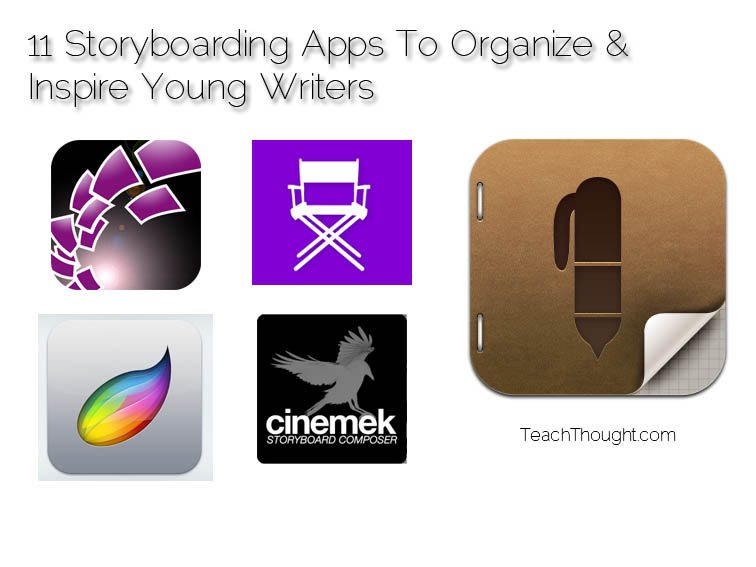 11 Storyboarding Apps To Organize & Inspire Young Writers
For students who dread writing class, a blank page can look a lot like a ten-foot monolith; an imposing, empty slate towering over their homework list. Visual storytelling is one way to break students out of writer's block, and storyboarding apps are a pre-packaged strategy you can use to bring images to the narrative. Whether your students are afraid of writing or you're simply looking for a way to break up a brainstorming session, these 10 storyboarding apps for iOS and Android devices can help inspire–and organize–students of any age.
The best part might be the flexibility of these apps. While they can be used for strict storyboarding in the creation of fiction, they can also be used for other tasks, including documenting project-based learning, sharing assignments, or capturing research notes.
1. Penultimate
This app, created by note-keeping powerhouse Evernote, gives the natural experience of writing and sketching on paper with fast and powerful sharing capability. One handy feature: You can search for handwritten text. What's more, you can store projects easily by category. Penultimate's developers claim it's the most popular handwriting app for iPad, thanks in part to its connection with Evernote.
Available on iTunes

Cost: Free, with $5/month subscription available for unlimited Paper Shop access
2. Paper
Named 2012's App of the Year, Paper boasts a robust free version with a custom ink engine that reacts to your movements without fussing with settings. Two fingers on the pad easily "rewinds" mistakes, and sharing is easy via email, Facebook or Tumblr.
Available on iTunes

Cost: Free, with in-app purchases including Essentials ($6.99), Mixer ($1.99) and Color ($1.99)
This mobile pre-visualization composer features image adding and arranging, audio clips, notes, scene description and real-time playback. It was picked as one of Apple's Best Apps of 2009. Neil Patrick Harris called Storyboard Composer "inspiring and great for the director in me."
Available on iTunes

Cost: $14.99, with a $29.99 HD version
Here's a simple app that helps anyone who works with stories, comics or scripts to easily find and organize different shots. It also features a description of different shots, making it the perfect tool for beginners who don't know the difference between a two-shot and a dolly.
Available on iTunes

Cost: $1.99
5. Storyboarder
Build and share photo storyboards, snapping shots from your camera or selecting them from your device and adding them in a sequence. The PDF storyboard can be emailed or uploaded to Dropbox, simple as that. Perfect for visual shopping, props lists, organizing location scouting and photo-based storytelling.
Available on Google Play

Cost: Free
Sean Brakefield's Storyboard Studio is a sketcher's dream, with eight realistic brushes, cutouts for quick arranging, plus image importing and a dedicated workflow. You can even attach text notes to each scene, which are exported when you save your storyboard as an image.
Available on Google Play

Cost: $4.99
7. Index Card
Storyboarding doesn't have to be pictorial — many writers use text on index cards to visually compile their ideas. This productivity app is made for touch, letting you easily touch and drag cards to reorder and browse the entire project. Work can be shared via Dropbox, email and printed using an AirPrint-enabled printer.
Available on iTunes

Cost: $4.99
8. Storyboards
Your students don't need any drawing ability to use this simple, dedicated storyboarding app. Hundreds of character models and props are available to compose each shot. Create up to two storyboards of 10 drawings with the free version, and unlimited boards with an in-app Premium purchase.
Available on iTunes

Cost: Free, with $14.99 premium option
9. Procreate
This 2013 Apple Design Award Winner includes 120 brushes and a super-fast painting engine, allowing students to paint, erase and smudge in realtime. Though Procreate is a must-have for serious artists, the app makers also stand by its power as a storyboarding powerhouse.
Available on iTunes

Cost: $5.49
Mix reality and imagination with this app. Students become location scouts by placing their sketched characters into real photos to visualize scenes in real-life backgrounds. Each frame features its own caption area for director's notes or dialogue, and comments can be dictated with speech-to-text technology.
Available on Google Play

Cost: $19.99
11. Directr
A highly-polished and intuitive app that's less for planning written fiction and more for creating video fiction. Or non-fiction. Or–well, you get the idea.
Expand Your Curriculum with Visual Storytelling
Teachers agree that technology can be put to good use in the classroom and the apps above are only a few ways in which you can inspire your students to think visually about their stories. Students can storyboard with pen and paper and then take pictures of their ideas to store and share online through Flickr or Evernote. Check out the apps above and suggest them to students to use on their own or launch your own in-class exploration.
Mary Fineday writes about education and technology for a variety of websites, including onlineschools.com; 10 Storyboarding Apps To Organize & Inspire Young Writers