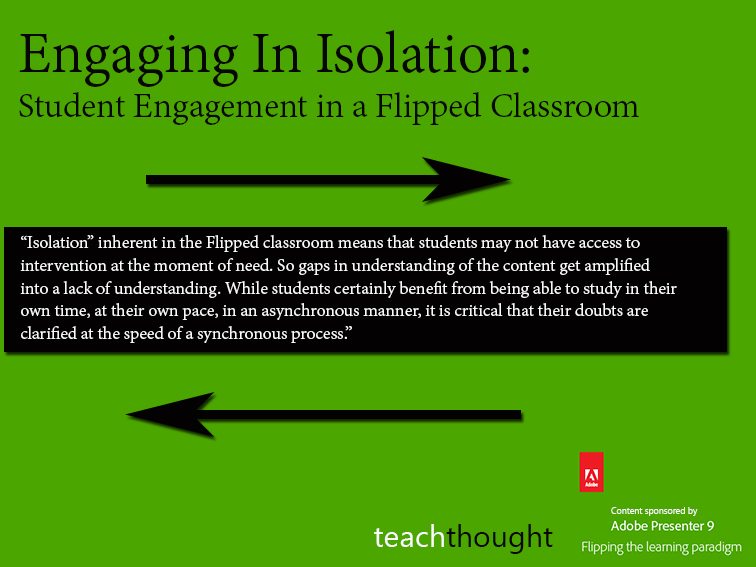 Engaging In Isolation: Student Engagement in a Flipped Classroom
by Tridib Roy Chowdhury, Senior Director, Products, Adobe Systems
This is part 2 of the series "Responsive Teaching For A Changing World," a 3-part series is sponsored by Adobe Presenter 9.
The Flipped Classroom model allows every student to learn at their own pace, with the rewind button of online content being used frequently as students navigate digital courses. Combined with the own-place, own-time nature of eLearning, this means students now consume content in a very asynchronous manner.
How do we know which students have completed their lesson and to what extent they have understood it?
When classroom content which was previously consumed in a social context is now consumed in relative isolation at home, how do teachers get the information they need to teach effectively?
And if they don't get the information, isn't planning classroom activities as ad-hoc and a priori as it is in the traditional classroom model, where all students are given the same standardized homework assignment?
Engaging in Isolation
It is often difficult to gain students attention in class, and that task is made considerably more difficult when it has to be done remotely at home. The personality and the passion of the educator, so important to captivate students in a classroom, needs to be carried through in the digital experience.
In validating the efficacy of eLearning, teachers feel challenged by the task of creating of engaging content. This is where tools like Adobe Presenter come to play in being a catalyst to educators who want to adopt flipped learning in their classrooms – it allows the teacher to create videos that capture themselves and their screens at the same time, bringing in their personality into the digital courses.
The word "engaging" is very important in this context. To keep the learners attention going, educators can add quizzes, puzzles, drag and drop elements and other fun out of the box elements in each module, creating an appealing experience for students.
"Isolation" inherent in the Flipped classroom means that students may not have access to intervention at the moment of need. So gaps in understanding of the content get amplified into a lack of understanding of concepts, eventually leading to drop outs. While students certainly benefit from being able to study in their own time, at their own pace, in an asynchronous manner, it is critical that their doubts are clarified at the speed of a synchronous process.
Early Intervention
To really harvest the benefits of the flipped model, it is important that the teacher knows the extent of understanding of each student group, so he can plan different set of activities for each segment. This can be done based on learner analytics, and discussion boards within each module, which can be easily achieved using eLearning tools (like Adobe Presenter software, for one).
For intervention to work, the students must participate. While, a student with doubt has an interest to post a question, it is important that the other student with the answer actually takes time to answer to them. But, mere encouragement and facilitation will not help, we need to incentivize the latter to participate and share.
This is where the participation index becomes very useful, ensuring that students are active learners who take charge of their learning, and help one another get ahead.
Engaging In Isolation: Student Engagement in a Flipped Classroom