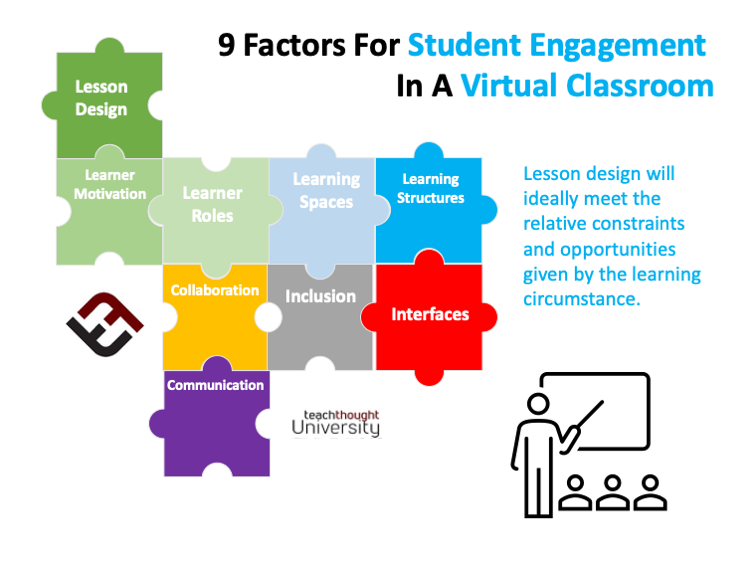 What Are The Principles Of Student Engagement In A Virtual Classroom?
by Terry Heick
For educators around the world, remote learning went from a boutique instructional option to a global necessity in a manner of months. And, while the majority of teachers and students will return to an in-person classroom at some point in the future, eLearning is here to stay.
Whether it's to prepare for fall classes or simply to get ready for the future of learning, here are six principles of student engagement for effective remote teaching and learning–important ways to help yourself and your students thrive in a remote learning environment.
Lesson Design & Context
Strategy: Experiment with learning models that require active learning and participation from every student, every day.
Possibly the single most fundamental part of teaching is to understand what is to be taught (lesson objective) and how to teach it (of which lesson design plays a part). Student engagement in a virtual classroom during remote teaching and learning depends heavily upon the design of the learning activities themselves.
The design of the activities depends, of course, on the learning spaces (e.g., Zoom room, Microsoft Team group, etc.). The idea is simply that the lesson design should meet the relative constraints and opportunities given by the learning circumstance. If you're out in the hot sun with young children and wanted to help them understand cause-effect, you'd design a lesson that would 'fit' this context. If you're teaching a small group of highly-motivated college students in an elective course that meets in a lab, you'd adjust to that context as well.
Clear learning objectives, smart learning models, simple assessment practices, and opportunities for reteaching and extending learning are all hallmarks of good teaching and learning and the same applies to a virtual classroom during remote teaching.
Motivation & Psychology
Strategy: Honor that different people do the same thing for different reasons–and students are no different.
Not every student will be motivated by the same thing. Student 'engagement' is generally thought of in terms of cognitive engagement but cognitive engagement proceeds motivation. Some students will be motivated by a parent in the room with them at home, while others may want to 'please the teachers' and still others may be motivated by a letter grade.
Even negative behaviors have motivations–something the student does or does not want. Past success–or lack of success–in physical classrooms will also play a role in how the student views themselves as a student–their 'mindset' as a learner.
Motivation is among the most powerful factors of student engagement in a virtual classroom.
Roles & Perspectives
Strategy: Use 'roles' as a design element in lesson and unit design
The idea of 'roles' in a classroom is usually thought of in terms of 'teacher role' and 'student roles,' and that's a good place to start. But helping students assume 'roles' can also improve class climate and group work. Not only can students be given certain 'class jobs' or leadership roles, but academically, students can assume the roles of 'things' using RAFT assignments.
For example, a student can assume the role of historian or artist or farmer or scientist in attempting to solve a problem in problem-based learning. They can also assume the 'role' of an atom in describing what happens during fission or describe the American Revolutionary War from the perspective of George III.
Spaces & Climate
Strategy: Help Students Prepare Their Remote Space
We discussed space and context above, but to that we'll add the factor of preparation in and for those spaces.
In traditional in-person classrooms, teachers have the presence and authority to tailor the environment to be as conducive to learning as possible. Shutting the classroom door to remove outside noise ends that disturbance for all students in a single action. In distance learning, however, each student's space will vary.
Instruct your pupils to set up their study space in an area with as few distractions as possible. Distractions come in a variety of forms, including noise, foot traffic, siblings, smells from cooking food, and visual attention-grabbers, such as construction work seen from the window. If they have their own room, ask them to shut their door and perhaps draw the shades. For tips to deal with digital distractions.
On top of that, encourage students to separate their school time and their personal time, just as teachers and other professionals should have a work-life balance. To that end, recommend your pupils to find a dedicated study space, one which will only be used for school work. For the best results, be proactive by sending an email with general suggestions and best practices for your students to follow just before or at the very beginning of the term.
Structures & Flexibility
Strategy: Provide Structure Without Being Inflexible
Course structure, LMS structure, lesson and activity structure, assessment structures–organization requires structure and more than ever, learning benefits from organization. Even abstract 'structures' like the idea of consistency is important for student engagement.
More than other aspects, the structure of your remote classes will dictate the success of the overall learning experience for both your students and yourself as a teacher. Factors, such as communication, time management, and planning lessons, must be adjusted to match the unique needs of a remote classroom and students.
If you're just starting out, it may be a lot of trial and error. However, TeachThought has many helpful articles for those new to distance learning, including virtual teaching tips for beginners, modern eLearning trends, and how to promote higher-level thinking in online courses. On top of these guides, simply pay close attention to your students during your first few remote sessions.
If you feel it's appropriate, send a questionnaire to understand their desires and expectations. You'll not only gain valuable feedback and insight, but you'll also promote responsibility and show you're open to being flexible to their needs.
Collaboration & Interdependence
Strategy: Encourage Collaboration
As humans, we have an innate desire and tendency to socialize. However, with remote learning, students don't get the social stimulation they would have gotten from an in-person learning environment.
To help your students overcome any negative effects of remote learning, such as restlessness, lack of motivation or interest, and cabin fever, encourage them to collaborate with each other, both during and between classes. Team-building games such as a trivia session, provide an excellent opportunity for students to partner with each other and get some social interaction, while group projects provide a more intimate partnership between pairs of students outside of school hours.
Inclusion & Equity
Strategy: Involve Every Student At Least Once Every Day
If you have a video chat going with more than a dozen students all while using a grid view, it can be hard to notice every student. Depending on the amount of students and the platform you're using, some students may be completely forgotten or looked over, which isn't ideal, as you might imagine.
With distance learning, especially when handling larger groups of students, it's important to informally keep track of their participation to make sure they're each tuned in and understanding the material. Whereas in classrooms you will get visual and auditory feedback as clues for when a student might be distracted, in remote learning, you'll have to be proactive rather than reactive.
Also a crucial factor is another kind of 'inclusion'–equitable access for every student, every day. From hardware and bandwidth to ECE accommodations, language barries, and socioeconomic factors, this is a major challenge today; start small and do your very best while using the resources around you to support this Herculean but absolutely necessary effort.
Interfaces & Interactions
Strategy: Leverage Powerful Technology
Gone are the days when distance learning technology involved few options and prohibitively high costs. And, with the worldwide study-from-home emergency the coronavirus pandemic created, companies all around the world are doubling down on remote study offerings, from learning management systems (LMS) to classroom-specific artificial intelligence.
To give yourself and your students the best possible learning experience, make sure you're taking advantage of what's available. Modern classroom management tools such as Top Hat and Google Classroom help students maximize their learning and boost collaboration while not offending the digital UX desires of today's young people. For communication, platforms such as Zoom and Microsoft Teams have the highest popularity, and with good reason.
Note, not all interfaces are literal. Student 'interactions' aren't just with technology tools. Students also interface and interact with one another, with information, and with the people around them at home while trying to participate in the virtual classroom.
Communication & Access
Strategy: Be Available–Through Virtual Office Hours, For Example
Finally, make sure you're available for your students, as remote learning is more challenging on the communication front.
As student Morgan Sharp commented to The New York Times, "It was hard whenever I didn't understand something and instead of being able to ask my teachers and get an immediate response, I had to email them and wait for them to email me back." Student Tommy J. had similar issues, stating, "A lot of the time, I get confused. I don't have the luxury of being able to ask my teacher [what] I need to do [differently] when I don't understand something or don't know what to do and a lot of the time, an email doesn't get back to me in the time I am completing my work."
Be aware of how frustrating the remote learning experience might be for your students, and adjust your availability accordingly. If you can, set up an after-hours 'hotline' on Microsoft Teams or another platform where students can write in without appointments for quick, easily answered questions. For those who might need extra time with you, set aside several 10- or 15-minute blocks in your afternoon or early evening for your students to reserve.
Remote teaching will have a different learning curve for every educator. But, as long as you keep students and their needs first, you'll most certainly find that it'll be easier on yourself, as well.
Other Principles Of Student Engagement In A Virtual Classroom
Other principles of student engagement in a virtual classroom include feedback loops, gamification, curriculum design, instructional design, data quality and forms, and more.
Principles of Student Engagement In A Virtual Classroom