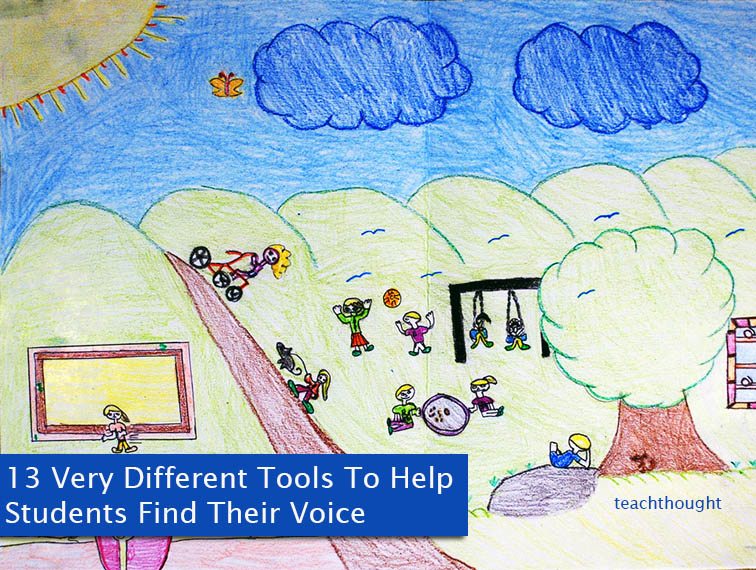 What Are The Best Tools To Help Students Find Their Voice?
by Terry Heick
Students need a voice.
By voice, I mean the ability to recognize their own beliefs, practice articulating them in a variety of forms, and then find the confidence — and the platform — to express them.
The platforms part can go a long way toward serving the confidence part. Introverted students (who may be gifted with self-reflection) might find the openness of a social media channel like Twitter intimidating, but they might also love the idea of long-form blogging, or even communicating indirectly through the creation of mini-documentaries, podcasts or music videos.
This (correctly) implies that there is no one-size-fits-all solution for students to express themselves and interact with the world. You can indeed insist that all students blog because, from your perspective, it sounds justifiable and beneficial, but if the goal is to help students find their own voice, they will need choices. Here are six very different possibilities, from those text-based to artistic, dramatic to digital,
13 Very Different Tools To Help Students Find Their Voice
1. Writing
Strategy: Blogging
Tools: This one is simple. WordPress, Blogger and a variety of education-focused blogging platforms help students establish their own digital space to meet the world. It allows the embedding of images, videos, tweets and of course text. What kind of text? Journaling, poetry, editorials, etc. Blogging is perfect at nothing, but good at everything.
Terms of Success: To be successful here, they just need a reason to blog and patience if they're looking for an audience.
2. Multimedia
Strategy: Mash digital images and text to simple, accessible expressions that fluidly adapt to social and mobile consumption
Tools: Storify and Storehouse essentially allow students to collect media bits and pieces from across the web, and to socialize them — that is, to shape them into a unique form of expression through social media. The focus here is less on the student articulation of ideas (in contrast to blogging), and more on what they share and why they share it. In other words, the content itself is the star.
Terms of Success: To be successful here, students need an eye for compelling content, as well as an understanding of the ways that various digital media can work together to tell a story.
3. Speaking
Strategies: Podcasting or VoiceThread
Tools: While podcasting and VoiceThread have fundamental differences, they boil down to the ability for students to express themselves verbally around an idea important to them. To be successful here, students need to be comfortable talking, and to be able to do so in ways that are interesting to listen to. They also need strong audience awareness — but then again, when don't they?
4. Performing and/or Directing
Strategy: Create and maintain a digital video channel to find voice, audience, and understanding of viewer habits
Tools: YouTube is the ultimate digital distribution channel — billions and billions and billions of views.
It works, and it's staggeringly efficient, with a world of analytics and an instant global audience for any video that can find traction. Students can create review channels, perform music, humorously remix existing content, act, create documentaries, and a million other possibilities.
Terms of Success: Success here depends on a student's comfort level in front of a camera (if they're somehow performing), and/or an eye for standing out in front of said billions and billions of competing videos (if they're behind the camera or somehow producing).
To work with YouTube — and really with any of the above-mentioned media — students need to have a strong awareness of both legal copyright issues and notions of digital citizenship. As a teacher encouraging them to find their voice, you are in a unique position to teach or reinforce these concepts. Also important here is both bandwidth (video files can be quite large), and the ability to upload them from desktops, laptops, and mobile. So, tech-savvy!
5. Artistic Expression
Strategy: Photograph, paint, draw, or otherwise create compelling visuals to share with the world
Tools: Behance is an iPad app meant to share the best artistic and design students create in a social, pinterest-like style.
Other possibilities include Deviantart (a site to share drawings, paintings, and photography), Drawp (an app with a classroom-friendly workflow for painting), and flickr (a cloud-based photo hosting site whose latest updates have made it a bit more elegant to publish and share), as well as video games like Minecraft (design, architecture), GarageBand (music) or The Drum Machine (beats, though sadly not be Dre).
Terms of Success: The tendency to be creative, the ability to create for personal reasons rather than popularity, and like YouTube, tech-savvy to manage the channels; those that tend towards music–and want to use advanced tools like GarageBand and The Drum Machine–need not rhythm and a love for music, but the patience to figure out apps that can get quite complicated.
13 Very Different Tools To Help Students Find Their Voice; a version of this post was originally written by Terry Heick for edutopia; adapted image attribution flickr user koreanresourcecenter, and CC license remains the same