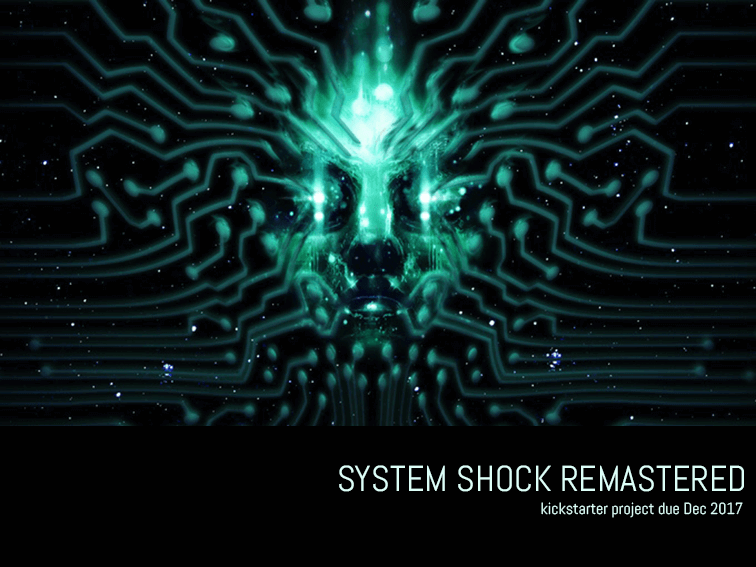 System Shock Will Be Remastered If It Reaches Its Goal
by Terry Heick
One of my favorite PC games of all-time is being remastered in a kickstarter project due in 2017. That is, if it reaches its goal.
The immersive, haunting, and complex action RPG from the early 1990s was a way-before-its-time effort from Warren Spector–a huge leap ahead of simple (but equally brilliant) peers like Doom and Quake. Its unique narrative mechanisms mixed with stunningly creepy AI created an atmosphere that I'll never forget. I can still remember hiding under a desk after running from a 'zombie'–after 5 or so minutes of not moving, I stood up only to come eye-to-eye with the zombie on the other side of the all-too-thin glass. And when it saw me, it started beating on the glass with a wrench and moaning and NOPE. Escape–>home screen–>exit game.
And strangely, I can't wait to visit it again. It'll be released for PC and Xbox One–hopefully in late 2017 if all goes well. I'd play it in Dec 2018, too for that matter.
Few of you are likely to remember the game, or care for a new one, but just in case, the details are below.
System Shock Remastered Details
System Shock is a complete remake of the genre defining classic from 1994 built by a team of industry veterans. Remember Citadel.
System Shock was one of the first 3D games that took a methodical approach to exploration while revealing a story driven narrative through audio logs and messages scattered throughout the game world. It was a revolutionary step forward for the medium in a time when developers first began experimenting with interactive story telling.
Players were trapped aboard Citadel Station as they fought to survive against the cyborgs and mutated crew members corrupted by a maniacal A.I. known as SHODAN, one of the most treacherous antagonists ever conceived. System Shock offered an unparalleled experience that would solidify it as one of the greatest games of all time.
General Features
A modern take on System Shock, a faithful reboot; it's not Citadel Station as it was, but as you remember it. Many improvements, overhauls and changes are being implemented to capture the spirit of what the original game was trying to convey, and bring it to contemporary gamers.
Re-imagined enemies, weapons, and locations by original concept artist Robb Waters.
Terri Brosius reprises her role as SHODAN, and new VO will be recorded.
Brand new musical score composed by Jonathan Peros.
The user interface, game mechanics, enemies, and puzzles will be updated to reflect modern aesthetics and sensibilities, while maintaining the feel of the original.
You can read more–about the team, stretch goals, and more–on the System Shock Remastered kickstarter project page.
System Shock Remastered Details