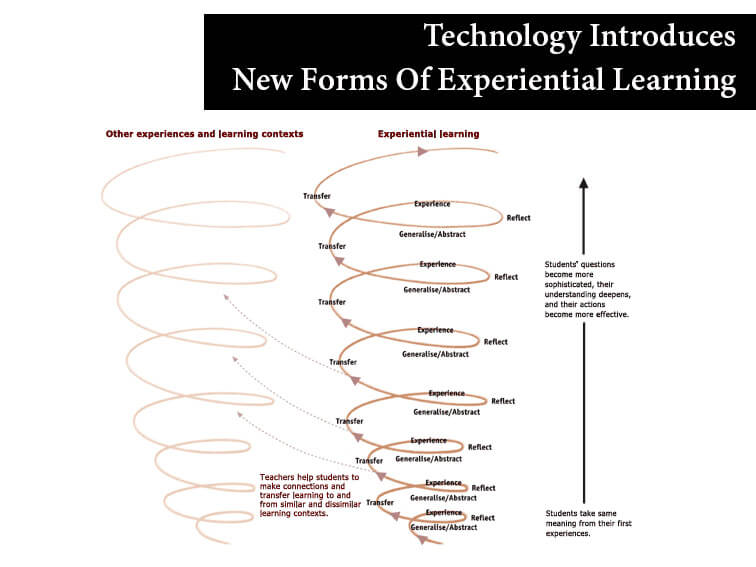 Technology Introduces New Forms Of Experiential Learning
contributed by Mads Bonde, CEO of Labster
What is experiential learning, what is its context, and how is it being impacted by technology?
Back in the 1960s, Edgar Dale, the pioneering educator, and professor of education at Ohio State University, created the Cone of Experience, an intuitive model showing education methods from their most abstract (visual and verbal symbols) to the most concrete (direct purposeful experiences). With alternative methods of education becoming more accessible to teachers thanks to technology, educators are beginning to realize how just how valuable experiences can be in creating better learning outcomes for students
Many institutions are experimenting with "flipping the classroom," by changing the way lectures and homework are used. Getting students to solve problems and complete labs in the classroom, while providing instantaneous feedback and leaving the lectures and reading for home has become more popular than ever.
Experiential Learning Helps Close The Job Skills Gap
Based on the work of David Kolb, experiential learning is, in short, learning through experience, activated in part by reflection on that experience. This idea of experience-based learning is being taken to the next level in classrooms around the country.
For example, researchers at the University of Washington have created a high school science curriculum that brings real scientists into the classroom and has students complete contemporary scientific work. In New York, a collaboration between IBM and New York City public schools has resulted in P-Tech, a high school in Brooklyn that pairs students with IBM mentors.
In Seattle, Raisbeck Aviation High School collaborates with Boeing to mentor engineering students and give them a dose of what a career in the aviation industry might look like. In higher education, experiential learning creates a win-win for both students and employers, with students getting valuable hands-on education, while employers are able to teach the skills that they find many students are missing when they enter the workforce.
Kenneth Freeman, the dean of the Boston University School of Management, predicts experiential learning "will really come into its own" in the next 20 years. Freeman says that through faculty-guided projects with businesses, "More and more students will find out firsthand the range of leadership and management skills that will be required of them after graduation."
Technology Introduces New Forms of Experiential Learning
In addition to teachers and employers collaborating on ways to bring experiential learning to their students, advances in technology have enabled brand new ways for students to get real-world experiences in the classroom. For example, students in Ireland can recreate the historical ruins of Clonmacnoise they visited on a field trip using open-source 3D software. Within two weeks after making the 3D replica, the students were using Oculus Rift virtual reality headsets to explore their model of the ruins in 3D.
James Corbett, the managing director of Mission V, which is testing this program in eleven other Irish schools, said of the initiative, "We are in no doubt now that virtual reality will become an ever more important part of education."
The founder of Oculus, Palmer Luckey, recently spoke about the possibilities of virtual reality in the classroom in a White House meeting, "It's going to be really important for STEM education. Because kids don't learn best from reading a book or looking at a chalkboard. We've decided, as a society, that there's some benefit in field trips; actually having hands-on experiences where we send people to do things. The problem is, it takes a lot of resources to do that. Most field trips I've been on have been mostly traveling and corralling kids, and eating lunch, and not nearly as much actual learning. And you're limited in what you can do. You can't go to a new place every day because the resources aren't there." Virtual reality may make it possible to virtually go on field trips every day.
With teachers, professors, employers, and technologists collaborating on bringing everything the world offers into the classroom, the future of experiential learning is looking bright. By giving students more real-world experiences, we can increase learning outcomes and better prepare them for the workforce. As Plutarch put it, "it was not so much by the knowledge of words that I came to the understanding of things, as by my experience of things."
Mads Bonde is the co-founder and CEO of Labster, an edtech company that develops virtual science laboratory simulations for STEM teachers and students.
Technology Introduces New Forms Of Experiential Learning; image attribution flickr user Ron Mader