You Can Drag And Drop To Organize Your Google Classwork Page
by TeachThought Staff
As of early 2019, you can now drag and drop topics and individual Classwork items to make organizing your Classwork page much simpler–and visual, too.
The main benefit is, of course, ease of organization. As the animation above shows, you can click and drag a topic anywhere on the Classwork page. You can also drag individual items within—and in between—topics.
You can also group lesson and units materials–assignments, questions, and other class materials–under topics.
We've already explored How To Add Materials To An Assignment In Google Classroom. Below, let's take a look at Google Classroom Topics.
How To Use Google Classroom Topics
Google suggests thinking of "topics as modules or units" and the "assignments or materials as individual lessons." It's not entirely clear why they don't use more education-specific language (e.g., call them lessons and units), but it's not difficult to figure out once you start playing around with it.
Adding topics is simple: Select the class, then click 'Create,' then select 'Topic' from the menu below.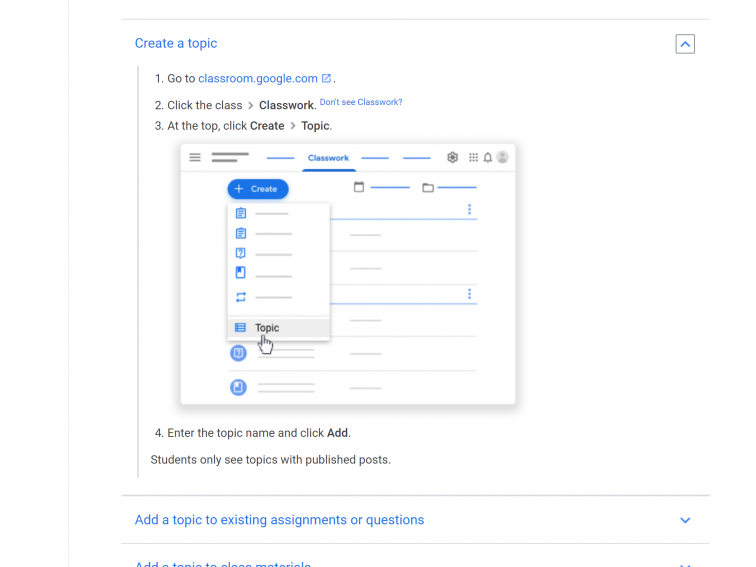 You can even reorder previous posts under a topic or rearrange topics to follow specific curriculum patterns and guidelines (e.g., curriculum mapping of sorts).
Google Tip: You don't have to use topics for posts. If you don't assign a topic, the post shows at the top of the Classwork page.
The big takeaway for this post is the new featured of reordering topics and other classrooms items on your Classwork page.
You can read more on Google's support page.