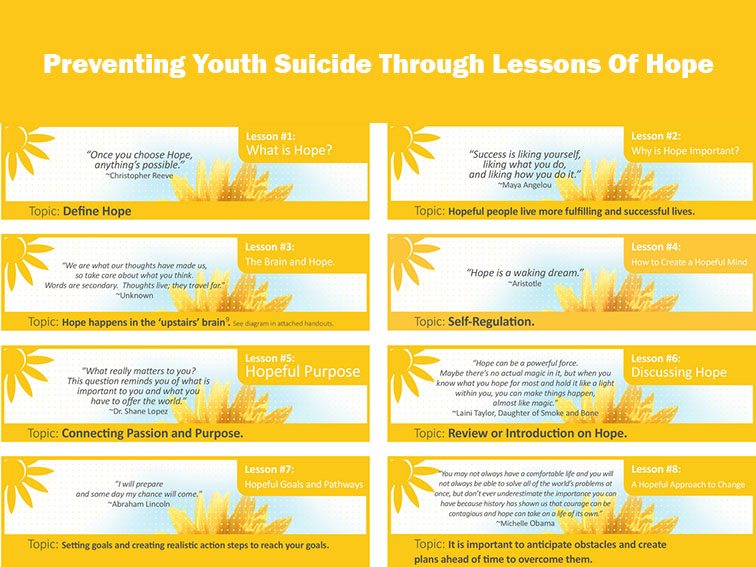 How To Prevent Youth Suicide Through Lessons Of Hope
by TeachThought Staff
CHICAGO, IL — Schools for Hope is a new, free educational curriculum that was developed by The International Foundation for Research and Education on Depression (iFred) to prevent youth suicide by giving students, educators and parents the necessary learning tools to find and maintain hope. According to a recent study published in the Journal of Adolescent Health, 1 out of 9 children self-reported a suicide attempt before graduating high school; with forty percent of those children in grade school. Schools for Hope provides free life-saving skills to children, teachers and parents with the goal of reversing those staggering statistics
"Teaching children the importance of caring for their mental health is crucial to their emotional well-being and quality of life," said Penny Tate, Schools for Hope Project Manager. "By giving children tools to have hope, we not only aid in their ability to handle life's challenges and save lives, but we empower them to become their most vital selves. As a mother of two young girls, and as a survivor of suicide loss, I've seen firsthand the importance and critical need that exists to have an open dialogue with our children and give them hope."
Schools for Hope is a free program that is available to any interested school, community group, after school program or nonprofit in the U.S. and overseas. It has comprehensive instructions and can be easily self-led, so the costs associated with implementation are low. The curriculum is based on research that suggests hope is a teachable skill—a vitally important aptitude because hopelessness is the leading symptom of depression and predictor of suicide.
The curriculum is made up of ten core lessons and additional workshops on Heroes for Hope, Movies for Hope and Artwork for Hope. It is currently being tested among 5th graders because of the significant rise in suicide attempts in sixth grade, and educates students on the importance of emotional health and well-being, how to get their brain into a hopeful state, and meditation and deep breathing techniques. The program also teaches children how to define hope, explore and define the meaning of 'success', and practice emotional self-regulation techniques. They will also learn about the biology of the brain and how to connect their passion and purpose in life.
iFred launched Schools for Hope in Fall 2014 in two Chicago-area school districts (Woodland Intermediate School in Gurnee, IL and Oakland School in Antioch, IL) with the goal of expanding nationally and internationally. The program is expanding to South America and Nepal this year, and is available for translation and in cobranded partnerships with other nonprofits interested in teaching the curriculum to their members.
"I enjoyed teaching the lessons because I think that our students aren't really in touch with their emotions," said April Cooksey, a 5th grade teacher at Woodland School. "I believe that this project created a safe place for my students to express their thoughts and feelings."
Amy Werner, also a teacher at Woodland School added, "My students looked forward to the hope lessons every day. They couldn't wait to learn and often still ask when we will do more lessons. It's not often students ask to be educated!"
For interest in testing or implementing the 5th grade curriculum, please email Schools for Hope at [email protected] or visit the website to download the free lesson plans. There are also tools and support items for teachers and educators, as well as research to date on the program and information on how the curriculum fits with current social and emotional learning standards mandated in several states. More information is available at http://schoolsforhope.org.
Fall Curriculum
(Fall) Lesson 1: Define Hope
(Fall) Lesson 2: Hopeful people live more fulfilling and successful lives
(Fall) Lesson 3: Hope happens in the 'upstairs' brain
(Fall) Lesson 4: Self-regulation
(Fall) Lesson 5: Sacredness
Spring Curriculum
(Spring) Lesson 6: Hope revisited
(Spring) Lesson 7: Setting goals and creating action steps to those goals
(Spring) Lesson 8: Anticipating and planning for obstacles
(Spring) Lesson 9: Using hope tools to cope with unexpected events; finding someone to support you
(Spring) Lesson 10: Giving back
About iFred: International Foundation for Research and Education on Depression's mission is to shine a positive light on depression and eliminate the stigma associated with the disease through prevention, research and education. Its goal is to ensure 100% of the 350 million people affected by depression seek and receive treatment.
iFred is creating a shift in society's negative perception of the disease through positive imagery and branding-establishing the sunflower and the color yellow as the international symbols of hope for depression. To further its mission, iFred engages with individuals and organizations to execute high impact and effective campaigns that educate the public about support and treatment for depression.
Website: http://www.ifred.org Twitter: @iFredorg Facebook: https://www.facebook.com/ifredorg