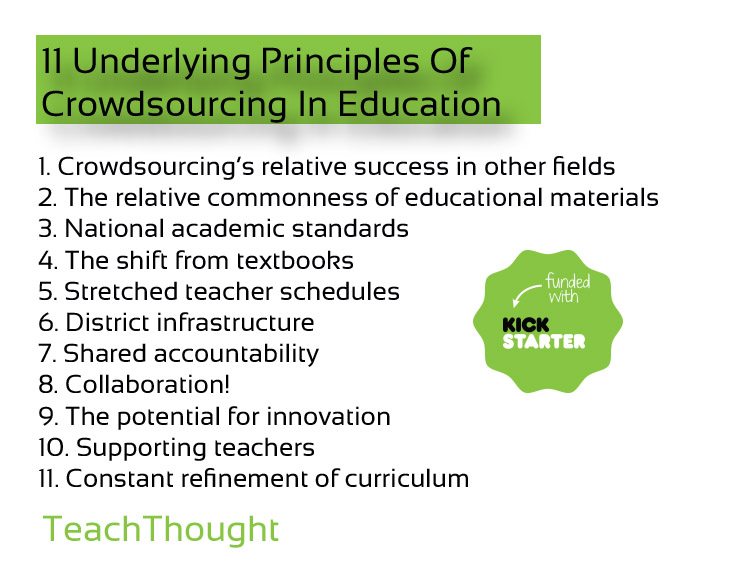 by Chris Yim, UClass.io
Crowsourcing is huge in other industries, but has yet to affect education
It doesnt make sense that teachers are recreating lessons over and over again
With the Common Core transition, it makes more sense than ever that teachers would be exchanging best practices and methods that work
Why is the content landscape so fragmented? Textbooks arent doing the trick. they're obsolete and they don't address the needs of many, and OERs dont work. Too many of them out there, and many lack quality
Teachers are looking for quality material that's vetted
How do you get vetted material? You have to look within your district for these content solutions
District oversight allows for transparency in the creation of great content and gives everyone accountability in the process
Moreover, it's a shared effort as everyone experiences this transition together
On the receiving end of this kind of innovation are students who are receiving quality instruction
When students have the most prepared teacher, they have a better opportunity to succeed and perform
As student outcomes are higher, teachers can point to what works, refine what can be approved and these methods can be gathered, shared and the success can be recreated elsewhere
The Case For Crowdsourcing–But Properly Done
As crowdsourcing has become a solution for institutions across industries, tapping into the power of the masses, confusingly education has yet to embrace this model.
While collaboration is being worked into standards and encouraged in the classroom, teachers are still often performing a majority of their planning in isolation. With the burdensome load of preparing the next day's curriculum not getting any easier, it makes little sense that teachers are creating lessons that have already been taught before. Why plan another lesson on the Civil War when there is excellent material already out there?
With the transition to the Common Core sweeping the country, this is a period when teachers must stand united in exchanging best practices and methods that work. With the content landscape so fragmented, teachers are at a loss for how to plan and what will drive student performance. The historical tradition of textbooks has been grandfathered into the 21st century, and it's been problematic. The U.S. spends nearly $9 billion each year on textbooks that are obsolete the moment they're purchased. This type of content is not only static in terms of how it's consumed, but also fails to diversify in meeting the learning needs of many.
On the other end of the spectrum, the content space has a plethora of open educational resources (OERs), created by educators everywhere. Most of these resources are free and easily accessible, but the problem lies in the quality of unvetted, foreign content. This content is searchable on the Internet, but tough to comb through and even more difficult to implement in the classroom. The image that comes to mind is the process of finding an organ donor.
Donors exist and come in hordes; however, finding a donor with the criteria to match what the recipient is seeking can be significantly more challenging.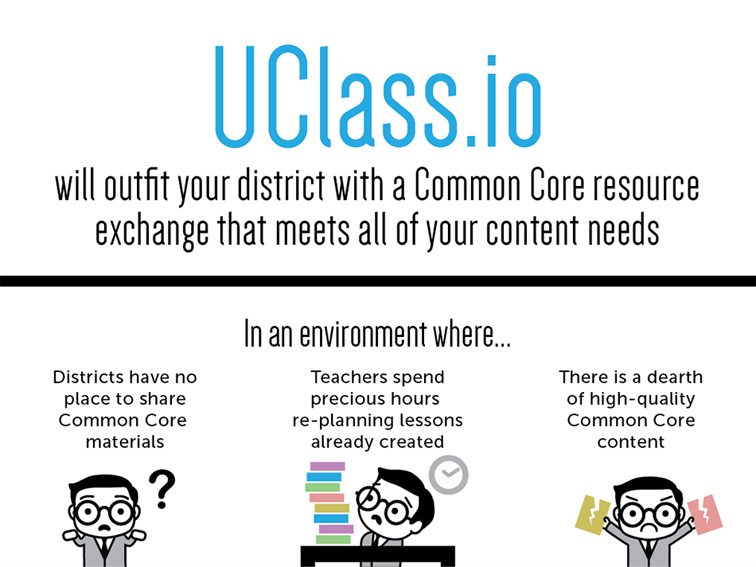 The Problem With Sourcing Instructional Materials–And A Contest
What teachers are seeking, when it comes to content, is material that is vetted and proven to effectively teach the standards that they're seeking to teach. In the content ecosystem where vetted material is difficult to measure, teachers stick with what they know and what's familiar. They trust material that comes from sources they know and that have a reputation behind it. This kind of transparency in the creation of content is important and most present at the district level.
Systems like these are starting to make their way to the foray of the edtech landscape. Most recently, UClass announced it's new pilot — UClass.io for schools. This content management system serves as a Common Core resource exchange for teachers to access the materials created across their district.
Their team of engineers will outfit a solution tailor made to your district's needs. Apply before February 15.
Knowledge and experience are the most important things in any profession. These are what we must harness to give our students the education they deserve. It's time that education embraced crowdsourcing, understanding its limitations, to advance our students' learning.
11 Underlying Principles Of Crowdsourcing In Education