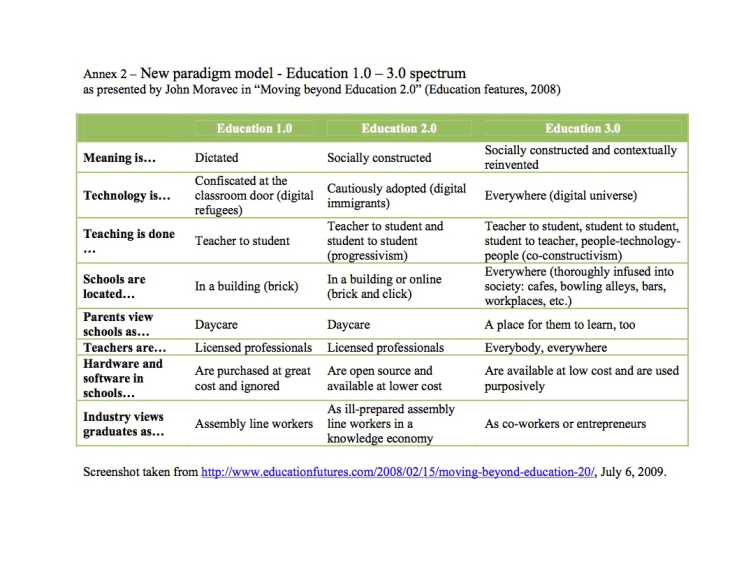 The Difference Between Education 1.0 & 3.0
contributed by Jackie Gerstein
The shift from 'Education 1.0' to 'Education 3.0' is a shift from 'education' to people.
Schools are doing Education 1.0; talking about doing Education 2.0; when they should plan and implement Education 3.0. This post seeks to compare the developments of the Internet-Web to those of education.  The Internet has become an integral thread of the tapestries of most societies throughout the globe.  The web influences people's way of thinking, doing and being; and people influence the development and content of the web.
Today's Internet has become a huge picture window and portal into human perceptions, thinking, and behavior.  Logically, then, it would seem that schools would follow suit in mimicking what is happening via the Internet to assist children and youth to function, learn, work, and play in a healthy, interactive, and pro-social manner in their societies at large.
See also The Learning And Design Principles Of Connected Learning
Education 1.0
Most schools are still living within and functioning through an Education 1.0 model.  Although many would deny this, they focus on an essentialist-based curriculum with related ways of teaching and testing.
The foundation of essentialist curriculum is based on traditional disciplines such as math, natural science, history, foreign language, and literature. Essentialists argue that classrooms should be teacher-oriented. The teachers or administrators decide what is most important for the students to learn with little regard to the student interests. The teachers also focus on achievement test scores as a means of evaluating progress. Students in this system would sit in rows and be taught in masses. The students would learn passively by sitting in their desks and listening to the teacher (reference).
This description (1) rings true with many schools in this age of standardization, accountability, NCLB, Race-to-the-Top, Common Core Curriculum Standards, and (2) has a lot of similarity to Web 1.0…
Web 1.0 was an early stage of the conceptual evolution of the World Wide Web, centered around a top-down approach to the use of the web and its user interface. Content creators were few in Web 1.0 with the vast majority of users simply acting as consumers of content. Web 1.0 webpage's information is closed to external editing. Thus, information is not dynamic, being updated only by the webmaster. Technologically, Web 1.0 concentrated on presenting, not creating so that user-generated content was not available (reference 2).
Web 1.0 came out of our existing mindsets of how information is transferred, and very much reflected the 100+ year history of industrialism, with experts/businesses dispensing identical knowledge/products to mass consumers (reference 3).
Derek W. Keats and J. Philipp Schmidt provide an excellent comparison of how Education 1.0 is similar to Web 1.0.
Education 1.0 is, like the first generation of the Web, a largely one-way process. Students go to [school] to get education from [teachers], who supply them with information in the form of a stand up routine that may include the use of class notes, handouts, textbooks, videos, and in recent times the World Wide Web. Students are largely consumers of information resources that are delivered to them, and although they may engage in activities based around those resources, those activities are for the most part undertaken in isolation or in isolated local groups. Rarely do the results of those activities contribute back to the information resources that students consume in carrying them out (reference 4).
Education 2.0
Steve Hargadon noted the following in 2007:
Web 2.0 has really been the flowering of new relationships between individuals and businesses, and reflects new ways of thinking that the technology has facilitated or created. It's about engaged conversations that take place directly, and don't rely on top-down management, but peer feedback and mentoring. It's an incredibly effective restructuring of how learning takes place, and somehow we have to figure out how to bring this experience into our learning institutions–or they will become obsolete (reference 5).
Like Web 2.0, Education 2.0 includes more interaction between the teacher and student; student to student; and student to content/expert.  Some school administrators and educators seem to have taken some steps and moved into a more connected, creative Education 2.0 through using cooperative learning, global learning projects, Zoom in the classroom, and shared wikis, blogs and other social networking in the classroom. But in 2013 (ed note: now 2017!), this should be the norm not the exception.
Education 3.0
Education 3.0 is based on the belief that content is freely and readily available. It is self-directed, interest-based learning where problem-solving, innovation and creativity drive education.
Education 3.0 is characterized by rich, cross-institutional, cross-cultural educational opportunities within which the learners themselves play a key role as creators of knowledge artifacts that are shared, and where social networking and social benefits outside the immediate scope of activity play a strong role.

The distinction between artifacts, people and process becomes blurred, as do distinctions of space and time. Institutional arrangements, including policies and strategies, change to meet the challenges of opportunities presented. There is an emphasis on learning and teaching processes with a focus on institutional changes that accompany the breakdown of boundaries between teachers and students, higher education institutions, and disciplines (reference 6).
Education 3.0 is a constructivist, heutagogical approach to teaching and learning.  The teachers, learners, networks, connections, media, resources, tools create a unique entity that has the potential to meet individual learners', educators', and even societal needs.
Derek W. Keats and J. Philipp Schmidt further describe the individual components of Education 3.0:
Education
Wide diffusion of eLearning
Growing interest in alternatives to teacher-centered approaches such as constructivism (Dewey, 1998), resource-based learning, etc.
Local, regional, and international collaboration to create repositories of educational content
Awareness for the need of recognition of prior learning
Increasing use of the Internet to find information and just in time learning
Social
Increasing use of information technologies in daily life and for social purposes
Increasing social use of online virtual spaces
A new definition of self and society that includes computer-mediated social structures, and people outside of one's immediate physical environment
Technology
The widespread adoption of personal computers and the Internet (especially e-mail and the World Wide Web)
The emergence of Web 2.0, including blogs, podcasts, social interaction tools, etc.
E-Learning platforms or learning management systems that incorporate features of Web 2.0
Free and open-source software
Legal
The development of alternative licensing mechanisms to traditional copyright, which promote the use and reuse of (educational) content without requiring further explicit permission by the author or copyright holder or payment of royalties.
Conclusion
All of the pieces of Education 3.0 are literally freely available for the taking, why aren't those involved in the planning and implementing of schools integrating these ideas, tools and strategies into their systems? The time for planning for Education 3.0 was actually yesterday, but doing it now is okay, too (reference 7).