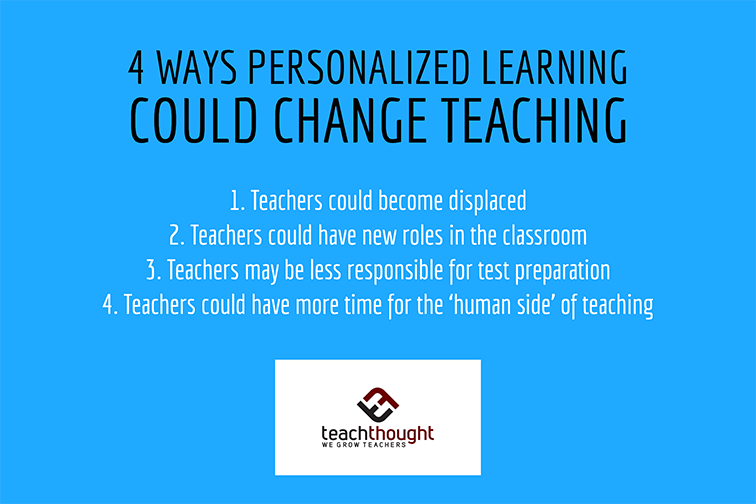 How Personalized Learning Could Change Teaching
contributed by Jennifer Jones PhD, Educational Entrepreneur and Founder of Green Ivy Schools
This post has been updated and republished
Increasingly, teachers at the high school and middle school levels (and perhaps even elementary school) will be hearing the term 'personalized learning.'
And as with so many terms in our field of education, it will be misunderstood and applied too broadly to too many things. But primarily it will refer to the use of computer-based AI-driven software to guide a student through a course of study in a fully or quasi- self-directed way.
Where did it come from? The true engine behind personalized learning is postsecondary education, where online tools like Knewton and Learning Catalystics have become mainstays. These programs allow students at the college level to move through coursework at their own pace, fast or slow, and more than that, the programs utilize artificial intelligence to adapt to the learner, redirecting, lingering, connecting as the learner's strengths and challenges are revealed by their responses and the time they take to move through modules.
Everyone in educational technology and many in artificial intelligence are watching closely as personalized learning tools evolve and as schools become increasingly comfortable embracing them as 'teaching companions.'
Teachers at the high school level can expect to see personalized learning expand rapidly throughout the country in the coming years. Entire states, like Delaware, New Hampshire, and nearly 15 others, have adopted personalized learning or have plans to, largely compelled by President Obama's Every Student Succeeds Act (ESSA) of 2015. Once a critical mass of high schools in a region have adopted it, middle schools will follow suit. And eventually, elementary schools will get in step.
What will it look like? Personalized learning will be used along a spectrum. Some schools will adopt online self-guided learning as a tool students use daily, fully integrated with every class or at least with what are often viewed as core or foundational subjects (for example, introductory math, science, language). Sometimes students will simply use these tools on their own, as needed. Sometimes, teachers will direct and supervise their use.
See Also The Changing Role Of The Teacher In Personalized Learning Environments
In some cases, personalized learning will be a teacher's companion, leveraged as teachers see the need and benefit, for specific students the teacher chooses, perhaps based on lagging performance in a particular class or for a student who, for lack of basic skills, could otherwise accelerate in a course of study. Free from traditional 'teaching,' personalized learning could also allow teachers to promote and model learning and correct the deficit in critical thinking.
Most schools (and many entire districts) will adopt personalized learning as a means of efficiency and economy. There are substantial savings to be had in replacing teachers of basic subjects with online learning modules. Plus, these modules promise to boost student performance across the board, which means schools struggling to build credibility or recover from low state test scores will be motivated to pursue them.
Teachers should be cautiously enthusiastic, because depending completely on the school or district, the implementation of personalized learning will threaten the job stability of some teachers but provide others with an extraordinary resource that could unlock student potential.
Four ways that teachers can expect personalized learning to impact their teaching appear below.
4 Ways Personalized Learning Could Change How We Teach
1. Teachers could become displaced
While there are many reasons for teachers to get excited about personalized learning, the fact remains that many states or districts will use this approach to cut costs, specifically staff costs. Teachers in the most danger of being displaced by personalized learning, are those teaching basic or introductory subjects like English grammar or early levels of math, science and history.
Any teacher whose class consists mainly of learning facts should pay close attention to the way personalized learning is implemented.
2. Teachers could have new roles in the classroom
Teachers who are not displaced by this new approach may find themselves serving simply as custodians of an AI system that is doing all the teaching. Certainly, class sizes will grow as personalized learning expands across the U.S. and student-teacher ratio norms shift. With larger class sizes, schools may rely on teachers more for behavior management and less for instruction. This means some teachers will be responsible for policing students in the use of learning modules, making sure they are moving through the program.
3. Teachers may be less responsible for test preparation
One of the upsides for teachers in personalized learning is that it will likely take over the task of preparing students for state tests. This means that teachers who have been burdened for years with teaching to the test can potentially find themselves able to focus instruction on more qualitative, engaging content. This assumes that schools will value that content and not resort to becoming test prep centers.
4. Teachers could have more time for the 'human side' of teaching
Personalized learning has real potential to free teachers to focus on rich content and improve the individual experience of each student, ensuring that those who struggle with concepts get help and those who are ready to accelerate can do so.
Apps that allow teachers (and parents) to monitor student progress in reading and math have been around for years. Any teacher who has had the fortune of using these apps with a class has enjoyed the way they empower the teacher to better understand each learner's capabilities and to nurture areas of interest. Not to mention the time that is freed up for teachers to properly plan (the secret sauce of great teaching), which alone could transform the class experience.
Conclusion
Personalized learning now being introduced in systemic ways could liberate teachers and entire teaching teams across subjects and grade levels to reinvent their content and improve collaboration and student engagement. Whether or not technology becomes the force for these enhancements will largely be decided at the district level, but school leaders will have some power to lobby on behalf of best practices.
As with most of today's technological advancements, personalized learning offers an opportunity for humanity to exercise its best and worst intentions. As educators (and especially as institutional decisionmakers), we can choose to use these learning tools as 'quick fixes' to institutional problems without concern for the long-term impact on society. Or we can use them thoughtfully to make ourselves better, happier, and more likely to contribute.
Dr. Jennifer Jones is the founder and visionary behind New York City's Green Ivy Schools network and a lifelong entrepreneur and advocate for evolved learning experiences for children from birth to high school and beyond.She has developed 24 schools and draws from a rich background as school developer, international policy consultant, and teacher. She has advised boards and governments at regional, state, national and international levels, served as a university professor and authored a successful book on child development.