How And Why This One EdTech Startup Used Kickstarter For Crowdfounding
By Andrew Little, Tiny Factory
Founded in 2010, Tiny Factory initially began as a web application design and development agency. We had the opportunity to work with giants such as Nike, General Electric and Scholastic. Beginning as an agency allowed us to work in a broad scope of areas within different industries. It helped us narrow our strengths and focus on what niche of our industry we wanted to pursue. This helped us reach another goal, which was to enter the EdTech market and specifically language education.
We began our entrepreneurial endeavors in June of 2011. We released Bilingual Child which helped serve as an early introduction for English and Spanish. After receiving over 26,000 downloads and amazing support from users, we decided to expand further in the language education market with our follow-up game, Lingual. Lingual serves as an introduction to English, Spanish and Mandarin Chinese.
Our decision to build on Lingual came just over a year ago and now has given us a year in development. Upon completion of roughly 75% of Lingual, we arrived at some financial crossroads. We needed to fund more development and design to meet the gameplay standards we were striving for.
Our options came down to 2 decisions in which we could pursue. The first of which was seeking Venture Capital. Venture Capitalism is often a prized opportunity and many times is the best option for a business to grow exponentially by experts in a skilled industry. However, an injection of money, business expertise and valuable connections will come at the cost of equity in your company. Ultimately we felt we were not willing to give up equity in our company at that juncture.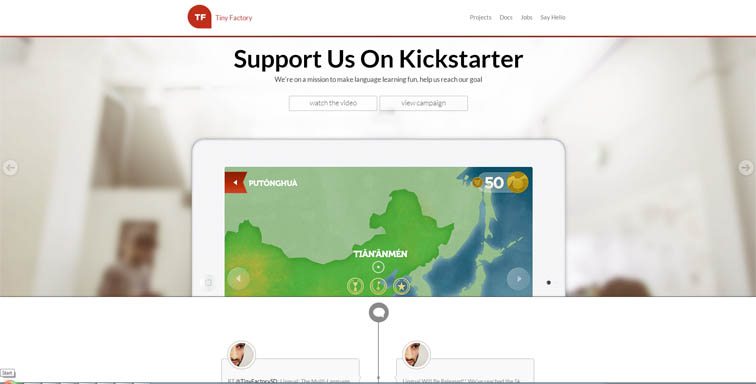 The Crowdfounding Solution
Our second option was to seek capital through crowdfunding.
Crowdfunding is a term used to describe the process by which entrepreneurs seek to raise small increment funds from potential supporters. Usually these potential supporters tend to be people who are either loyal customers, creative enthusiasts or gift basket fans (they like the pledge goal prizes).
Ultimately, crowdfunding meant more to us because we only needed a small financial amount to see the completion of our product. We also felt that our time was better spent on potential customers and supporters rather than searching for a VC. With that spent time, it gave us an opportunity to show our potential backers and current supporters that we cared about our product and the future of language learning.
However, just because anyone can use a crowdfunding platform to pursue their ideas, it does not make it any easier to achieve funding through this model. Preparing for our Kickstarter campaign took a tremendous amount of research and creative thought. It was far from being thrown together in a weekend. The process of analyzing past and present campaigns, breaking down the numbers and balancing an honest but driven sales pitch was a full time job in itself and still is.
Just as anything goes in business, we encountered obstacles during our Kickstarter research. We understood that EdTech has become an incredibly popular market in the Venture Capital world, but it had yet to command the crowdfunding arena. Kickstarter fans have often favored the projects that are tangible innovations. Makes sense, even I was amazed at the Pebble Watch and Lifx Bulb.
One Additional Hurdle
Our biggest hurdle was unfortunately out of our control and embedded in Apples App Review Guidelines. Kickstarter backers often want a piece of what they are contributing too. Lingual is a free app with in-app purchase content. Apples App Review Guidelines does not allow developers to gift in-app purchase content. While this did put us at a disadvantage, we were able to creatively think of great rewards and excel in the many other areas of our campaign.
We filmed a video that expressed our expertise and showed we cared about our product. We created pledge goals that we thought people learning foreign languages would be interested in and benefit from. Finally, we made some comical short videos to intrigue backers into the story behind Lingual.
Conclusion
Crowdfunding allowed us to better utilize our time and develop relationships with our customers. In any business, big or small, the most precious asset anyone can have is time. It's one of the few things that are ultimately finite. Why would we spend all our precious time seeking the right VC for us when we could spend that building relationships with potential customers?
We're still developing Lingual, our multi-language learning app. We need parents and educators to trust that we are creating a fundamental and informative process of learning, disguised as a game. The Kickstarter campaign allowed us to let our supporters see who we are and why we're developing a language education game. We hope our contribution to the surge in education technology has an impact on those searching for an introduction to language education.
Lingual is still on Kickstarter with 4 days remaining.
This is a guest post by Andrew Little of Tiny Factory; How–And Why–One EdTech Startup Used Kickstarter For Crowdfounding