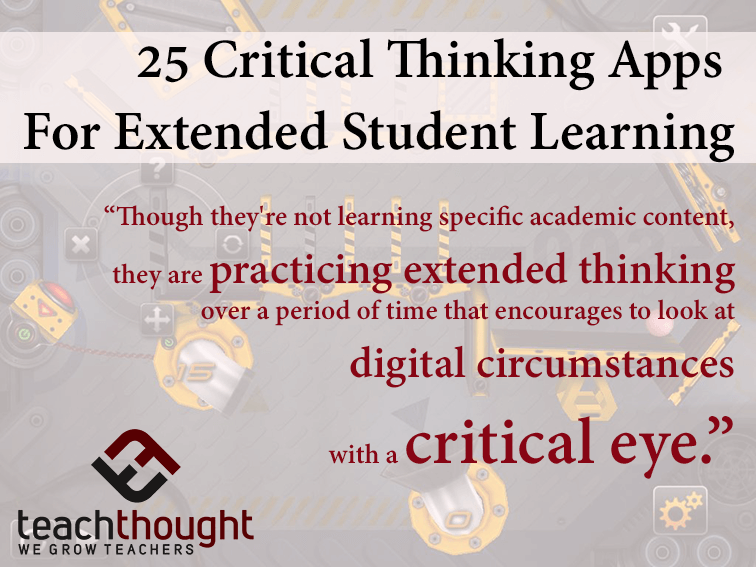 What Are The Best Critical Thinking Apps For Extended Student Learning?
by TeachThought Staff
Critical thinking apps aren't the sweet spot of mobile app design.
Most of the more popular apps are focused on social media, productivity, or what always seem to be mindless games (we're looking at you Kim Kardashian and Candy Crush). The fact that most apps don't force users to think critical doesn't mean that it isn't possible, however. The lack of cognitively demanding apps is more of an indictment of the users than the technology itself.
There are many apps that do promote critical thinking–and often extended critical thinking and learning at that. These aren't clinical "critical thinking building" programs either, but rather often enjoyable exercises in strategy, tactics, and problem-solving thought. So below we've collected 25 of these critical thinking apps. Most are for grades 8-12, but several are for students as young as kindergarten.
Helping students think critical is less a matter of direct instruction, and more a matter of providing them with access to dynamic tools with unique and playful barriers or goals that require the best strategy they can muster, while providing instant feedback to the player as they go. Though they're not learning specific academic content in most of these apps, they are practicing extended thinking over a period of time that encourages to look at digital circumstances with a critical eye.
25 Critical Thinking Apps For Extended Student Learning
1. Google Earth
2. Blinkist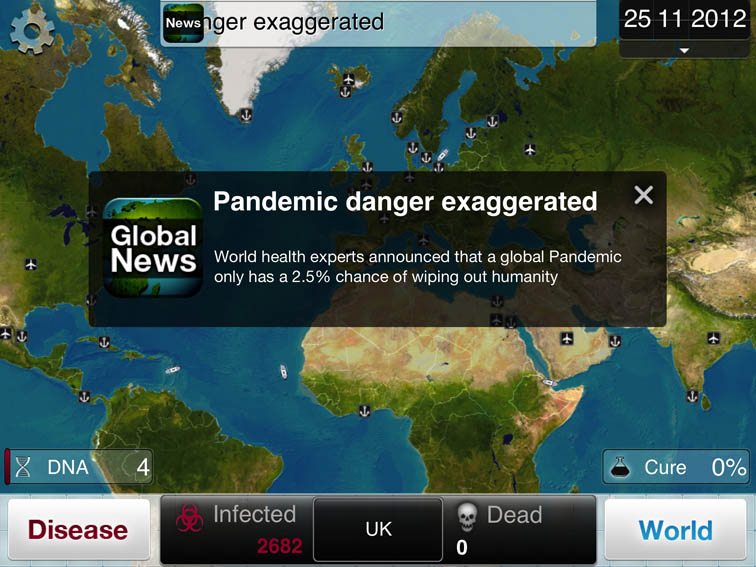 3. Plague Inc.
Grade Levels: 8-12+
Developer Description
"Can you infect the world? Plague Inc. is a unique mix of high strategy and terrifyingly realistic simulation. Your pathogen has just infected 'Patient Zero'. Now you must bring about the end of human history by evolving a deadly, global Plague whilst adapting against everything humanity can do to defend itself."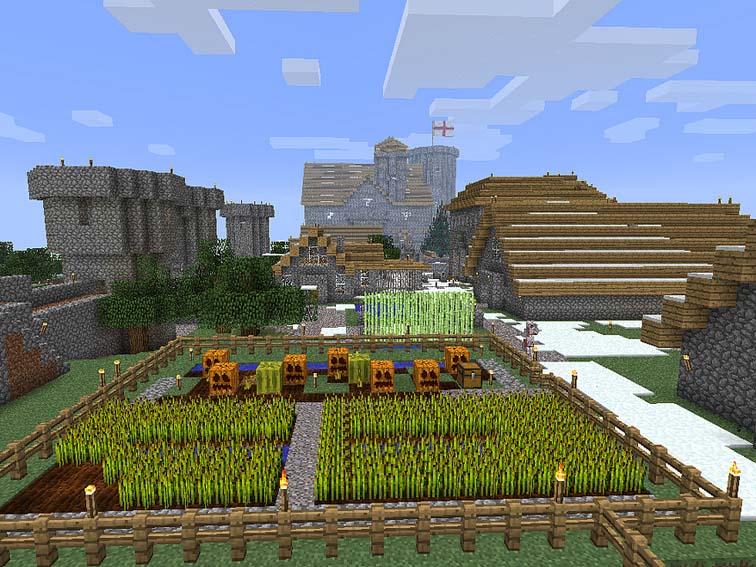 4. Minecraft
Grade Levels: K-12+
Developer Description
"Explore randomly generated worlds and build amazing things from the simplest of homes to the grandest of castles. Play in creative mode with unlimited resources or mine deep into the world in survival mode, crafting weapons and armor to fend off the dangerous mobs."
Grade Levels: 8-12+
Developer Description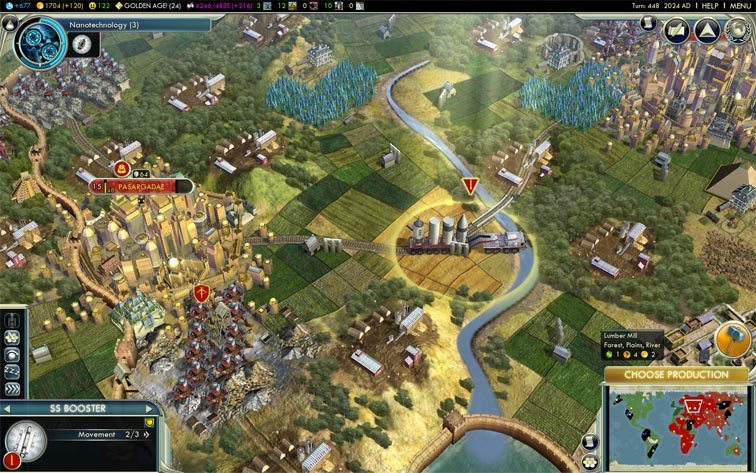 6. Civilization VI (Note: For Mac, not iPad) (Note: Editor's Choice award from TeachThought)
Grade Levels: 6-12+
Developer Description
"Originally created by legendary game designer Sid Meier, Civilization is a turn-based strategy game in which you attempt to build an empire to stand the test of time. Become Ruler of the World by establishing and leading a civilization from the Stone Age to the Information Age. Wage war, conduct diplomacy, advance your culture, and go head-to-head with history's greatest leaders as you attempt to build the greatest civilization the world has ever known."
7. Brilliant
Grade Levels: 6-12+
Developer Description
8. Principles In Action
Grade Levels: 8-12+
Developer Description
9. Shakespeare In Bits: Romeo & Juliet
Grade Levels: 7-12+
Developer Description
"Understand and appreciate the linguistic richness of Shakespeare's plays with the original play text, broken into easily digested 'bits'. In-line translation helps you to understand difficult words and phrases within the context of the original play text.
Each title includes hours of high-resolution animation with professional audio soundtrack, helping you to decode and comprehend Shakespeare's fertile prose quickly and efficiently. The text, presented side-by-side with animated action, is easy to follow with portions of text being highlighted as they are spoken in the play. The integrated combination of text, audio and graphics is designed to facilitate learners of varying abilities and learning styles."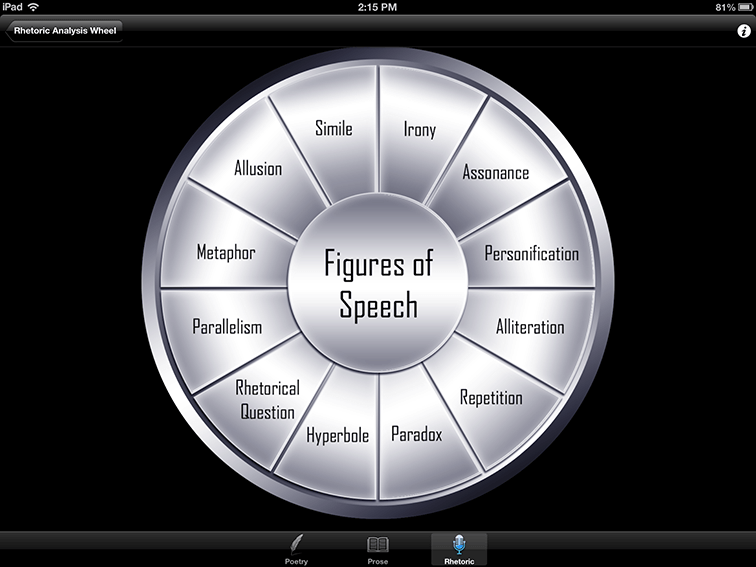 Grade Levels: 7-12+
Developer Description
"Literary Analysis Guide is a reference tool for students of literature, rhetoric, and writing. The elements of literature are arranged around three clickable interface wheels. Touch any term on the wheels for a detailed definition, examples from literature, questions to ask, and an example essay paragraph that analyzes that term. Students can also reference an illustrated version of each analysis paragraph which highlights the topic sentence, textual evidence, and analysis portions of text."
11. SPEEDSim: Spatial Population Ecological and Epidemiological Dynamics Simulator
Grade Levels: 9-12+
Developer Description
"Spatial Population Ecological and Epidemiological Dynamics Simulator (SPEED Sim) is a tool that enables hands-on interactive exploration of the spatial dynamics of various computational models in population ecology and epidemiology. The app also provides several cellular automaton models as an introduction to these kinds of simulations."
12. MasterClass
Grade Levels: K-12+
Developer Description
13. Animate Me! 3D Animation For Kids
Grade Levels: 3-12+
Developer Description
"Create 3D animations of cartoons in a simple and intuitive manner on your tablet or phone. If you've ever wondered how they bring characters to life in animation movies like Frozen or Toy Story, this app is for you. Kids can learn to make 3D animations that showcase their creativity and storytelling abilities."
14. Opposing Views
Grade Levels: 10-12+
Developer Description
"At Opposing Views, we report the news and let you debate it. We deliver the day's most pressing, important and unbiased news. Instantly access news that will make you think, laugh…"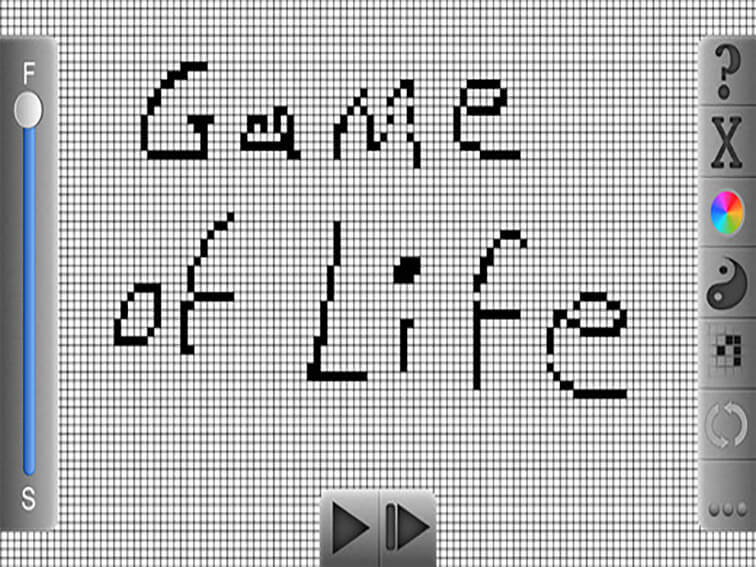 15. Game Of Life
Grade Levels: 8-12+
Developer Description
"Game of Life is a cellular automata simulation based on the well known Conway's Game of Life."
16. Sugar Shake
Grade Levels: 9-12+
Developer Description
"Shake and tilt sugar molecules to set off chemical reactions and earn points! This game features a cast of protein characters based on real structures found inside our cells. Explore the structure and function of ten of the tiny proteins that break down sugar in the cell. In each level, tilt different sugars to their matching proteins, setting off chemical reactions and avoiding obstacles."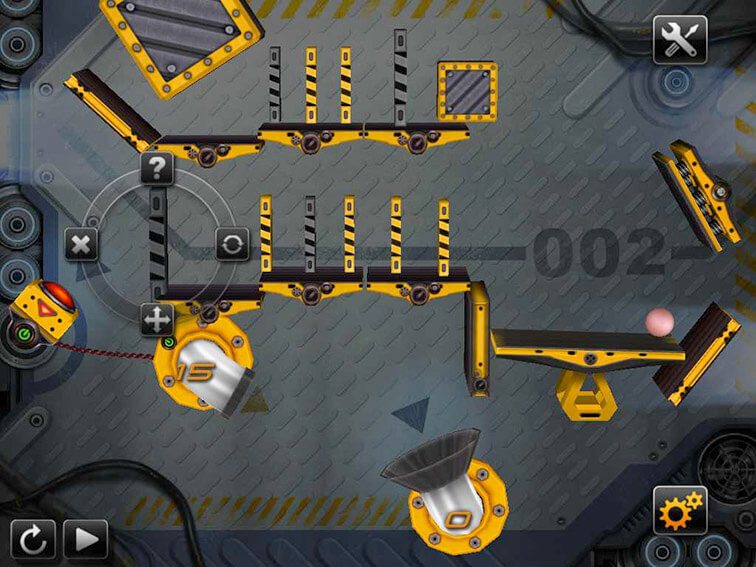 17. TinkerBox HD – Autodesk Inc.
Grade Levels:
Developer Description
"If you can imagine it, you can build it with TinkerBox. TinkerBox is a fun, free-to-play physics puzzle game. While it is full of interesting science facts and teaches basic engineering concepts, TinkerBox is more than just educational! Take the tools in your hands to explore your creativity and imagination with Invent mode. Build outrageous machines, share them with your friends, or download popular inventions online. Stretch your brain through the devious Puzzle mode. Get immersed in physics-based puzzles and mechanical concepts, where your only hope for success is your creative problem solving."
18. SimCity BuildIt – Electronic Arts
Grade Levels: 6-12+
Developer Description
"Solve real life challenges like traffic, fires, and pollution. Provide services like power plants and police departments to meet your citizens' needs, and boost your population with parks and education. Keep traffic moving with grand avenues and streetcars. Complete fun challenges to shape your society."
19. Artificial Life
Grade Levels: 9-12+
Developer Description
"Oddly hypnotic and relaxing, Artificial Life is a simulation of the growth and evolution of microorganisms – basically artificial life forms. Initially, each organism is given a random set of rules governing its behavior. If the rules end up being useful for survival, the organism may live long enough to mate with another organism and pass its genetic code on to some offspring.
Over time, the organisms with the most useful behaviors will pass on their genetic code, leading to interesting patterns of behavior unfolding before your eyes – flocking behaviors, solitary predatory tactics, scavenging, and hiding are some examples – and all this behavior is evolving from total randomness."
20. Block Craft 3D : City Building Simulator
Grade Levels: K-12+
Basic Description
Like Minecraft, with a greater focus on crafting.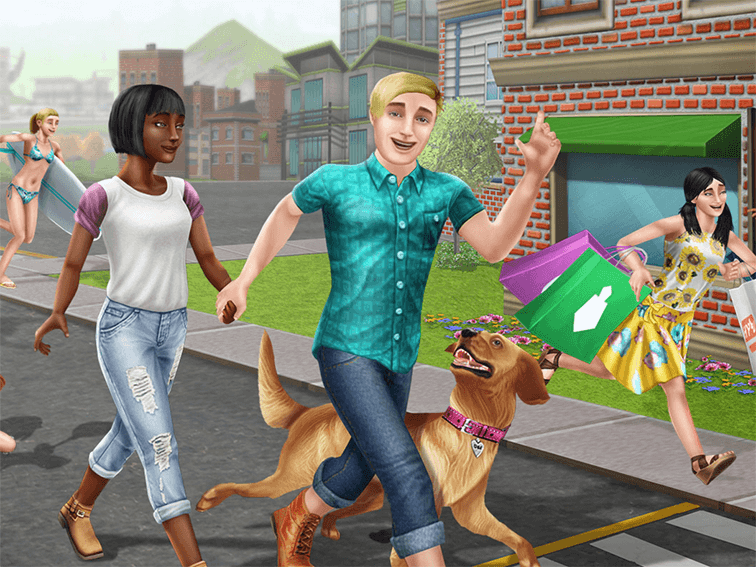 20. The Sims
Grade Levels: K-12+
Basic Description
Build a life, make decisions, design homes, prioritize relationships, maintain personal health, focus on actions and decisions that promote health, happiness, and well-being.
For other "micro-life simulations," consider:
21. Chaos Lab
22. LifeSim
23. SimpleLife
24. Artificial Life
25. Game Of Life
Full Affiliate Disclosure
External links on our website may be affiliate links that could result in us receiving compensation (payment) when you click on the link. For example, we may receive pay per click revenue or commission on sales of products. This varies from link to link–the vast majority of links provide us with no compensation, and any compensation we might receive is low (e.g., usually 6% or less). This helps us to, among other things, cover cost of content product and consistently deliver content.
Regardless of affiliate links, we try very hard not to share products or services to you that won't help you as an educator in some way, shape, or form. We turn down dozens of posts, ad campaigns, and other for-cost content every year due to a lack of alignment between said content, and what we perceive your needs as a progressive educator to be. If you ever have any questions or comments about this practice, email Terry Heick directly.
25 Critical Thinking Apps For Extended Student Learning