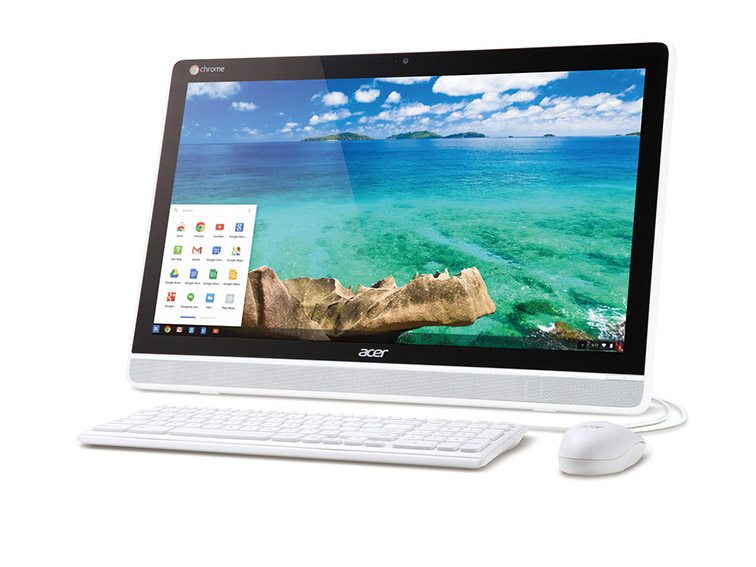 Introducing The Acer Chromebase, A Chrome OS All-In-One Touchscreen
by TeachThought Staff
Summary: In classrooms globally, Google continues to increase their momentum, and the latest announcement from Acer could help increase adoption rates with its packaging and design.
From A Press Release
Acer announced today the latest addition to its industry-leading Chrome OS device family, the Acer Chromebase series, complementing its existing Chromebooks and Chromebox.
The touch-enabled configuration of the Acer Chromebase is the industry's first all-in-one Chrome OS desktop with touch display, continuing Acer's activity in the Chrome OS market after launching the first 15.6-inch display Chromebook and fastest-performing commercial Chromebook. According to the latest data from Gartner, Acer Group is currently the world's leading Chromebook brand with over 36% market share in 2014.
Simple, Fast, Secure, and Affordable
The new Acer Chromebase comes with a Full HD resolution, 178-degree viewing angle display which incorporates 10-point touch technology, enabling more than one user to work, play and interact together. The device boots up in 10 seconds, and has multiple layers of security built-in with automatic system updates. Chrome OS supports multiple users and accounts while photos, videos, music, and documents are all synchronized and backed-up with the user's Google account. Acer Chromebase also comes with a complimentary 100 gigabytes of Google Drive storage so users have plenty of space.
Ideal for Work or Play
The Acer Chromebase is powered by a NVIDIA® Tegra® K1 quad-core processor, helping it deliver a multi-tasking experience, and stay quiet even when running heavy workloads. It has a built-in HD webcam, so that users can chat face-to-face with family and friends on Google Hangouts with amazing video image quality on the 21.5-inch 1080P Full HD display. The Acer Chromebase is VESA-compliant so that it provides flexible viewing options when mounted to a VESA-compatible stand, bracket, arm, or wall mount suitable for search or navigation use in public areas. It has two 3W audio speakers and provides HDMI out, USB 3.0, USB 2.0 ports in addition to 802.11a/b/g/n Wi-Fi and Bluetooth 4.0 wireless connectivity.
Availability
The Acer Chromebase will be available in North American and Asia Pacific markets in Q2, to learn more about availability, product specifications and prices in specific markets, please contact your nearest Acer office via www.acer.com.