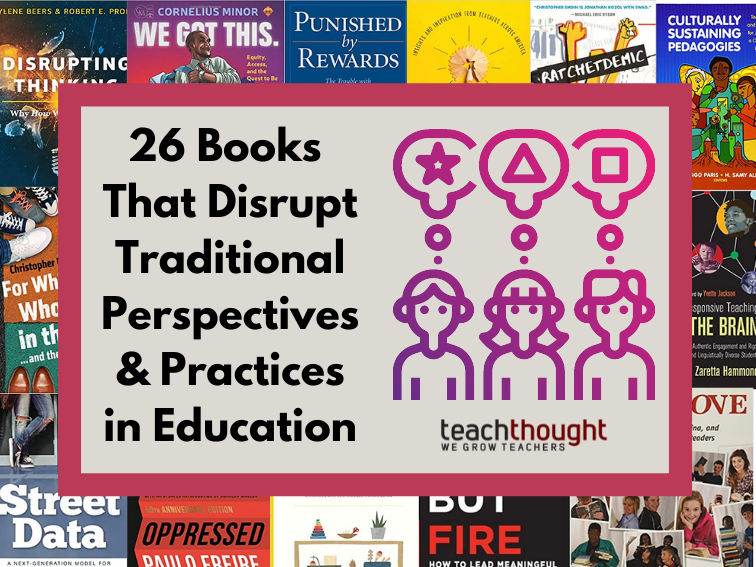 What Does It Mean to 'Disrupt' Tradition in Education?
When you hear the word 'disrupt,' do you associate it with a positive or negative connotation?
Naturally, there are some forces we probably don't want to disrupt (i.e., gravity, respiration, the space-time continuum, sleeping bears) because they are imperative for our survival. But other forces — almost always designed by humans — inherently necessitate a periodic disruption. As thinking, learning, technology, industry, and culture evolve, so must the greater institutions of school and the legal system and the economy look inward to reflect upon the following:
Are we fulfilling our stated and intended purposes for all stakeholders to the best of our abilities?
What perspectives might we maintain, or practices might we conduct, that are detrimental to our purposes?
How might we redesign our purposes, perspectives, or practices to contribute to better individual and collective wellbeing?
We don't mean to set up a dichotomy where the traditional is pitted against the disruptive. What we're interested in, at TeachThought, is thinking critically in order to improve teaching and learning for all stakeholders in education today. This process inevitably draws upon what emerged as 'traditional' through research, and we recognize that what was once considered 'disruptive' is now regarded as 'traditional.' For example, 'traditional' perspectives, held not so long ago, maintained that schools should be racially segregated. Activists and policies stemming from the Civil Rights Era helped turn integrated schools into a tradition of American education (at least, on paper…). Today, traditional practices like lecturing are being replaced by more student-centered approaches to instruction.
See also 25 Books About Social Justice
Disruptions are not always meant to cause chaos or trouble, but are often associated with those descriptors because (1) they essentially short-circuit the patterns we have been running on for a long time, and as pattern-seeking creatures, that causes alarms to go off; and, (2) people often believe that all change requires erasure of the traditional, when this is hardly the case. Ultimately, support for change comes down to values, and values are often set up in binary form: progress or regression, liberal or conservative, integrated or distinct, teacher-centered or student-centered. Perhaps what disruption truly strives to do, by 'poking' at the traditional, is to make us question our human tendency to restrict ourselves to 'either-or' scenarios, when in reality, the possibilities for growth are way more complex.
The 26 books that follow seek to do just that — to compel us, as educators, to observe our perspectives, practices, and purposes from a different viewpoint, to analyze their origins, evaluate their efficacies, and make adjustments that support students in the best way possible. We're surely missing some exemplars here — feel free to 'disrupt' our list by sharing the texts or authors that have helped you make essential transitions in your teaching and treatment of students.
Disclosure: This post contains affiliate links to products. As an Amazon Associate, I earn from qualifying purchases. Read more about our policy here.
26 Books That Disrupt Traditional Perspectives & Practices in Education