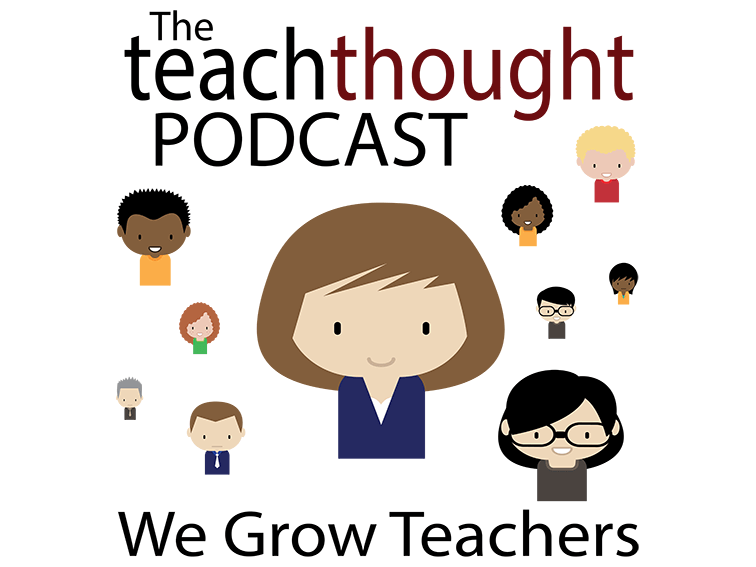 Would You Like To Host The TeachThought Podcast?
by Terry Heick
Want to host The TeachThought Podcast?
Not be a guest, but host? Simple–apply here.
We're opening up the TeachThought Podcast for guest hosting for the next 12 weeks, and are looking for hosts.
The big idea is to open up the TeachThought Platform for those in and around education to bring their own thinking and platforms to bear on problems and opportunities we all share. That's it. Now, I'm going to anticipate some concerns you might have and hopefully convince you to share.
I don't feel qualified to host.
There's almost zero chance you don't have an idea or experience or story or workaround or other tidbits to share with other educators to help improve their craft. I'm no Ken Robinson–I just talk. You can do that too.
I don't have the technology.
While high-quality mics are nice, the only thing you absolutely have to have is the way to record a conversation with decent audio.
I don't like my voice.
Me neither, but I still do them.
I don't have time.
This one makes sense, but keep in mind that they can be as short as 10 minutes long.
I'm not in the mood.
Maybe tomorrow you will be?
I don't like podcasts.
Think of it as helping out and/or growing your professional learning network.
How It Works
2. If contacted, send in a 30-second audio sample
3. Have and record at least a ten-minute conversation, then send us the file and we'll review them, then select the submissions we'd like to publish.
Show Ideas
Podcast topics don't have to be complex–that's kind of the idea here: We want to make the podcast more useful, frequent, and effective in supporting education. We'll still do the 'big picture' podcasts–and you can too–but it's not always necessary.
Here are a few ideas to show how simple this can be:
My favorite early literacy app
How I guide students to create their own digital portfolios
Here's a cool project my students created
A classroom hack that's made my life easier
Here's a book I read and think is worth sharing
What You Need
Something useful/insightful to 'say' that can start a conversation, help teachers, and/or push education forward.
Skype or some other way to host a conversation (face-to-face with a mic, for example)
A way to record the conversation
Ability to send a 30-second sample of audio to ensure audio quality
Note
If you have a product or service to sell, contact us about sponsorship opportunities. This is not intended to for promotional (direct or indirect) purposes.