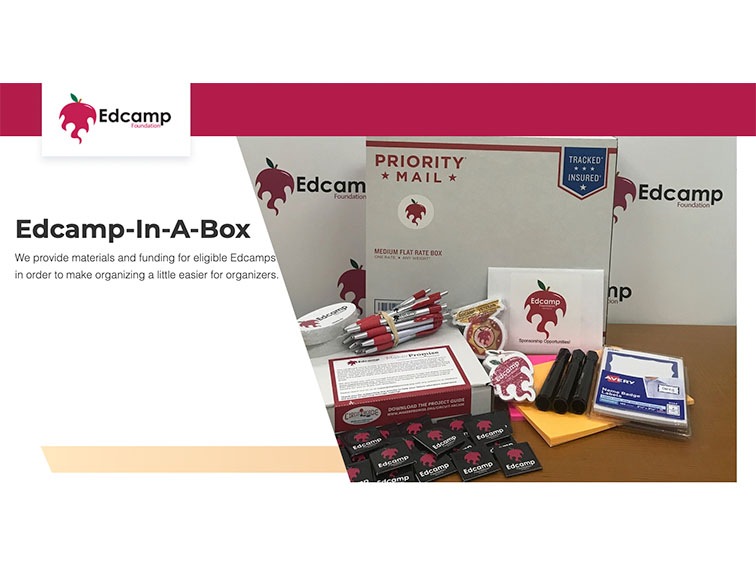 Edcamp-in-a-Box: An Overview
by TeachThought Staff
Properly planned and utilized, quality Professional development can transform a school. However, PD isn't always necessary for a school to grow. One method of 'homegrown PD' that's popular with teachers for years has been the Edcamp model.
In What Is Edcamp? we offered that Edcamp is "a low-cost, 'bottom-up' approach to teacher improvement where 'conference' participants gather, decide what's going to be learned, then set out to teach one another in a laid-back, communal approach of sessions."
Part of hosting an Edcamp event is planning and materials, and that's where Edcamp-in-a-box comes in. According to Edcamp, Edcamp-in-a-Box is a "free resource kit sent to organizers of registered Edcamps in the United States in order to make organizing as easy as possible."
Interested in hosting your own Edcamp event? There's a way to make it easier to receive materials and even funding to make the already-affordable method of PD more accessible to teachers and schools. It's called 'Edcamp-in-a-box.'
What's Actually In An Edcamp-in-a-box?
Nametags
Session Board building materials: markers and sticky notes
Edcamp-branded items (based on availability): pens, stickers, lanyards, bags, etc.
Sponsor contact information for resources and giveaway items
Edcamp explains that organizers receiving and Edcamp-in-a-box are "also eligible to receive a check for $200 for refreshments & materials. Due to funding limitations, we do not fund Edcamps organized by professional development agencies or Edcamps limited to post-secondary educators."
How To Receive Your Edcamp-In-A-Box
How do you receive your Edcamp-in-a-box? Edcamp says that after accepting their Terms & Conditions, you simply register your Edcamp and request your Edcamp-in-a-Box resource kit.
Answer 'yes' to "Do you need an Edcamp-in-a-box?" at the very bottom of the registration form which will then go on to prompt a series of questions. Once your registration form is submitted, Edcamp will contact you.
They suggest that if you do not hear from them within ten business days, to email them directly. In fact, if you have any questions at all, you can contact Edcamp them at [email protected].