50+ Teaching Strategies To Jumpstart Your Teacher Brain
by TeachThought Staff
Teaching strategies are among the most important ingredients for highly-effective learning environments.
In addition to literacy strategies, approaches to assessment, and grouping strategies (among many others), knowing the right teaching strategy for the right academic situation may not be a matter of expertise or training, but memory: out of sight, out of mind, yes?
Which makes the following infographic from fortheteachers.org useful.
While it doesn't offer definitions and explanations for each strategy (it's an infographic, not a book) and many great strategies are missing (e.g., 3-2-1, exit slip, project-based learning, accountable talk, ask a question, etc.) it does work well as a kind of reminder for what's possible, even offering categories for each strategy, from progress monitoring (think-pair-share, KWL charts), to Note-Taking (graphic organizers).
There are 87 instructional strategies listed below, but several are repeated across categories, so let's call it '50+' strategies.
Enjoy!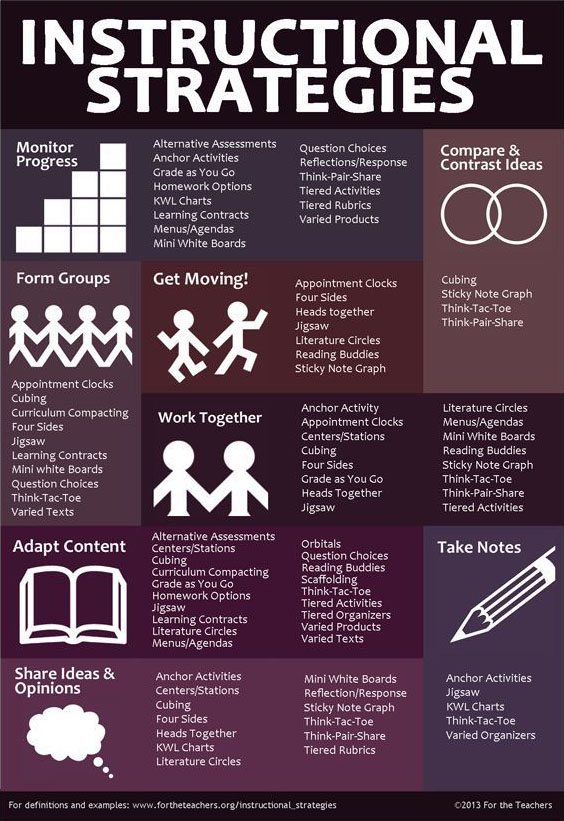 Monitoring Progress
1. Alternative assessments
2. Anchor activities
3. Grade as you go
4. Homework options
5. KWL charts
6. Learning contracts
7. Menus/Agendas
8. Mini-White Boards
9. Question Choices
10. Reflection/Response
11. Think-Pair-Share
12. Tiered Activities
13. Tiered Rubrics
14. Varied Products
Compare/Contrast Ideas
15. Cubing
16. Sticky Note Graph
17. Think-Tac-Toe
18. Think-Pair-Share
Form Groups
19. Appointment Clocks
20. Cubing
21. Curriculum Compacting
22. Four Sides
23. Jigsaw
24. Learning Contracts
25. Mini White Boards
26. Question Choices
27. Think-Tac-Toe
28. Varied Texts
Get Moving
29. Appointment Clocks
30. Four Sides
31. Heads Together
32. Jigsaw
33. Literature Circles
34. Reading Buddies
35. Sticky Note Graph
Work Together
36. Anchor Activity
37. Appointment Clocks
38. Learning Centers
39. Cubing
40. Four Sides
41. Grade as you Go
42. Heads Together
43. Jigsaw
44. Literature Circles
45. Menus/Agendas
46. Mini White Boards
47. Reading Buddies
48. Sticky Note Graph
49. Think-Tac-Toe
50. Tiered Activities
Adapt Content
51. Alternative Assessments
52. Learning Centers
53. Cubing
54. Curriculum Compacting
55. Grade as you Go
56. Homework Options
57. Jigsaw
58. Learning Contracts
59. Literature Circles
60. Menus/Agendas
61. Orbitals
62. Question Choices
63. Reading Buddies
64. Scaffolding
65. Think-Tac-Toe
66. Tiered Activities
67. Tiered Organizers
68. Varied Products
69. Varied Texts
Share Ideas & Opinions
70. Anchor Activities
71. Learning Centers
72. Cubing
73. Four Sides
74. Heads Together
75. KWL Charts
76. Literature Circles
77. Mini White Boards
78. Reflection/Response
79. Sticky Note Graph
80. Think-Tac-Toe
81. Think-Pair-Share
82. Tiered Rubrics
Take Notes
83. Anchor Activities
84. Jigsaw
85. KWL Charts
86. Think-Tac-Toe
87. Varied Organizers
Image attribution fortheteachers.org; A List Of 50+ Teaching Strategies To Jumpstart Your Teacher Brain