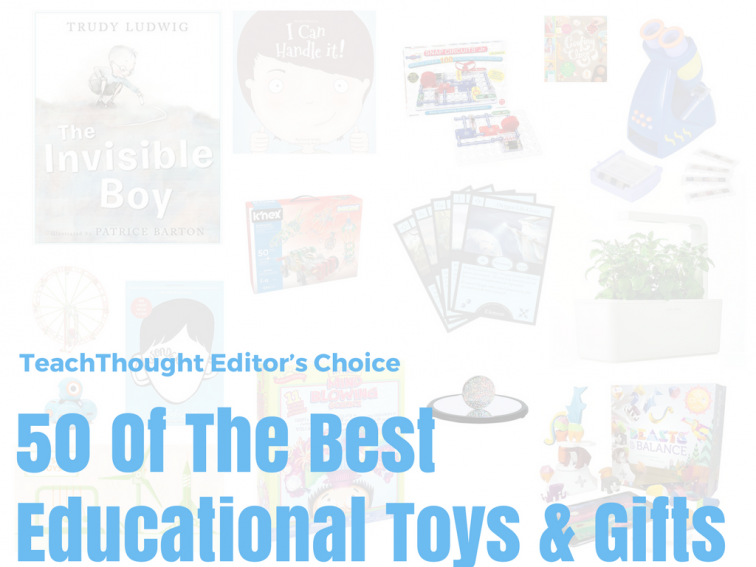 Editor's Choice: 50+ Of The Best Educational Toys & Gifts For 2020
by TeachThought Staff
Ed note: The following links are affiliate links. You can read more about our affiliate policy here, but the general premise is that we receive a very small % of revenue from anything you buy via clicking. If you want to make sure Amazon, for example, receives 100% of any revenue, you can search for the product without using the link.
We worked hard on this list. Though we're still updating it (with more info, age recommendations, etc.), we tried to collect a wide variety of 'widgets' that teachers and parents might find useful when shopping for children. To that end, we've got everything from horticulture kits to video games to books to microscopes, engineering kits, and more.
If you're still shopping for Christmas gifts, birthday gifts, or any other holiday or celebration that involves children, we hope this list is useful. We'll update it regularly so that you can find value in it not just for the holidays, but anytime throughout the year.
Editor's Choice: 50 Of The Best Educational Toys & Gifts For 2020
1. K'NEX Education: Intro to Structures
With 207 pieces and 13 different models, kids have a variety of ways to experiment with building structures and exploring their creativity.
2. Wildcraft! An Herbal Adventure Game
A cooperative board game that explores healing herbs.
This card game will aid in teaching children how to express their thoughts and feelings with a variety of issues, including changes within the family, trauma, grief, anger, fears etc.
4. Periodic Table Playing Cards
A double deck of regular playing cards that are designed to not only teach them the Periodic Table of Elements but also multiple languages at once. These cards feature the element in English, Spanish, and French, the atomic number, the category, the mass, the boiling and melting points, period and group, natural state and common usages.
This one is a bit pricey, but if you're buying for a child that will actually use this camera, they can film almost anything, anywhere, for any reason.
Compatible with all GoPro mounts, this high-quality video camera is waterproof, small and lightweight, and is (mostly) user-friendly. Quikcapture mode turns your camera into a one-button camera, too.
6. Nature's Blossom Bonsai Garden Seed Starter Kit
This kit comes with everything you need to grow four different types of miniature trees. The seeds are organic and the growing pots are biodegradable. This kit even comes with a manual to help you learn how to best take care of your trees.
This wood art set comes with 142 pieces to let creativity flow. The wood case conveniently stores every piece in a perfectly organized way.
This kids version of a smartwatch lets them play games, complete challenges, take pictures and video. Not only can it be for fun, but it has a calendar and a calculator built in to help with all school needs.
9. Nancy B's Microscope and Activity Journal
Bring hands-on science experiments to life with this dual-microscope and a twenty-two page journal. The microscope has a light and zoom features.
Kids can learn about history in an all new way with 21 activities designed to make learning fun.
11. CINEMOOD 3-in-1 Magic Camera
This 3" portable projector is kid-friendly and projects images over 12 feet. Watch the pre-loaded Disney and kid-friendly content or stream your own movies. With HD and no requirements to connect to an outlet or computer, this device is perfect for families, travel, parties and more.
Nintendo's latest gaming console (Nintendo —> Super Nintendo —> Nintendo 64 —> Nintendo GameCub —> Nintendo Wii —> Nintendo WiiU—> Nintendo Switch), the Nintendo Switch is focused on gaming that can happen anywhere—in the living room or on the go. Nintendo's systems never have the wide range of games enjoyed by Sony PlayStation or Microsoft's Xbox, but the quality of the games for these systems is generally high—and less violent, aggressive, and 'competitive' than other systems, too.
Inspired by the original 1965 Spirograph, this set is sure to entertain for years. With Spirograph's interlocking wheels and gears, anyone can draw beautifully intricate designs
15. Holy Stone Predator Mini RC Helicopter Drone
This drone is complete with a 6-axis gyro stabilization system that will let you fly with a range of 30-50 meters. Easy controls for any levels of players to fly.
16. Same Here Sun by Silas House
In this extraordinary novel in letters, an Indian immigrant girl in New York City and a Kentucky coal miner's son find strength and perspective by sharing their true selves across the miles.
17. Charlie and the Chocolate Factory by Roald Dahl 
Roald captured a world that captured the imagination of millions, and a boy who captured their hearts.
19. 
Mini-Farming: Self-Sufficiency on 1/4 Acre
Start a mini farm on a quarter acre or less, provide 85 percent of the food for a family of four and earn an income. Mini Farming describes a holistic approach to small-area farming that will show you how to produce 85 percent of an average family's food on just a quarter acre.
20. Little Big Planet 3 for PS4
Explore all levels of the Imagisphere and meet all the new inhabitants of the Bunkum planet.
22. Melissa & Doug Deluxe Standing Easel
Multi-use easel to inspire painting, drawing, and countless ways to play creatively.
23. The Way Things Work Now by David Macaulay
Macaulay updates the bestseller, "The Way Things Work" to capture the latest developments and technology trends that most impact our lives.
24. National Geographic Little Kids First Big Book of the World
Help kids explore the world. Packed with more than 100 colorful photos and activities to get them exploring and thinking, this book is sure to spike curiosity. 
Easy to use design helps kids of all ages explore the earth and insects around them.
This kit includes all parts to make an 8.5 inch kaleidoscope that you can color and change to fit all imaginations.
27. Farming Simulator for Xbox 360
With new machines and tools, manage your farm and carry out missions to go from one level to the next.
28. Telescopic Fishing Rod Pole with Reel Line Lures
Full fishing kit perfect for any level fisherman; deisgn is compact and easily portable.
29. Shrimp Bubble Aquatic Ecosystem
Self-sustaining, semi-closed bubble ecosystem comes pre-assembled and ready for live marine shrimp.
A kid desk that has multiple molded-in compartments and a hinged dry-erase writing surface that wipes clean easily.
Learning drum set has three drum pads and cymbal each with its own unique sound for sensory development.
Turn your iPad into a hands-on learning tool. Take core subjects like math and spelling and make them into a game.

Fully functioning, 6" brass telescope with a wooden box!
34. Code and Go Robot Mouse Activity Set
This set turns coding into a hands-on analog activity for tactile and visual learners.
A mix of physical and digital tools helps you create your very own video game.
36. Melissa and Doug Suspend Family Game
An exciting balance game, fun for the whole family that will have everyone "hanging" on the edge of their seats.
A marble run and logic game all in one. With 60 challenges, there is sure to be hours of fun.
38. Minecraft Stop-Motion Animation Studio
Bring the Minecraft world into your own. Create in a whole new way with a smartphone app and your imagination.
Build 10 different moving machines with LEGO.
Suitable for everyone on your Christmas list, this large magnifying glass can bring illuminated clarity to any project, lesson, or reading material.
41. The Sneaky Snacky Squirrel Game
This game can help with learning colors, matching skills, and fine-motor skills. The first to collect 5 acorns wins!
42. Diary of a Wimpy Kid by Jeff Kinney
A popular choice got young male readers, follow the adventures of Greg Heffley from Kinney's imagination. This time, Greg goes electronic free and tries the "old school" life.
Take Minecraft to a whole new level with a story that you create.
44. National Geographic Geodes
Complete with a learning guide and 10 different rocks to break open, this kit will be sure to inspire the scientist within.
45. Kids First Science Laboratory
This kit comes with 24 tools and 10 illustrated learning cards to help your little scientist discover the world around them.
46. The Pout-Pout Fish by Deborah Diesen
Deborah helps kids turn frowns upside down in this rhyming bestseller.
47.  Little Kids First Big Book of Space
National Geographic helps kids explore space in a colorfully illustrated and fun way.
The perfect fusion of competitive strategy and silliness. Cultivate the perfect word combinations to win.
Help kids explore electronics with over 100 projects to create.
Let children discover the magic of science with their own at home Chemistry set.