How Do You Use An iPad To Add Voice Comments To Grading?
by TeachThought Staff
Offering timely and effective learning feedback is a critical part of the learning process.
This is a concept that'd seem to be more accessible than ever with technology, but sometimes technology is two steps forward, one step back. Take for example grading papers. While K-12 education has (mostly) moved away from pure academic essays to measure all understanding, the writing process is more important now than ever.
Grading a physical piece of paper is as simple as writing in the margins, using established editing symbols, or others marking the paper up. While digital documents like pdfs allow for increased visibility, simpler sharing, and seamless curation, they have indeed taken a step back in regards to this all-important text marking.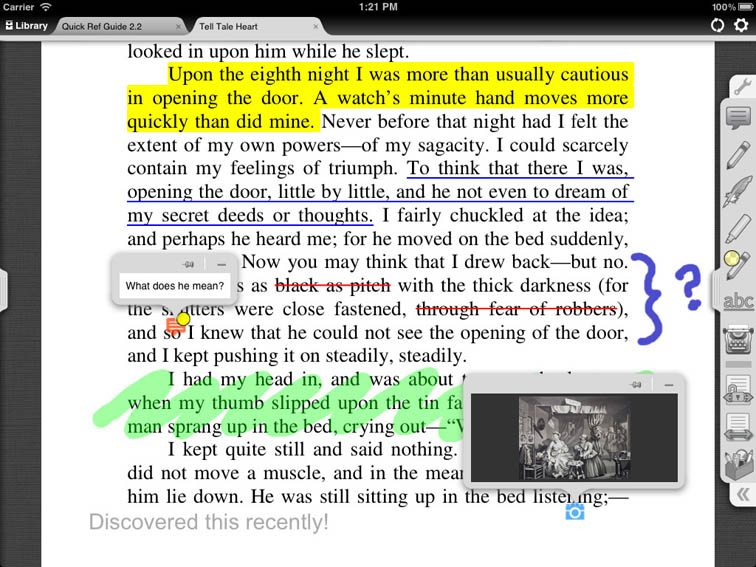 PDF Annotation
Which is where pdf annotation software comes in.
There are many pdf annotation apps available that allow this kind of text marking, but another killer feature that is somehow less celebrated: voice annotation.
The video below walks users through adding voice comments to pdf documents, starting right at the 2:00 mark. (The first two minutes cover the aforementioned text annotation.) Being able to add voice comments not only allows teachers to clarify important ideas, but could also be used by peers during the revision portion of the writing process.
As the paperless classroom becomes easier to realize, new tools will become more and more necessary to fill in the workflow gaps. Tools like these are a step in that direction.
Other Details
Note that the app being shown here is iAnnotate. Others are available as well–here are 20.
Also note that you don't even technically need an iPad; Nexus Android devices offer this kind of software as well.
If we can find an app that gives you enough time to add multi-colored text marks while adding voice input for all 145 of your students in a timely fashion will losing 4 out of your last 5 planning periods, we'll certainly share that as well.