The following links are affiliate links–which have zero to do with recommending Charlotte's Web or any other book or product we offer but it does dictate the websites we link from. You can read more about our Affiliate Policy here.
Books For Teachers: 'I Am Enough' is one of our books recommended for teaching and learning in the classroom. You can find more in our books for
Summary
'I Am Enough' by Grace Byers is a beautifully illustrated children's book that conveys an empowering and uplifting message of self-acceptance and self-worth.
Through its poetic narrative, the book encourages young readers to embrace their uniqueness and recognize that they are valuable just as they are. It emphasizes the importance of self-love and self-confidence, teaching children that they don't need to conform to anyone else's standards or expectations to be enough. The book celebrates diversity and inclusivity, fostering a sense of belonging and unity among its readers, making it a heartwarming and essential read for children of all backgrounds.
With its simple yet powerful message and stunning illustrations by Keturah A. Bobo, 'I Am Enough' instills in children the idea that they deserve love, respect, and happiness, no matter their differences or circumstances. It encourages them to believe in themselves, their dreams, and their potential, promoting a positive self-image and a strong sense of self-worth. This book is not only a delightful and visually captivating story but also a valuable tool for building self-esteem and promoting empathy and acceptance in young minds.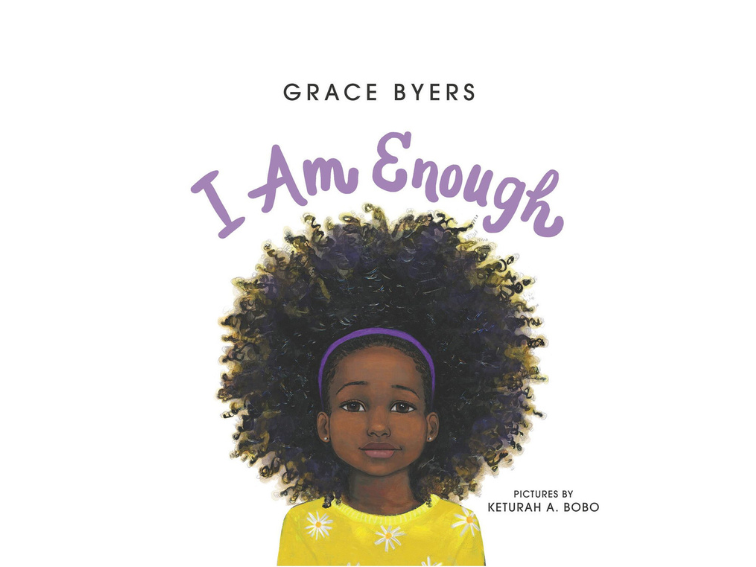 'I Am Enough' Quote
"And in the end, we are right here to live a life of love, not fear… to help each other when it's tough, to say together: I am enough."

'I Am Enough' by Grace Byers
Themes
What are the themes in 'I Am Enough' by Grace Byers?
'I Am Enough' is a children's book that promotes self-acceptance, self-esteem, and empowerment.
1. Self-Acceptance
The book emphasizes the importance of accepting oneself as they are, celebrating their uniqueness, and recognizing their worthiness.
2. Self-Esteem
It encourages readers, especially children, to build a positive self-image and believe in their abilities and potential.
3. Empowerment
'I Am Enough' empowers readers to be confident in themselves, make their own choices, and stand up for their beliefs.
4. Diversity and Inclusion
The book celebrates diversity by showing characters from various backgrounds, ethnicities, and abilities, promoting the idea that everyone is unique and valuable.
See also Books About Hispanic Heritage
5. Kindness and Compassion
This book encourages kindness and empathy towards others and emphasizes that we should treat others with respect and understanding.
6. Resilience
The book touches on the idea that setbacks and challenges are a part of life, but individuals have the strength to overcome them.
Grade Levels
Primary: K-5
Also: 6-8 (depending on application, though obviously many books written for younger audiences can be used in almost any context, from Kindergarten to college and adult applications.