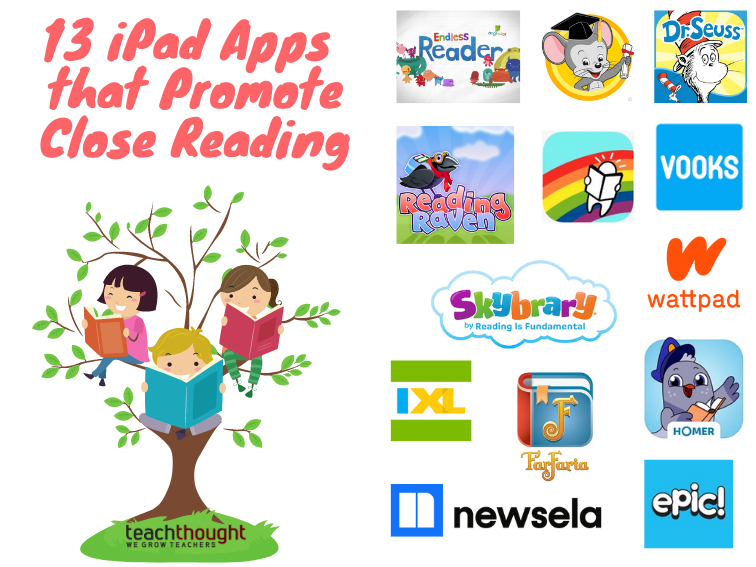 What Are The Best iPad Apps That Promote Close Reading?
by Terry Heick
Close-reading is the product of a dynamic and deeply personal interaction between the reader and a text. It is an active process characterized by questioning, adjusting reading rate, judgement thinking, and dozens of other "strategies" readers use to make sense of what they're reading.
This is an interaction that doesn't require technology, but can be changed by it. It is a matter of fluency, strategy, and will. Two of these are easier to promote in students than the third (we'll let you guess which are which).
And if we're going to start this conversation (monologue?) from a position of full transparency, technology isn't at all necessary for close reading. In fact, some might (effectively) argue that it's counter-productive there. There is so much potential to do anything but sit and roll around in a text that it can make using an iPad for reading seem like using a sharp pocketknife for a fork.
But the other side of that argument is that, well applied, technology offers additional tools–and possibility–for readers, and to promote close reading of a text. (Something we discuss here in "How Technology Changes Teaching.")
Newsela can differentiate any article from its hub of current events and nonfiction texts at five different reading levels and provide built-in scaffolds that give students opportunities for in-context skills and practice. Search for articles by reading level, learning standard, or content type.
Not only does Epic! grant access to over 40,000 of the most engaging books, audiobooks, and videos for students in elementary and middle school, but it also includes embedded supports like the Dictionary Look-Up and Read-To-Me tools. The best part? Educators can get it for FREE!
Tailored for pre-K and elementary school students, HOMER Learn & Grow allows users to personalize lessons and activities based on a child's age, interests, and skill level. Great news — their reading pathway is proven to increase early reading scores by 74%. Skills for a toddler might include letter recognition, naming emotions, and symbolic representation, while early learner's might focus on phonemic awareness, perspective-taking, and problem-solving.
Skybrary hosts a diverse collection of books that reflect students' identities and lived experiences. Its storytime options (featuring the voice of LeVar Burton!) and interactive animations promise to make the reading process more engaging for young readers.
Geared toward readers ages 2-9, Farfaria's Common Core-aligned reading level system helps match kids to books that are interesting and accessible. Readers can choose to read stories with animated illustrations independently, or have the stories read to them. The site offers theme-based exploratory experiences as well as features for small group reading.
What makes Reading Raven unique is its interactive, multisensory design that not only helps readers learn how to read, but helps them develop hand-eye coordination, active listening abilities, and writing skills. The program is adaptable for children ages 3-7, is phonics-based, and allows for children to learn at their own pace.
IXL is one of the few apps on this list that has reading comprehension activities for elementary, middle, and high school readers. Readers can click on any skill to start practicing immediately. For example, a 2nd grader might match a cause to its effect, an 8th grader might analyze the effects of figures of speech on meaning and tone, and a 12th grader might interpret the meaning of an allusion from its source.
Vooks brings stories to life while boosting language skills and social emotional learning simultaneously. A whopping 94% of teachers surveyed remarked that Vooks helps their students get excited about reading — which makes Vooks a great option for struggling or reluctant readers. Their engagement potential is fueled by over 600 text-accompanied activities.
One might not think to associate Wattpad with improved reading comprehension. It's mostly known as a place where teens can publish and promote their own stories. However, research indicates that extensive reading on Wattpad contributes to unconsciously improving students' writing skills, mastery of vocabulary, speaking skills, and active listening skills.
Endless Reader introduces children to sight words in context through lovable Endless monster characters. Each word comes with an interactive word puzzle and sentence puzzle. Multisensory elements make the stories that much more engaging for children who are just beginning to learn how to read.
Access the wacky, whimsical world of Dr. Seuss through this engaging app. Readers can benefit from highlighted narration, tappable vocabulary words that come with pictures, and other interactive features. The app currently hosts over 50 stories from Dr. Seuss' collection.
ABCmouse is designed for children ages 2-8 (and is also free for teachers!) The app offers over 9,000 activities and 850 lessons with standards-aligned content. The reading curriculum emphasizes uppercase and lowercase letter recognition, phonics, rhyming words and word families, sentence structure, and parts of speech. They also offer curricula for math, science and social studies, and art and colors.
No matter if your child is 6 or 16 years old, Spark Reading has activities for readers of all ages and abilities. Designed by teachers, this app has embedded reading comprehension quizzes, audio narration, Lexile level search filters, and recommendations to promote accelerated reading.
13 iPad Apps That Promote Close Reading