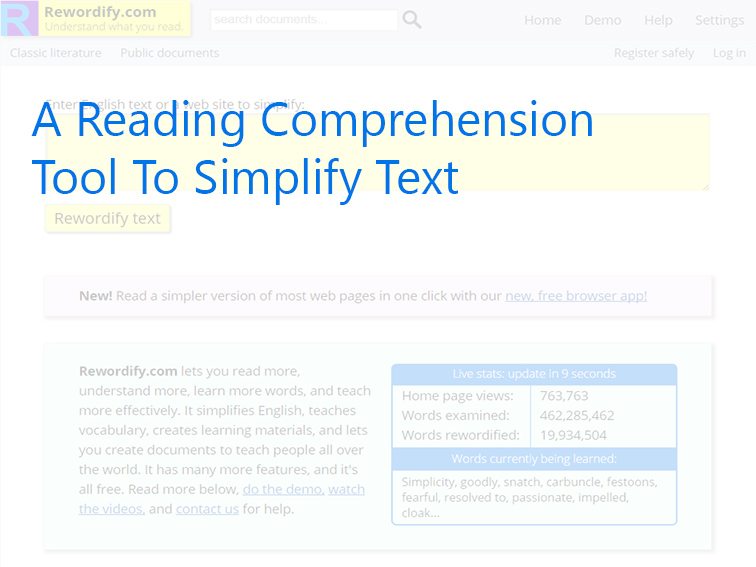 A Useful Reading Comprehension Tool To Simplify Text
by TeachThought Staff
Need a reading comprehension tool to simplify texts for students?
Something practical, along the lines of our "How To Google Search by Reading Level," and Conversion Chart For Reading Level Measurement Tools? You may find some use in rewordify.
In short, you copy/paste text to be 'simplified,' and it does its thing. It attempts to simplify the text at the vocabulary level (as opposed to syntatical, structural, or idea level). Nonetheless, when vocabulary is the barrier, it does the trick. The replacements don't always do what they should–simplify the text to make it more readable for struggling readers, or students reading beyond their natural level. Sometimes the definitions are themselves confusing, as they add an additional cognitive movement the student has to make, internalizing this now sterile definition back into some kind of meaning.
In our brief use, we've found it useful in the right circumstance. You can't copy/paste a chapter from a book and hand it to a child to read as a 'modified text' that has been 'personalized' for them. It'd simply make a mess of the text, and likely ruin the reading experience.
What you can do, however, is use it to simplify short excerpts for individual readers, or for a whole-class read. You can also let students use it themselves as they will, or as a model of how passages can begin to be deconstructed.
The developers explain the features of rewordify:
Work with all your documents in one convenient place
Edit and delete your documents
Make any document public, so anyone can find it from the search box
Make any document link-only, so people need a link to view it
Make any document private, so people need a password to view it
Save vocabulary lists
Keep track of what words you've learned, are learning, and want to learn, and more!
A Reading Comprehension Tool To Simplify Text