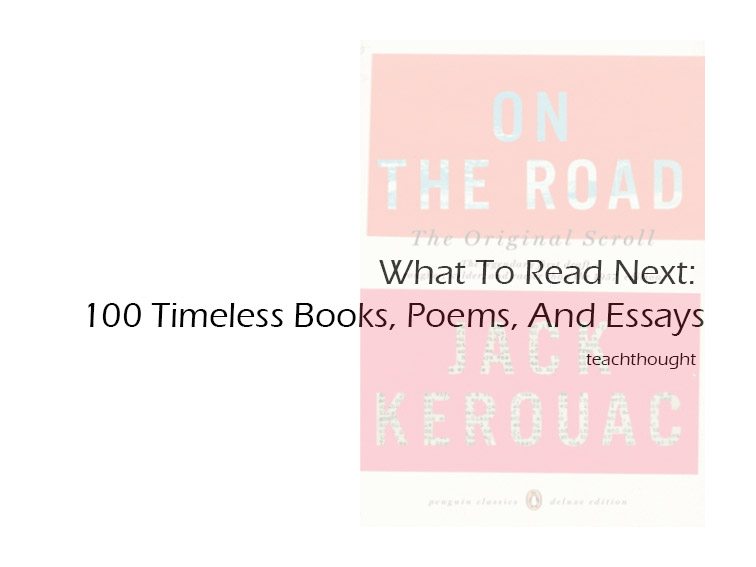 What To Read Next? A Collection Of 100 Timeless Books, Poems, And Essays
by Terry Heick
This collection was put together by a good friend of mine, Nicholas Rudolph, who I pushed and pushed to give me a reading list for months until this showed up in my inbox.
He's the 'best reader' I know. Seamless comprehension. Perfect taste. Reads with pace and urgency and love. Talks about what he's read, but it's never about him or the book, but the logic and affection and importance of the text. I've never suggested a book he hadn't already read. He actually inspires me as a reader, and I am–by profession–an English teacher of literature and writing.
So below is a reading playlist of sorts–a mostly universal collection of 'the best' books, poems, and essays. I'm not going to qualify it any further than that because I didn't ask him to when he made the list–just asked for a reading list of 'good stuff,' and this is what I got. Some of the links below may be affiliate links. You can read more about affiliate links here and can always avoid using any affiliate links but searching your favorite book sources yourself without using the links.
Now, on to the list.
What To Read Next: 100 Timeless Books, Poems, And Essays
Prose, Fiction
J.D. Salinger, The Catcher in the Rye
Antoine de Saint-Exupery, The Little Prince
George Orwell, 1984
George Orwell, Animal Farm
Aldous Huxley, Brave New World
Ray Bradbury, Fahrenheit 451
Kurt Vonnegut, Player Piano
Kurt Vonnegut, Slaughter-House Five
Kurt Vonnegut, Slapstick
Kurt Vonnegut, God Bless You, Mr. Rosewater
J. R. R. Tolkien, Farmer Giles of Ham
J. R. R. Tolkien, The Hobbit
J. R. R. Tolkien, The Lord of the Rings
C.S. Lewis, A Horse and His Boy
Brian Jacques, Redwall
Madeleine L'Engle, A Wrinkle in Time
Richard Adams, Watership Down
Douglas Adams, The Hitchhiker's Guide to the Galaxy
Orson Scott Card, Ender's Game
Orson Scott Card, Ender's Shadow
Franz Kafka, The Metamorphosis
Franz Kafka, In the Penal Colony
Tobias Wolff, This Boy's Life
Jonathan Safran Foer, Everything is Illuminated
Jonathan Safran Foer, Extremely Loud & Incredibly Close
F. Scott Fitzgerald, The Great Gatsby
Chuck Palahniuk, Fight Club
David Foster Wallace, Brief Interviews with Hideous Men
Haruki Murakami, Colorless Tsukuru Tazaki and His Years of Pilgrimage
Lois Lowry, The Giver
Ayn Rand, Anthem
Mary Doria Russell, The Sparrow
Jack Kerouac, On the Road, the Original Scroll
Jack Kerouac, Big Sur
Hunter S. Thomspon, Fear & Loathing in Las Vegas
Richard Brautigan, Trout Fishing in America
Ernest Hemingway, In Our Time
Fyodor Dostoevsky, Crime and Punishment
Fyodor Dostoevsky, The Brothers Karamazov
Albert Camus, The Stranger
J.M. Coetzee, The Life & Times of Michael K.
Herman Melville, Moby Dick
James Joyce, Araby from Dubliners
John Okada, No-No Boy
Karen Tei Yamashita, I-Hotel
J.K. Rowling, Harry Potter & The Sorcerer's Stone
Tim O'Brien, The Things They Carried
Ralph Ellison, Invisible Man
Jhumpa Lahiri, Sexy
Ursula Le Guin, The Ones Who Walk Away From Omelas
Verse, Fiction
Allen Ginsberg, Howl & Other Poems
Allen Ginsberg, Kaddish & Other Poems
Gary Snyder, Riprap & Cold Mountain Poems
Gary Snyder, Danger on Peaks
Lawrence Ferlinghetti, A Coney Island of the Mind
Lawrence Ferlinghetti, Pictures of the Gone World
Diane Di Prima, Revolutionary Letters
William Blake, "Auguries of Innocence"
William Blake, Songs of Innocence & Experience
Gerard Manley Hopkins, Poems & Prose
Christina Rossetti, "Goblin Market"
William Wordsworth, "I wandered lonely as a…"
S.T. Coleridge, "Kubla Khan"
S.T. Coleridge, "This Lime-Tree Bower My Prison"
Percy Bysshe Shelley, "Ozymandias"
Rainer Marie Rilke, Duino Elegies
Rainer Marie Rilke, The Book of Hours
Khalil Gibran, The Voice of the Master
Khalil Gibran, The Prophet
Walt Whitman, Leaves of Grass
T.S. Eliot, The Wasteland & Other Poems
Linh Dinh, "Eating Fried Chicken"
Li-Young Lee, "Persimmons"
e.e. cummings, Selected Poems
Charles Bukowski, Love is a Dog from Hell
Prose, Non-Fiction
Wendell Berry, The Art of the Commonplace
Wendell Berry, Citizenship Papers
Tony Judt, Ill Fares the Land
Henry David Thoreau, Walden
Henry David Thoreau, Civil Disobedience
Annie Dillard, Pilgrim at Tinker Creek
Annie Dillard, For the Time Being
Annie Dillard, The Writing Life
Alain de Botton, The Architecture of Happiness
Joan Didion, The Year of Magical Thinking
Diane Ackerman, Deep Play
Rainer Marie Rilke, Letters to a Young Poet
Leo Tolstoy, A Confession
Thomas Merton, No Man is an Island
Jeremy Rifkin, The Empathic Civilization
Thomas Cahill, How the Irish Saved Civilization
Benjamin Hoff, The Tao of Pooh
Anne LaMott, Bird by Bird
Theodor Adorno & Max Horkheimer, The Dialectic of Enlightenment
Ralph Waldo Emerson, Self-Reliance
Siegfried Zielinski, Deep Time of the Media
Ralph Ellison, The Invisible Man
Immanuel Kant, "What is Enlightenment?"
Jane Jacobs, The Death and Life of Great American Cities
Maya Angelou, I Know Why the Caged Bird Sings
What To Read Next: 100 Timeless Books, Poems, And Essays