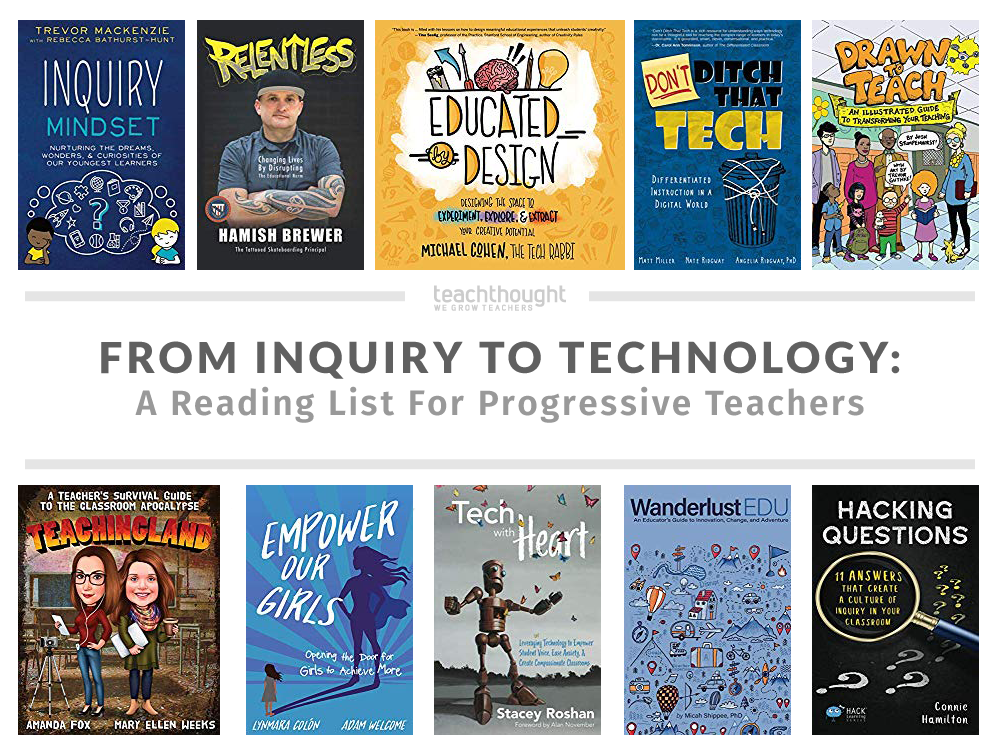 An Essential Reading List For Progressive Teachers
contributed by Jesse Lubinsky
It's possible that the term 'progressive teaching' is unnecessary. Maybe it's just 'good teaching.'
But we're going to go with it anyway because regardless of how subjective the whole day of 'progressiveness' is, there is generally a noticeable difference between 'traditional teaching' and teaching in light of a more 'modern circumstance.'
And it's with that context in mind that we're going to take a look at a reading list for progressive teachers–a collection ranging from inquiry learning and equity to technology and learning space design. Take a look.
From Inquiry To Technology: 10 Books For Progressive Teachers
External links on our website may be affiliate links that could result in us receiving compensation (payment) when you traverse the link. For example, we may receive pay per click revenue or commission on sales of products. Regardless of affiliate links, we never share products or services that we don't believe you'll find valuable in some way, shape, or form. You can read more about our affiliate policy or even give feedback if you'd like. Obviously, feel free to search for these books from your preferred sources without using the links.
Drawn to Teach: An Illustrated Guide to Transforming Your Teaching by Josh Stumpenhorst and Trevor Guthke
When I heard that Josh Stumpenhorst's newest book was a graphic novel on education, the comic book geek in me couldn't preorder it fast enough. Alternating between traditional text and illustrations from Trevor Guthke, Stumpenhorst tackles the core values of great teaching and examines the key characteristics that all top educators share. Covering topics such as relationships, motivation, and innovation, each chapter highlights problems teachers encounter and provides solutions to address them.
One particularly nice touch is the addition of "This Will Happen" quick hits between chapters which cover topics from the funny (bodily functions) to the serious (suicide) with strategies to help educators navigate tricky waters.
Inquiry Mindset: Nurturing the Dreams, Wonders, and Curiosities of Our Youngest Learners by Trevor MacKenzie and Rebecca Bathurst-Hunt
A follow-up to the awesome Dive into Inquiry, Trevor MacKenzie returns (along with Rebecca Bathurst-Hunt) to further explore concepts from his first book with an emphasis on how to approach inquiry in an elementary school setting. Recognizing that there is a need for bridging the gap between curriculum and curiosity, the authors share actual practices from their classrooms to give educators insight on how to develop an inquiry mindset in students.
Elementary teachers looking to transform their teaching while empowering their students ought to give this one a shot.
DON'T Ditch That Tech: Differentiated Instruction in a Digital World by Matt Miller, Nate Ridgway, and Angela Ridgway, PhD
Matt Miller is back! Well, technically he didn't go away but his latest release plays with the title of his hugely successful Ditch series (Ditch That Textbook and Ditch That Homework) by stating DON'T Ditch That Tech!
In a guide centered around teachers, Miller and his co-authors Nate and Angela Ridgway share tips and strategies for using technology to transform classrooms. Unlike many texts that focus on the theory behind instructional shifts, this book provides readers with tons of examples and methods on exactly how to do it while differentiating so that whether you're a tech novice or a guru, you can reap the benefits of their suggestions.
Relentless: Changing Lives by Disrupting the Educational Norm by Hamish Brewer
Hamish Brewer has one of the most remarkable stories in education. Hailing from New Zealand, Hamish overcame an extremely rough upbringing to become a nationally renowned speaker and award-winning administrator who specializes in turning around even the most struggling schools.
In his new book, Relentless, Brewer, widely known as "The Tattooed Skateboarding Principal," shares his inspirational story and provides educators with strategies for school improvement that can change the educational experience for teachers and students alike.
Teachingland: A Teacher's Survival Guide to the Classroom Apocalypse by Amanda Fox and Mary Ellen Weeks
Any book that can take a zombie theme and apply it to the education world deserves our attention. In Teachingland, Amanda Fox and Mary Ellen Weeks provide readers with a survival guide on navigating the treacherous classroom apocalypse that turns our students into the "sitting dead."
On top of featuring some incredibly helpful practices for educators, the book also contains unique augmented reality content which, through the use of a mobile device, makes the pages come alive. Teachingland has the potential to allow educators to find the cure and resurrect real learning in your school.
Educated by Design: Designing the Space to Experiment, Explore, and Extract Your Creative Potential by Michael Cohen
Michael Cohen, better known in education circles as "The Tech Rabbi," shines in his first book, Educated by Design, sharing tips based on his experience in the education and design worlds that allow teachers to release the creativity within students as well as themselves. Focusing on ideas like empathy and creativity as a mindset, Cohen challenges readers to complete activities in the book that are designed to help maximize their own potential.
Empower Our Girls: Opening the Door for Girls to Achieve More by Lynmara Colón and Adam Welcome
In their new book, Empower Our Girls, Lynmara Colón and Adam Welcome go beyond the message of "Girl Power!" to give practical changes that educators need to implement in order to allow girls to reach beyond the traditional limits set for them. This book is a must-read for anyone who believes that part of their personal mission is to help girls receive every opportunity they need in order to become powerful, confident women.
Tech with Heart: Leveraging Technology to Empower Student Voice, Ease Anxiety, & Create Compassionate Classrooms by Stacey Roshan
Stacey Roshan is someone I've followed on social media for quite some time as her work with flipped classroom for mathematics was some of the best around. In her book, Tech with Heart, she shares her own personal journey through education both as a student and teacher.
Through her story, teachers learn how to enhance student voice, help ease anxiety, and create a more inclusive classroom environment. As someone who spent years in the math classroom, I think the tips and strategies provided by Roshan are invaluable, particularly to those teachers looking for a way to expand beyond the scope of what they are currently doing with educational technology.
WanderlustEDU: An Educator's Guide to Innovation, Change, and Adventure by Micah Shippee, PhD
Based on his keynote talk of the same title, Micah Shippee's WanderlustEDU is a book about change. Shippee revisits our core purposes for doing what we do as educators by taking us on a journey to learn about what lies ahead. WanderlustEDU is a great read for teachers, coaches, and administrators since it focuses on the most important aspect of change: the people in schools who form innovative cultures.
This book is for anyone seeking to explore how an understanding of self, innovation, and culture can inform and direct the way we innovate and lead change in education. WanderlustEDU is an indispensable resource for navigating our uncertain future.
Hacking Questions: 11 Answers That Create a Culture of Inquiry in Your Classroom (Hack Learning Series) by Connie Hamilton
Part of the Hack Learning series, Hacking Questions, is the latest book from Connie Hamilton, widely known as the 'Questioning Guru.'
While most educators know that questioning is an important part of the learning process, this book offers practical tips and strategies for asking better questions and preventing "I don't know" from becoming a dead-end in your classroom. If you're a believer that asking better questions can help build a classroom culture of inquiry, then this should be at the top of your reading list.
Jesse Lubinsky is the Chief Learning Officer for Ready Learner One LLC, an educational solutions provider for emergent technologies. You can find him on Twitter at @jlubinsky and learn more about his work at http://jesselubinsky.com