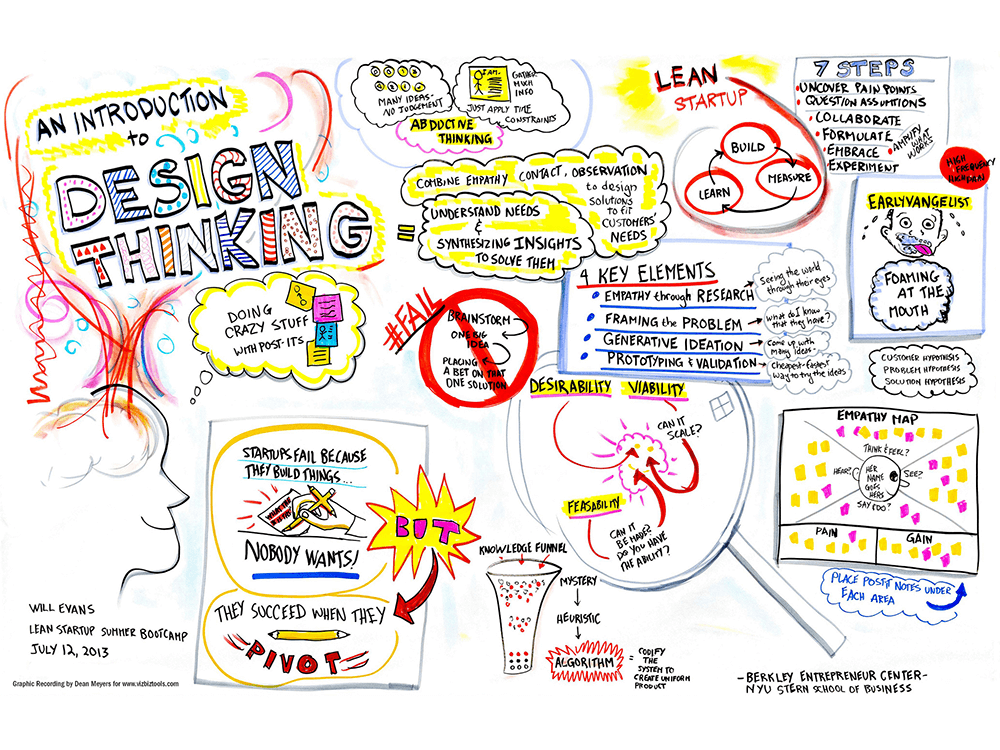 An Introduction To Design Thinking
by Friederike Geiken, Member of Women Who Code
The term design thinking gets bandied around a lot these days, but what does it really mean?
For many people, it can almost seem meaningless, a buzzword that helps mystify meaning rather than help sharpen it. Ironically, that's the opposite of what design thinking should be.
Design thinking is about simplicity in the middle of chaos. It's about creating as much value as possible for your customers. It's about serving your users in an intelligent and empathetic method. Most importantly, it's the idea that innovation has a structure and a rhythm to it, a discipline that can be managed to deliver great results for every stakeholder involved.
Creating new solutions to enduring problems can be difficult, especially if you don't know where to start. Design thinking gives you the tools and processes you need to focus your efforts where they will add the most value.
"Design is the action of bringing something new and desired into existence—a proactive stance that resolves or dissolves problematic situations by design. It is a compound of routine, adaptive and design expertise brought to bear on complex dynamic situations." —Harold Nelson
It can take years to become a professional designer, but there are resources out there that teach the basics of design thinking in a fraction of the time. If you wanted to get a view on the fundamentals of design thinking, you can't go wrong with the following list of resources. Here are six resources that will help you understand and implement design thinking in every facet of your life.
7 Resources For Better Understanding Design
1. Design Thinking as Strategy for Innovation
Let's start with the basics. What is design thinking?
This guide from Creativity at Work will help you think of innovation as a methodology. You'll find out that design thinking is a framework that you can use to solve complex, open-ended problems with well-instrumented solutions. It's how you can create solutions that add value to users through empathy and rapidly adapting to any feedback.
As you read through the guide, you'll realize that design thinking is indeed something you can apply to any problem–but you'll also have a much more precise definition of the steps required to get there.
2. Teaching Empathy Through Design Thinking
Learning design thinking can seem like reading through an endless series of steps and processes. Edutopia breaks down the process into five concrete steps, from applying empathy to testing solutions. It's an easy read that helps really nail down the methodology of innovation.
3. Springboard Learning Path on User Experience Design
Springboard is an online school where you can learn UX Design (among other subjects) with mentorship from industry experts. They've created this free curated learning path that can help you learn all of the tools and principles behind design thinking. Designed by an experienced UX'er, it contains tangible lessons in how to emphasize with your users and build solutions for their needs. They also allow you to upgrade and get a mentor in the field who can help crystallize these insights into real projects.
There's a section in this learning path devoted specifically to design thinking, among other valuable design resources.
4. Harvard Business Review: Design For Action
Tim Brown, the founder of IDEO, has had a lot to do with the popularization of design thinking. In this long-form reflection, him and Richard L. Martin, the former dean of the University of Toronto Rotman School of Management, discuss how design thinking first expanded from physical products to abstract ideas. They then dive deep into several real-life examples of design thinking in action.
The authors weave the story behind the genesis of design thinking into its current strengths and weaknesses. You'll learn that design thinking can be dangerous: not everybody benefits from radical change. You'll also learn that it can completely reshape systems and help build innovative and strong businesses that will last.
By storytelling through the journey of a Peruvian entrepreneur dedicated to bolstering the middle class in Peru, the authors help evoke how complex, seemingly unsolvable problems, can be broken down and processed through design thinking into elegant solutions.
5. 9 Real-Life Examples of Design Thinking from WeThinq
Sometimes design thinking gets fuzzy because it seems like you can apply it to just about anything, and there are few real-world examples that can make it seem tangible. We've seen some examples interspersed in different stories, but maybe you want more tangible examples. This list of 9 real-life examples of design thinking in action from WeThinq will give you just that.
These projects, all of which create positive social impact, show how thinking and acting with empathy and deliberate innovation can help change fields as vast and different from each other as education and mobility issues.
6. Stanford Design School Crash Course on Design Thinking
The Stanford Design School is one of the best places in the world to start looking into the fundamentals of design thinking. We're going to finish off with this resource because it offers a practical DIY exercise that will immerse you in the process of design thinking. Get a partner and start applying this theory to real-life problems!
This video course and guidebook from Stanford will help you refine your innovation thinking and it will consolidate all of the theory of design thinking into action. You will start changing how people experience gift-giving–and you'll be able to apply that line of thinking anywhere else.
Armed with all of the theory of design thinking, practical examples of how others are implementing it, and an immersive exercise that will turn your design thoughts to action, you should have a better idea of how design thinking can help you create more novel ideas and better experiences.
7. 45 Resources For Teaching Design Thinking
From TeachThought!
Hopefully this article serves as a spark for your learning. If you find any further resources, or if you think we missed anything, please join the discussion below!
An Introduction To Design Thinking; image attribution flickr user deanmeyers