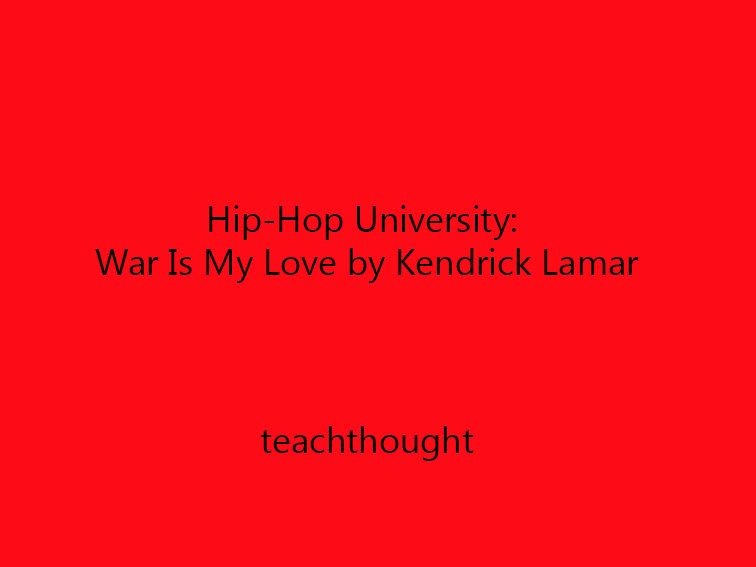 War Is My Love by Kendrick Lamar (Hip-Hop University)
Hip-Hop University is a new series where we share hip-hop you can teach with. We'll give you the song and lyrics–the rest is up to you. We'll warn you if there is strong language or themes, but as with anything, make sure you watch it on your own before showing.
We'll also add in other genres of music as well (ignoring the then ironic title), but our focus will be hip-hop because–well, so much of it is powerful, brilliant, and widely misunderstood.
Summary: an extended metaphor, powerful imagery, interesting juxtaposition of tone and mood.
War Is My Love by Kendrick Lamar
Look inside my eyes and tell me you see a warrior
I never felt the feeling of euphoria
Pain forever or prolong the pros and cons of prosperity is strong
Wake up in the morning and I gotta win
Not taking the victory, that's my only sin
And so I send a message to your messenger
A warning shot to let em know I'm serious
I'm ready for a war, when I roar it can break a glass window
The only thing for sure: the perfect way to bend you
On your back even if I gotta slither through the cracks
I can crack every code you deliver, I attack
Every hole where the bomb squad sit it on the tripod
Even if you try hard, he can still die hard
Run but you can't hide: white flags
You can pull em out fast and tell me your last goodbye
[Hook]
I will, I will climb the highest mountain
Before the flood comes
And all my fight is drowning in blood
What I got to lose? What I got to prove?
I guess war is my love
[Kendrick Lamar]
Make sure your next move is slick, your best move is nothing
You know I take risk: dark clouds, I love it
Cause I can hide in the mist, hop out
And crush every soldier you're with, so I'm 6 for 6
I'm sick with determination: I'll terminate ya quick
I lead the pack, I follow no rules
I see the traps, I know you're close to
Falling on your face, unload, reload
Hand me another case, explode, explode
The fire of my eyes is waiting on your demise
I know you hope your help is close by
Lyrics via lyricsmania; Hip-Hop University: War Is My Love by Kendrick Lamar