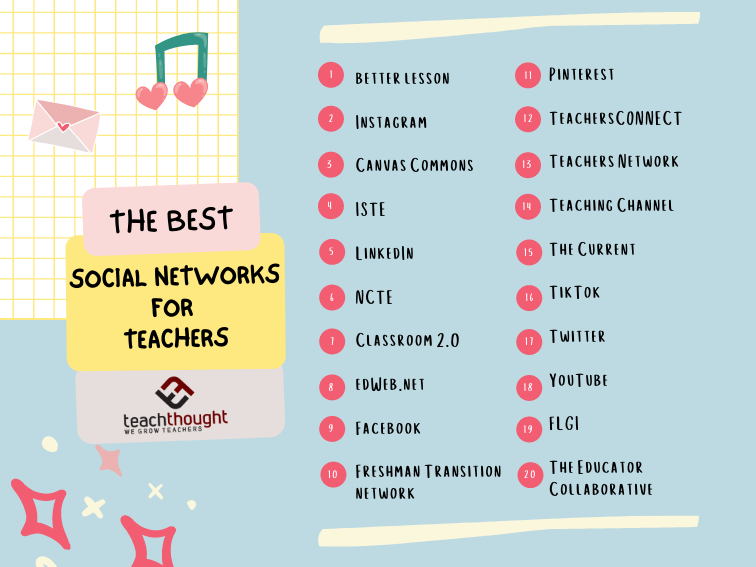 What Are The Best Social Networks For Teachers To Grow Their Personal Learning Networks?
Sometimes, as teachers, our greatest sources of growth and inspiration don't come from within the four walls of our schools.
Social media has become a powerful catalyst for educator support and development. Groups, forums, virtual events, and even hashtags provide spaces for teachers to build relationships with educators and education leaders from all over the world. There is no better place to build one's personal learning network (PLN) than through social media.
In an earlier post — What Is A Personal Learning Network? — we shared a video where Marc-André Lalande defines a PLN as "a way of describing the group of people that you connect with to learn their ideas, their questions, their reflections, and their references. Your PLN is not limited to online interactions, but it is that online, global interactive part that really makes it special. It is personal because you choose who's part of that group; you choose if you want to lurk–just check out what people are saying–or if you share; because you choose when to do so, and how to do so."
A PLN is different from a PLC (professional learning community). PLNs are less formal and self-determined, whereas PLCs are typically defined by structural parameters and some sort of accountability system. PLNs take place across social media platforms and internet communities where communication is open and unlimited, whereas PLCs typically occur within a classroom setting and center on specific goals or targets.
Most of you are familiar with social media platforms like Facebook, Pinterest, and (most recently) TikTok as places where teachers can join groups, share content, and seek support from educators all over the globe. There are many other valuable social networks that serve as useful spaces for teachers to grow, innovate, and lead. We've compiled a list of 20 that are most effective in uniting teachers. Let us know which ones are your favorite, or which, if any, we may have left off our list.
The Best Social Networks For Teachers To Grow Their PLNs
Preface: In January of 2022, we opened a community for teachers that has many social network features (and more to come). Since it just started, it is by no means anywhere close to being among the 'best social media sites for teachers,' but we do hope it can one day be included in that conversation and that you will join us and grow with us. You can find the network here: TeachThought University
BetterLesson is committed to reimagining professional learning. They offer 1-on-1 coaching, design workshops, learning series, and learning walks for educators, coaches, and administrators in both virtual and in-person settings.
No need to reinvent the wheel — teachers can find, import, and share activities, lesson plans, and full units in this learning object repository.
With over 85,000 members representing 200+ countries, Classroom 2.0 is a network for teachers to participate in webinars, topic-specific forum discussions, virtual conferences, and book clubs.
Webinars, certificates, and professional learning — oh, my! EdWeb is a social networking platform that offers new resources and more on a monthly basis.
There are countless Facebook groups that educators can join in order to connect with other teachers, share resources, and spark innovation. Consider the Global Educator Collective, Cult of Pedagogy, and TeachThought (naturally!)
Flipped Learning Global Initiative
This global coalition of educators, teachers, professional development facilitators, and other experts from 49 countries is dedicated to expanding flipped learning. They host a community of members and offer professional development courses for a range of flipped learning topics.
The Freshman Transition Network is specifically dedicated to helping rising 8th graders transition into high school. They offer curriculum, blog posts, discussion forums, book recommendations, and more.
Peruse posts and stories from teachers all over the planet — from classroom management strategies to lesson plan ideas and wall posters, Instagram is great for connecting with educators and finding ready-to-use resources.
The International Society for Technology in Education (ISTE) offers flexible online courses for teachers of all levels to develop their digital competencies related to pedagogy.
Connect with like-minded teachers, stay up-to-date with current trends and hot topics in education, and look for education-related job postings on this professional networking site.
The National Council of Teachers of English (NCTE) is one of the best resources for ELA teachers and any educators who teach literacy. NCTE collaborates with its own members to offer journals, publications, resources, strategies, and an annual convention.
With Pinterest, it's easy to swandive down the rabbithole of any teaching topic imaginable. Create your own Pinterest boards related to back-to-school activities, lesson plans, rubrics, classroom decorations, and share your own resources, as well.
This free community is committed to guiding teachers toward success in the classroom. Users can search through a library of topics, conversations, and problems solved by a community of expert teachers.
Whatever you're looking for, you can find at Teachers Network! Their resources include leadership institutes, how-to articles, teaching videos, lesson plans, curriculum units, and grant opportunities.
At Teaching Channel, educators can subscribe to videos and professional development courses in topics like culturally responsive teaching, differentiation, classroom culture, digging into data, and attention techniques.
The Current provides a forum for teachers to share stories, resources, and reflections. This site is powered by the National Writing Project, a nationwide network of teachers working to improve the teaching of writing in American schools.
The Educator Collaborative is a K-12 literacy think tank and educational consulting group striving to help teachers improve their effectiveness. They provide on-site literacy PD services, as well as a variety of remote learning supports, blogs, and literacy resources.
TikTok has taken over teaching! There are thousands of teachers sharing ideas, activities, questions, resources, and comic relief on this app — save your favorite videos and contribute your own!
One of the best social media platforms for teachers — Twitter lets users search for any topic by #hashtag. Whether you're searching for #SELresources, books for #reluctantreaders, or #differentiationstrategies, Twitter has you covered with the most recent, up-to-date contributions from teachers and education organizations all over the world.
There are tons of useful YouTube video channels for teachers to watch, comment on, and share. Some of our favorites include Ted ED, Crash Course, and Khan Academy.