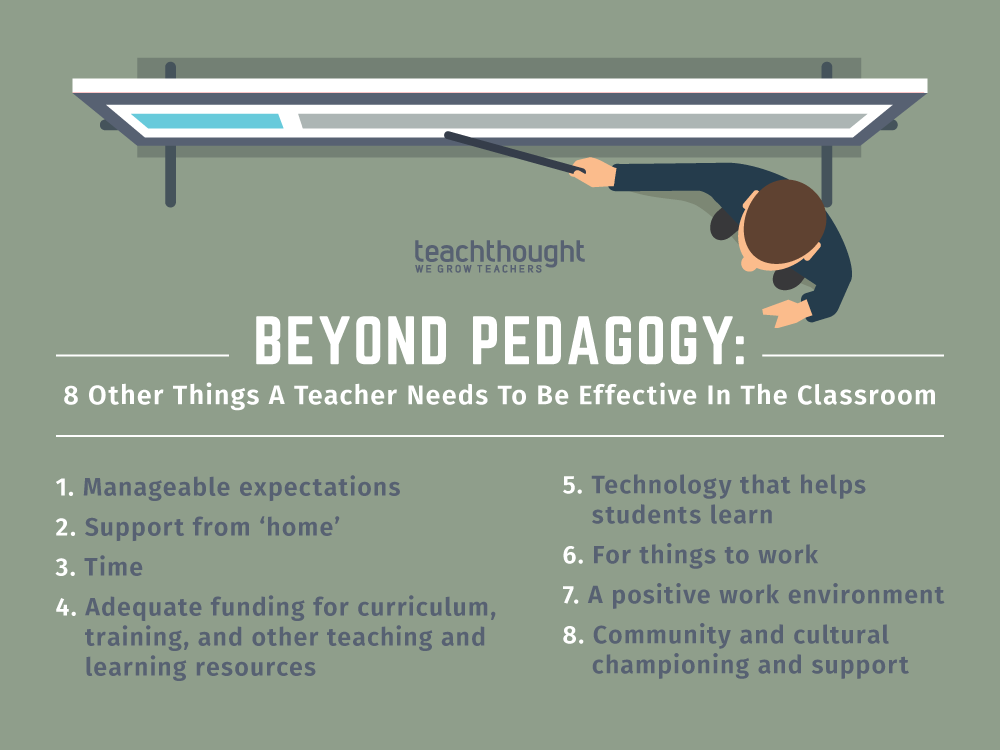 Beyond Pedagogy: 8 Other Things A Teacher Needs To Be Effective In The Classroom
contributed by Anne Davis
It's unfortunate that teachers often take the brunt of the backlash when students and school systems don't succeed.
Though it is the role of a teacher to educate, this role cannot be completed efficiently if not provided the right tools. Educators must be provided with the appropriate environment, time, finances, and educational resources to teach students in this ever-changing society.
Generally, what teachers need to be effective in the classroom is thought of in terms of content knowledge, pedagogical knowledge, classroom management skills, and related soft skills like time management and organization. This post offers a brief overview of some of the 'other' things beyond pedagogy and content knowledge that teachers need to be effective.
See also 10 Simple Ways To Engage In Lifelong Learning
Beyond Pedagogy: 8 Other Things A Teacher Needs To Be Effective In The Classroom
1. Manageable expectations
While we could discuss the 'expectations' of education at large, for now, let's simply focus on class size and available space and technology.
Students cannot learn efficiently if they don't have enough space. Overcrowding is not only uncomfortable but can be a distraction and present problems. As class sizes increase each year, it is imperative that teachers are provided with classrooms that can accommodate all of their students comfortably.
2. Support from 'home'
Regardless of what the student's home circumstance is, teachers can always benefit from support at home in the form of literacy and skill improvement, as well as organization and mindset/moral support.
3. Time
Beyond reasonable expectations, teachers having enough time to do their jobs is one of the most crucial factors for their success. (Here are some ways teachers can save time in the classroom). Part of that time is enough time with students. Learning new concepts isn't something that tends to happen overnight.
If students are to truly grasp the curriculum taught to them, educators must be given an appropriate amount of time to work the lessons. Oftentimes, however, teachers are on such a tight schedule to meet deadlines and get students to pass standardized tests that they don't have the adequate time to work on student comprehension and academic retention.
4. Adequate funding for curriculum, training, and other teaching and learning resources.
Whether public or private, education isn't cheap. After using allotted funds for salaries and operational costs, however, teachers often don't have much to work with.
Students, therefore, suffer because they are not provided with enough funds to obtain the resources needed to enhance their learning experience. It is important for teachers to work with the school administrators and/or parents and the community to find solutions to raise funds for their students.
5. Technology that helps students learn.
Gone are the days where paper and hard copy textbooks are used in the classrooms.
Today's digitally-inclined world has transformed the way students learn. To keep up with modern times, it is necessary for teachers to have the right educational resources. From computers and tablets to software and online tools like animation drawing videos, these sources are vital to being an effective teacher. Though many of these tools and applications can be accessed for free, teachers must look to school administrators to supply them with the basics (i.e. computer, internet connection, etc)
6. For things to work.
Teachers cannot effectively do their jobs if they work in a facility where the technology and related equipment is unreliable.
Trying to make copies on a printer that keeps jamming or breaking down, or even trying to do online research or submit grades on an outdated computer isn't going to cut it. That's why it is important for schools to allocate funds in the budget to provide their staff with reliable and up to date equipment.
7. A positive work environment
If teachers are dissatisfied with the conditions they're forced to work in, this translates to their ability to educate students. School administrators need to ensure that teachers are given more than just fair salaries. Teachers want to work in an educational system that provides the best work-life balance.
This can include things like health benefits, paid time off, personal development, training, advancement opportunities, and creature comforts like a teacher's lounge. Yet, when educators feel supported by their employers, they tend to be a lot more effective in the classroom.
8. Community and cultural championing and support
Again, teachers catch a lot of flack for the success or failure of a student's education, but the weight is not all on their shoulders.
It is also the responsibility of other staff within the facility as well as parents. When parents, other teachers, school administration, and the community all work together, children reap the benefits in a positive way. Teachers should participate in PTO and PTA programs, get involved in school events, and most importantly, speak up to administration, parents, and others when they need assistance.
There's more scrutiny about teachers and the educational system now than there has ever been before. Teachers are often evaluated on their performance in the classroom and are quickly blamed when students don't perform as they should. Yet, the truth is that if educators aren't provided with the tools, resources, and creature comforts such as those described above, they cannot be expected to be as effective in the classrooms.