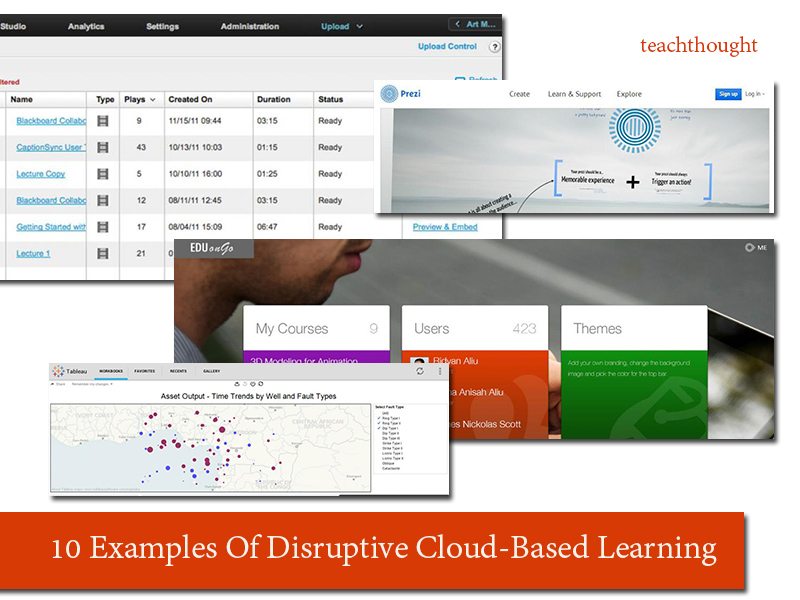 Examples Of Disruptive Cloud-Based Learning
by Charles Samuel, Senior Editor at GetVoIP
I watched a video recently that made me think hard about the future of education. In it, education researcher Sugata Mitra calmly posits that the education system we see around us- the one that's often casually referred to as "broken"– isn't hopeless at all. If anything, Mitra suggests that the system is "outdated." And I agree with him.
Schools have long been reliant on the proximity of its educators and students and inflexibly geared around expensive infrastructure. Well, that's changing a bit. The cloud is turning online education into a viable avenue for education; in fact, as of 2011, 65% of higher education institutions consider online education to be a major part of their long-term strategy.
An important thing schools have to consider is how they divvy up their resources. Former Apple executive and education insider, Michael Hageloh, points out that, where in the past, "institutions were tied to the front-end mechanics of education", there is a whole backend that needs to be considered. Lucky for them, the cloud's got them covered.
Here are 10 companies that are making waves in the education sector with products in the cloud that impact both the frontend and backend of institutions.
1. Workday
Big Idea: Fluid and cost-effective enterprise resource-planning and payroll management for schools.
A significant component of the way schools operate is backend management. Payroll and enterprise resource planning are among the chief concerns for institutions that are either growing rapidly or staying put. According to industry insider Michael Hageloh, the backend is "the single largest expense of education."
Workday offers a cost-effective solution in the cloud with simple-to-use interfaces, versatility, security, and real-time financial reporting. In the pipeline is Workday Student, which aims to be an adaptive solution for universities, community colleges, non-profit and for-profit institutions. Brown, Yale, and the University of Miami are among Workday's major proponents.
2. EDUonGo
Big Idea: Flipping the education system around.
If Sugara Mitra's belief that schools are "outdated" is accurate, then EDUonGo is here to flip the script. The company's innovative approach aims to usurp isolated learning with collaborative learning. Its revamped education model is currently being utilized by over 1,000 K-12 schools around the globe.
"Flipped Learning" sets up students to consume prepared online lectures in the comforts of their own home. They come to class, equipped with foundational knowledge of the material, ready to collaborate on their "homework" with other students and their instructor. It's a novel re-envisioning of the traditional learning model.
3. Tableau
Big Idea: Analyzing data involved in institutional research.
Founded in 2003, Tableau has become the de facto leader of sorts for all things analytics and every statistician's dream product. Its software enables institutions to easily organize and analyze complex and dense data points, including the research regarding student and alumni development statistics.
Among the many schools currently employing Tableau's analytics software are Yale, Cornell, and Oxford.
4. Okta
Big Idea: Changing the way institutions access their apps and work in the cloud.
San Francisco's own Okta is dedicated to making IT departments breathe a little easier. While there are more robust solutions for IT needs, Okta's reliance on the cloud technology is was developed for keeps costs relatively low. It integrates on-premises applications, existing directories, and identity systems.
This solution is actually two-fold. First, IT departments can securely manage the access to their apps, services, and portals quickly and efficiently. Second, it allows enterprise users Single Sign-On so that they can log-into all their connected apps at once. Schools that have hopped on the Okta bandwagon include Harvard, Seton Hall, and Northwestern.
5. Blue Jeans
Big Idea: Making distance learning more accessible.
California-based Blue Jeans was founded in 2009 with a goal of interoperability in mind. Product Marketing Manager Eric Tooley explains that Blue Jeans functions as a service that aims to "bring together all soft end points" of communication, allowing for virtual office hours and guest lectures to become commonplace.
The product has already seen implementation in education; schools- such as Stanford University and Brandeis University- are using Blue Jeans to handle their distance learning programs from any device without the need for everybody to be on one app.
6. Kaltura
Big Idea: The open-source video management solution for institutions.
Open source media company Kaltura makes it possible for schools to create, customize, brand, publish, monetize, and analyze their own media repositories in the cloud. VP of Education, Justin Beck, explains that although the company "stumbled into education", its technology has made perfect sense for this vertical.
Their recent purchase of Tvinci leaves the company some room for expansion into OTT and mobile-heavy services. Currently, schools like Oregon State, Cornell, and Ohio State have teamed with Kaltura to build their video platforms for use by educators, students, and prospective partners.
7. Caspio
Big Idea: Simplifying the way schools set up, manage, and utilize databases.
Schools make use of databases to keep track of and maintain information. But what makes Caspio especially impressive is the fact that it's essentially given a fresh new look to how you can handle databases. Caspio has replaced coding needed for powerful databases with point-and-click wizards that can get you going quick.
Caspio handles databases in a way that makes the user feel like they don't need the technological savvy to create the complex databases they're envisioning. Based in Santa Clara, California, the company now works with major universities that include Yale, Oxford, and Stanford. Case studies show that Caspio's product can save a school as much as 95% when compared to the costs associated with traditional database programming.
8. Prezi
Big Idea: Changing the way schools look at presentation models.
Launched in 2009 out of Hungary, Prezi has taken the world by storm. Ashley Whitlatch, Prezi's Global Education Relations Manager explains that while most presentations make use of traditional slides, Prezi's zoomable canvas allows users to forge more memorable links "between the big picture and small details."
With regards to education, the goal here isn't necessarily to globalize it; the goal is to revolutionize the way educators engage with students. Gone are the days of traditional bullet points and slides flipping from one to the other unceremoniously. Among Prezi's major adopters are Stanford and Georgetown, two schools taking full advantage of its collaboration and interaction features.
9. LogMeIn
Big Idea: Making a school's IT accessible from anywhere.
Distance learning deals with lots of machines at lots of locations, rendering traditional school IT departments unable to meet everyone's needs. Enter LogMeIn Rescue. Founded in 2003 with a focus on enterprises, the company has added ripples to its arsenal in recent years to take on the challenges of globalized education.
With IT departments having to quickly address the technical demands of students and faculty across the globe, LogMeIn Rescue has helped their cause. A case study from Fordham University points out that same-day incident resolutions are up 35% since their switch to the cloud. Other institutions are now following suit.
10. Box
Big Idea: Making it easier to collaborate between students, educators, and faculty.
Box has been making a lot of noise recently for its upcoming IPO, but it's been making headway for years in the education sector. Armed with top-notch security and collaboration features, Box is becoming a standard in the classroom. Among its celebrated collaboration features are shared workspaces, and version history.
Prominent schools that have switched to Box's cloud ecosystem are Emory University and the University of Michigan.
Conclusion
Education is benefiting from the shift to cloud.
Technology is making it possible for classrooms to extend past its traditional four walls and scale to influence students on a global level. As higher institutions resolve to make cloud-based online education a staple in their academic arsenals, these 10 companies are equipped to make this possible. With cost-effective backend solutions and innovative frontend products available, truly globalizing education is becoming more and more a reality. And maybe this can keep it from becoming too "outdated". For more information on how to use cloud-based technology in teaching, read our article: The Teacher's Guide To Writing In The Cloud.
Source GetVoIP
Charles Samuel is Senior Editor at GetVoIP. When he's not writing, he's making music, doing graphic design work, or managing his blog. He is interested in all forms of geekery, including, but not limited to, technology and discussions about Firefly.