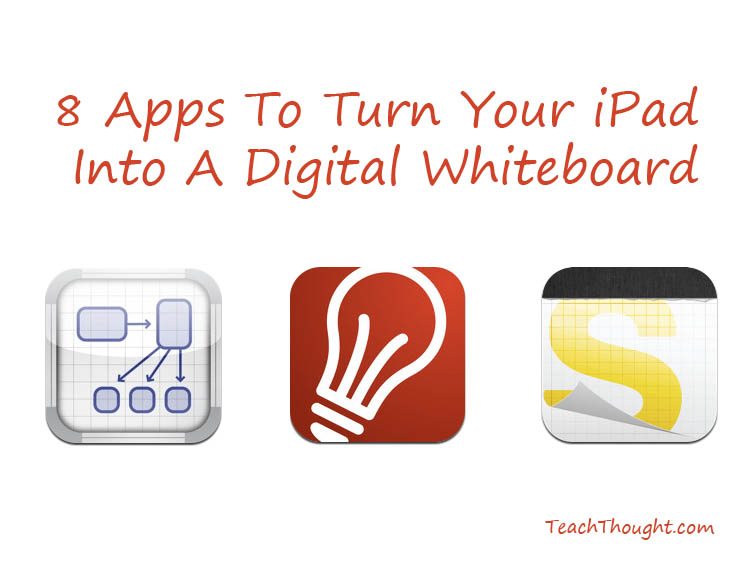 Whether you're interesting in blending, flipping, personalizing, or differentiating your classroom, technology can be a huge help. Technology gives students direct access to content, which frees the teacher up for other roles.
iPads function exceptionally well in this capacity, and one of their talents is to function as a digital whiteboard. Whether you want to lead an in-person class through the iPad screen, or you need remote access to eLearners or others in a school-to-school program, you've got options. Below are 8 apps (with various strengths and weaknesses–the only way to know if they truly fit your needs is to try them, unfortunately) that can help you blend and flip your classroom–or just give students more direct access to you, one another, and the content.
8 Apps To Turn Your iPad Into A Digital Whiteboard
1. Doceri
Price: Free to try, $4.99 for full version
More information from developer: "Doceri allows me to present a lesson from anywhere in the classroom; a big plus when trying to manage 32+ middle school students. To actually see what I am writing and replay it while facing my students with my back to the board is amazing! I can work out equations ahead of time, or live in front of the students." Anne Whitman, 7th grade math teacher at Oakdale Jr. High in California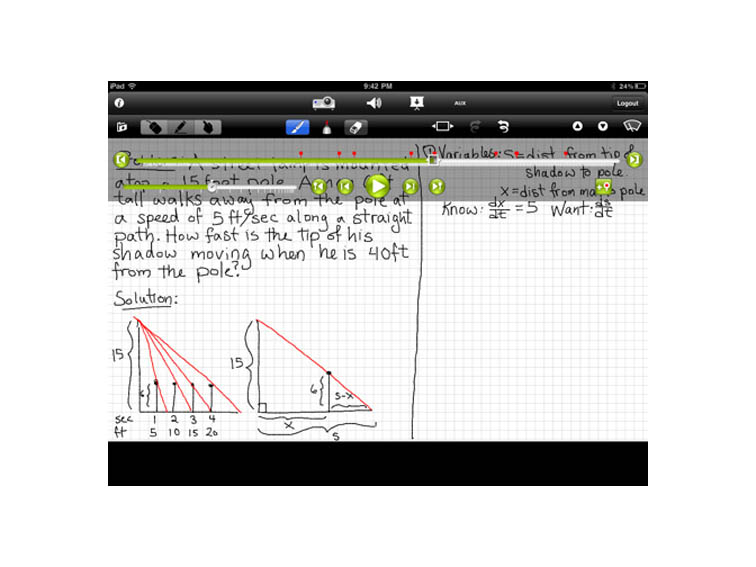 2. Educreations Interactive Whiteboard
Price: Free
More information from developer: "Educreations turns your iPad into a recordable whiteboard. Creating a great video tutorial is as simple as touching, tapping and talking. Explain a math formula. Create an animated lesson. Add commentary to your photos. Diagram a sports play. With voice recording, realistic digital ink, photos and text, and simple sharing through email, Facebook or Twitter, now you can broadcast your ideas from anywhere.
3. ShowMe Interactive Whiteboard
Price: Free
More information from developer: "Turn your iPad into your personal interactive whiteboard!ShowMe allows you to record voice-over whiteboard tutorials and share them online."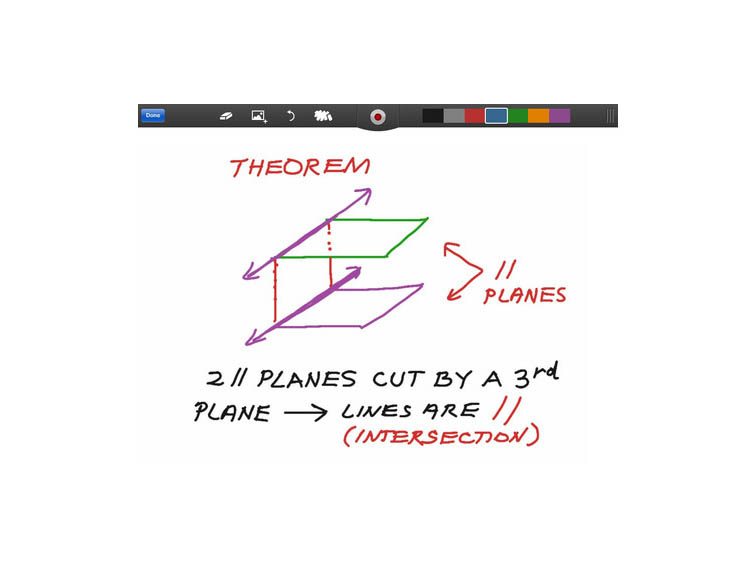 Price $4.99
More information from developer: "Collaboration on preliminary sketches, group brainstorming and student projects are all perfect uses for Whiteboard. You can even share ideas through external monitors or projectors in multiple aspect ratios when used with the iPad VGA adapter. At the end of class or a meeting, it's easy to save and bookmark notes, images and diagrams in the apps project manager, then send out a copy of the groups work via email."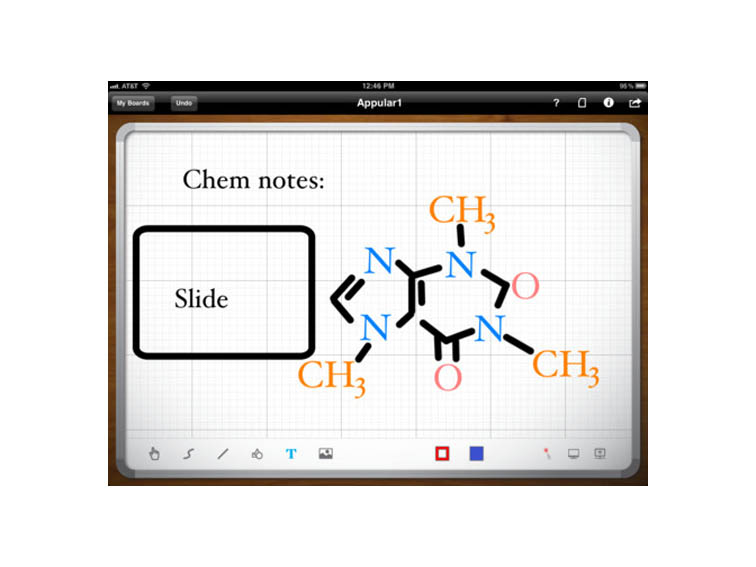 5. Syncspace
Price: $8.49
More information from developer: "SyncSpace lets people express and explore visual ideas together, wherever you are. It is a zoomable drawing space that can be shared in real time over the net. It is a shared whiteboard plus a whole lot more."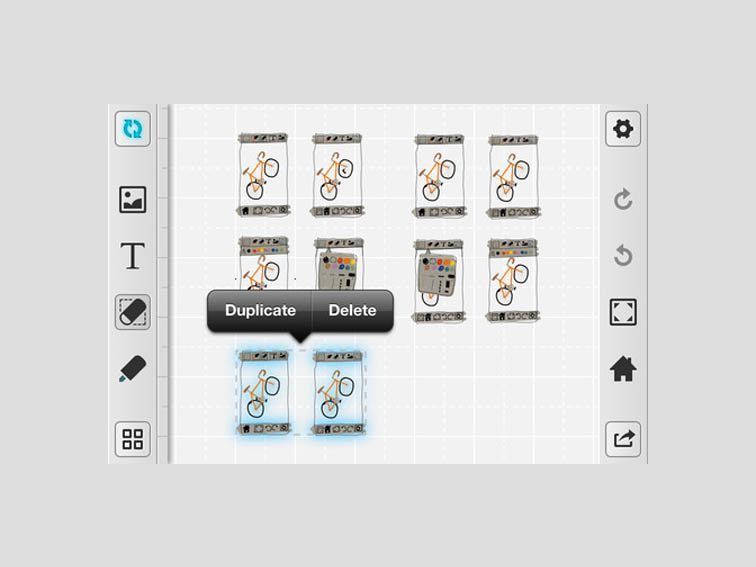 6. Jot! 
Price: Free
More information from developer: "Jot! is a simple, fast whiteboard that lets you sketch out your ideas and share them in real time. Draw, take notes, or wireframe on your iPad quickly and easily as soon as ideas come to you. Share your ideas via email or save them as photos. Collaborate in real time over the internet with Live Sharing."
7. BaiBoard
Price: Free
More information from developer: "Live collaboration from iPad, Mac and web via 1. Zoomable multi-page whiteboard, 2. Collaborative annotation on PDF docs, and 3. Screen Sharing from iPad to web browser."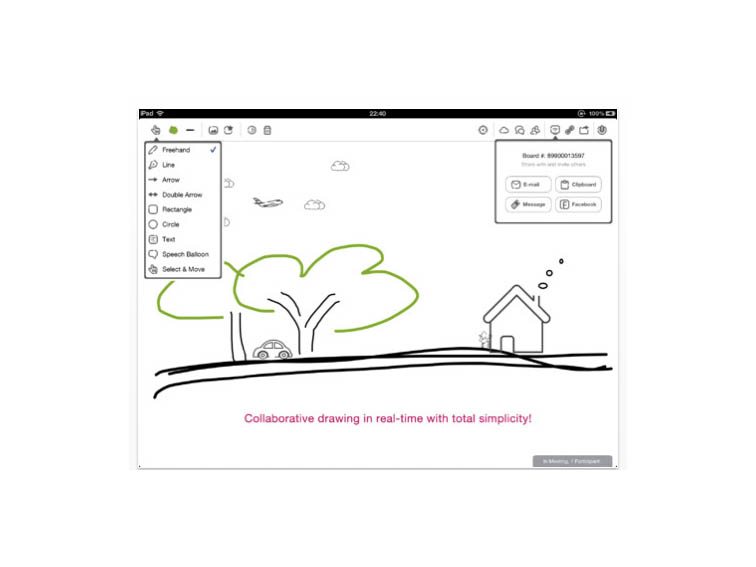 8. Groupboard
Price: Free for 5 students; class sizes available at subscription prices
More information from developer: "Groupboard turns your iPhone, iPod Touch or iPad into a collaborative whiteboard, allowing you to draw and chat in real time with other people anywhere on the internet, even with users using a web browser."