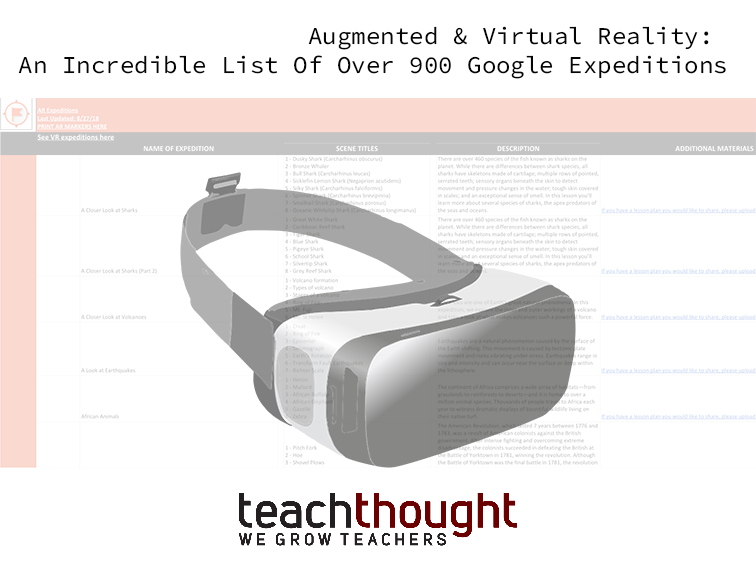 Augmented And Virtual Reality: An Incredible List Of Over 900 Google Expeditions
by TeachThought Staff
Augmented Reality and Virtual Reality are two tools that, for whatever reason, don't seem to generate the kind of buzz they deserve.
Eventually, it won't matter if it becomes 'trendy' or not, virtual reality will almost certainly characterize learning and educational experiences a century from now. But for now, its adoption in K-12 education remains curiously sluggish. (That tablets and smartphones never really caught on but laptops provides some hints as to what classrooms, as they exist, are 'looking for.)
In Why Virtual Reality Is So Important For Education, Terry Heick explained the context for Augmented and Virtual Reality in the classroom.
Virtual reality is a kind of digital reality–a way of using technology to create environments designed for expressly human interaction. This is, of course, different than our physical environment. We are human beings, and human beings are simply one organism functioning interdependently with literally countless other living things. The world isn't designed expressly for us, which is a matter of theological and metaphysical contemplation really. But for context here, it makes sense because it underscores one of the underpinning draws of virtual reality: Through the use of digital technology, virtual realities can be designed precisely for human interaction for very specific reasons to create experiences not otherwise possible.
What Is Google Expeditions?
Google Expeditions is simply a collection of Augmented and Virtual Reality experiences and 'field trips' shared by Google–in this case, as a spreadsheet. Some of the 'expeditions' are more well-supported than others (with lessons plans and supporting links and background), but here in the early days of AR/VR classroom adoption, it is a kind of motherlode of material for teachers and students willing to navigate some of the missing parts and general lack of refinement.
If the embed doesn't work, you can find the full list here.
You can also find more augmented reality and virtual reality teaching resources from TeachThought.
Augmented And Virtual Reality: An Incredible List Of Over 900 Google Expeditions
https://docs.google.com/spreadsheets/d/1ESAaXmrGRDLUZngpXZafDctWfhHNZPNJi6h0Fa9g1s8/edit#gid=0
Augmented And Virtual Reality: An Incredible List Of Over 900 Google Expeditions