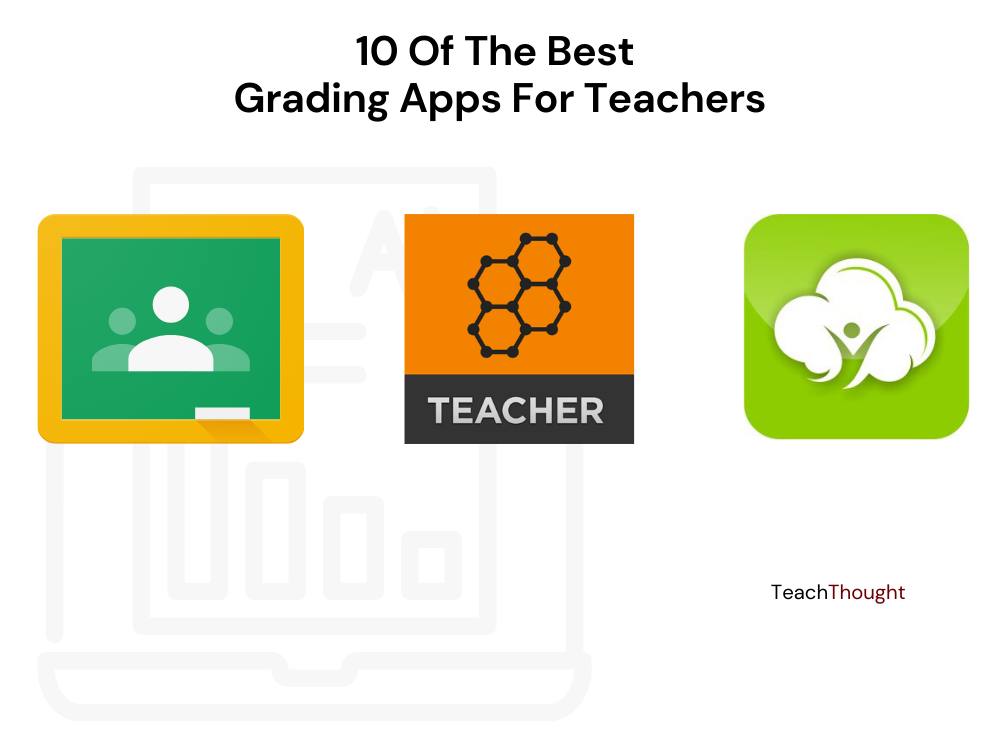 What Are The Best Grading Apps For Teachers?
by TeachThought Staff
Using a gradebook app to grade, report scores, document progress, or other functions may help free up time in your classroom–provided it actually solves a problem: saves time, automates reporting, communicates results to stakeholders, calculates scores instantly, etc.
If not, using a grading app may not be a great fit. But with the right expectations–and application–a grading app might just save you a few precious minutes a day.
The Benefits Of Using A Grading App
Whether or not a grading app is actually useful to you depends on what you teach, the form and function of your lessons, and even your chosen platform (iOS vs Windows vs Chromebook, etc.) That said, generally speaking, you can:
1. Grade faster with an app
2. Easily calculate percentages
3. Scan test responses or other student work into digital portfolios, Google Classroom, and more
4. In some cases, benefit from the ability to automate some aspects of grading and communication of results
5. Improve your grading scope and accuracy
6. Reduce grading time
Mobile grading apps are a useful tool for teachers who want to spend less time grading and more time interacting with their students. We know change can be daunting, but we promise that within this list of apps teachers love, you'll find something you love, too.
These may not eliminate all of your grading problems but hopefully, they help.
1. Google Classroom
Not a pure 'grading app,' Google Classroom automates multiple choice item grading and reporting to students. How To Grade In Google Classroom
Platform: Computer, iOS (11 or later), and Android.
Price: All of Alma's core services are available free. The company also offers packages that include training and support at differing levels of involvement, ranging from a starter package for $500/year to a platinum package at $30,000/year.
Summary: This app is a great way to keep track of your students' grades, schedules, assignments, etc., here are a few of their features: Standards-Based Gradebook, Standards Tracking, Supports Any Standards (including Custom), Supports Any Rubric (including Custom), Blended Learning, Differentiated Assignments, Personalized Learning Schedules, and Google Classroom Integration.
Platform: Android and Computer
Price: Premium: $49.95/year, Solo Gradebook: Free.
Summary: Think Wave is a very good option for online school, distant learning, grading, and more. This app comes with free limited features, such as: automatic mass email to students and parents, distribute & collect assignments online, advanced messaging system, quick and easy access to all needed data, powerful custom reports.
With Think Wave Premium you unlock many more features, such as: custom report cards and transcripts can be printed or delivered electronically, new messaging and emailing systems provides easy communication between teachers, parents and students, teacher gradebooks distribute and collect assignments online, integrated management software for COVID-19 distance learning, the cloud-based solution provides security and reliability, and finally, all-inclusive license includes support and upgrades.
4. GradeCam Go
Platform: Mobile and Computer
Price: ranges, Free-$150/year, also has option school/district, $3.00/student
Summary: GradeCam Go is a quality online and hybrid grading/online teaching app. The free option doesn't come with a whole lot, but it's still not bad, at all–here are some of the features, essential Reports (Item Analysis, Assignment, and Class Overview), sync Rosters from Google Classroom or Canvas, scan forms on any mobile device, 10 questions per assignment, mobile-only access, and more. The other plans unlock a plethora of new features such as unlimited questions per assignment, mobile and computer access, advanced question types, instant grade transfer, and more.
Platform: Any
Price: $19.99
Summary: GradeBook Pro is a great way to access your students' grades, schedules, assignments, etc. They have a plethora of ways to track your students' progress, such as past grades, reports, assignments, grids that have tracked all of the students' past grades, and more.
6. ZipGrade
Platform: Any
Price: Free-$6.99
Summary: Zipgrade is a hybrid learning app that helps track students' grades, assignments, reports, etc. You can scan in-person assignments and transfer them onto the app or you can assign a quiz or assignment online.
7. iDoceo
Platform: Any
Price: $11.99
Summary: iDoceo allows you to quickly grade your students, schedule assignments, reports, etc. You can also keep track of upcoming events or deadlines. iDoceo also keeps a number of statistics that can help you grasp your students' progress.
Platform: Computer and Tablets
Price: Free-$99.99
Summary: Socrative Teacher is an app that instantly grades quizzes, assignments, etc. It takes a lot of time off of your hands and makes teaching faster and simpler.
Platform: Any
Price: Free-$19.99
Summary: Teacher gradebook is a way to easily keep track of grades, keep up with your schedule, view past attendance, or keep a class diary.
10. Teacher gradebook spreadsheet templates from Microsoft
Platform: Windows, iOS, Mac
Price: Free
Summary: This is a very simple and inexpensive way to help keep track of grades, schedules, behavior, etc. You can keep all kinds of grids and templates to track anything, you can also make PowerPoints if you wanted.