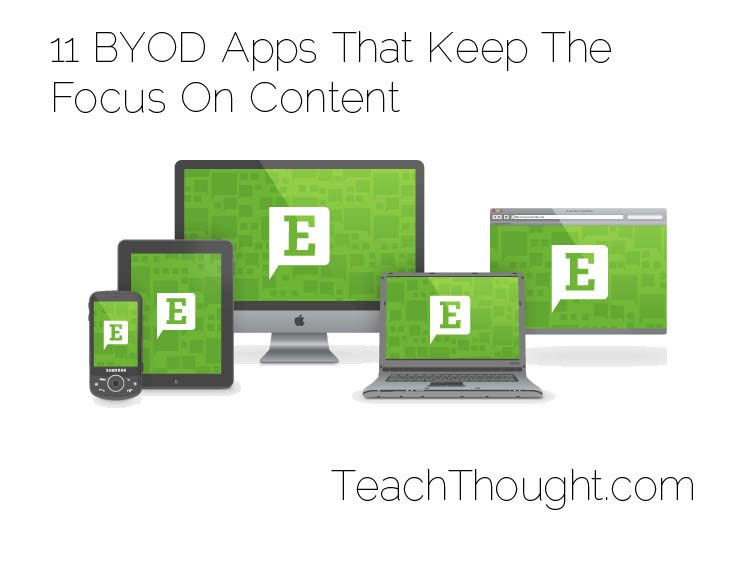 These BYOD Apps Keep The Focus On Content
The definition of "BYOD resources" is admittedly subjective.
Concerns around BYOD usually involve privacy and legal issues, but one of the primary points of BYOD is allowing students to access content and curriculum directly via devices they're familiar with. The following 11 apps can be used in a BYOD classroom to help keep the focus on content and publication, rather than the aforementioned digital fences that academic institutions can sometimes get distracted by.
1. YouTube
One of the single-most popular apps on earth, regardless of platform or device, YouTube is the modern television, and is likely installed–or at least accessible–on every device in your students' pockets.
2. Evernote
A note taking app that you can use across computers and mobile devices. The automatic sync feature allows you constant access to your information. In the classroom, students can use Evernote to take notes, develop their writing, and share their notes through email.
3. Dropbox
Teachers and students can easily share documents, pictures, and videos between multiple devices.
4. Google Drive
Students can develop their writing and share it with other students and teachers for feedback. Users can create documents, spreadsheets, and slideshows that automatically save.
5. Socrative
Teachers can easily assess students using Socrative by creating an online quiz or exit ticket that students can access on their mobile device or computer.
6. Padlet
Teachers create a wall where students can post their thoughts, pictures, and videos about a topic. Teachers can choose if the wall is shared just with the class or to the general public. It can even be added to your teacher website or blog.
7. Wordpress
Teachers can start a blog to give students easy access to all the links they are using for lessons in the classroom.
8. Kid Blog
A safe site for students to create their own blogs to share with other students and the teacher.
9. Livebinders
Another way to organize and share information online with students. Teachers can collect articles, pictures, and links on different topics for lesson plans. LiveBinders also has several "binders" accessible to the public that are dedicated to BYOD
A service that allows teachers to design lessons and gather links for students to explore. The free resources area includes a library of videos, pictures, articles, and lessons.
11. Tumblr
Tumblr in education doesn't get much attention, which is odd because there may not be a simpler or more elegant way for students to share a wide variety of media, from text to images, video to gifs. And the best part? They're familiar with it. They may not like when you "school up" their favorite app, but, well, that's what we're here for isn't it?