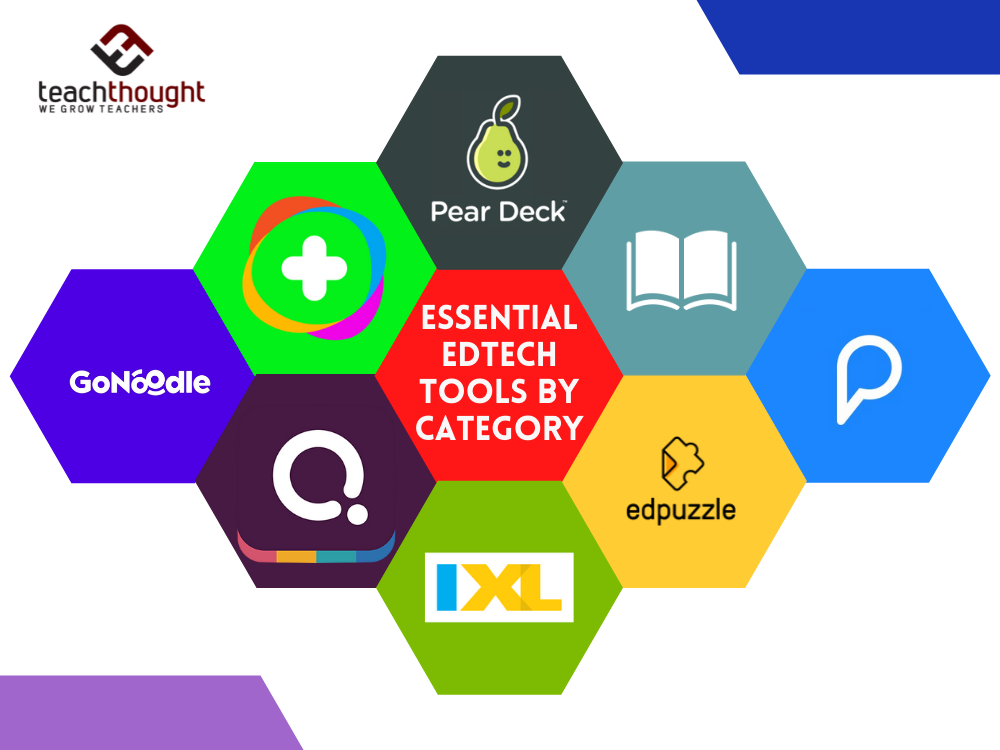 What Are The Most Essential EdTech Tools?
Technology and education are pretty intertwined these days and nearly every teacher has a few favorite tech tools that make doing his or her job and connecting with students a little bit easier and more fun for all involved. Yet as with anything related to technology, new tools are hitting the market constantly and older ones rising to prominence, broadening their scope, or just adding new features that make them better matches for education, which can make it hard to keep up with the newest and most useful tools even for the most tech-savvy teachers.
Here, we've compiled a list of some of 100 essential edtech tools, including some that are becoming increasingly popular and widely used, that should be part of any teacher's tech tool arsenal this year, whether for their own personal use or as educational aids in the classroom.
1. Social Learning
2. Learning Content
3. Lesson Planning
4. Useful Tools
Naturally, many of these tools fit nicely in more than one category.
Social Learning
These essential edtech tools use the power of social media to help students learn and teachers connect.
1. Flip
Create video prompts and discussion forums where students can pose, respond to, and comment on other students' video responses
Engage students within and across classes using live online polling, surveys, question-and-answer forums, formative assessments, word clouds, and more!
3. Kahoot
You've likely heard of this formative assessment tool that engages students in live competition. Kahoot grants teachers access to a content library of thousands of formative assessments on topics ranging from STEM and robotics, SEL, space, civics, and Disney (for when the students are clamoring for a brain break).
4. Peergrade
Incentivize students to deliver and apply constructive feedback from students in their class. The teacher creates an assignment and rubric and students submit their work in text, file, video, link or Google Doc form. Next, students can provide anonymous feedback using the rubric. Students can then access their feedback and ask follow-up questions. All the while, the teacher has a complete overview of the entire process.
5. Headspace
Introduce students to the essentials of meditation and mindfulness with the Headspace app. Over 25 published studies have demonstrated the impact that Headspace can have on outcomes like stress management, attention/focus, and compassion.
6. GoNoodle
Need a brain break? GoNoodle is sure to get students moving while integrating lessons on personal and social wellness and physical/mental health in fun, energetic ways.
7. AllSides
AllSides aims to build a stronger democratic society by providing balanced news articles, diverse perspectives, and authentic discussion. The site categorizes content according to news from the 'left,' 'right,' and 'center' of the American political spectrum.
8. Padlet
Padlet is a collaborative learning app where teachers can create discussion forums, idea boards, timelines, maps, and portfolios. The digital board updates in real-time as students contribute thoughts, ideas, and questions.
9. ClassDojo
Used by 95% of U.S. schools, ClassDojo is one of the best essential edtech tools for building strong and connected classroom communities. Teachers can reinforce students' positive skills, values, or attributes (like sharing, showing integrity, or supporting a peer). They can engage parents by sharing photos and videos of positive classroom moments.
10. Gimkit
Gimkit is a classroom game-show platform where students can compete by answering questions on their laptops or phones. Games are called 'kits' — teachers can create their own, borrow from other teachers, or import existing quizzes from Quizlet.
11. Parlay
Drive meaningful and inclusive student-led discussions using Parlay's library of open discussion topics created by teachers around the globe. Browse and bookmark from thousands of prompts, publish your own prompts with ease, and curate your own class portfolio.
12. Seesaw
Used by over 10 million teachers, students, and parents, Seesaw includes built-in multimodal tools to create digital student portfolios, allowing families to better understand their child's learning and support them at home. Teachers can access all stages of student thinking and progress, enabling them to better differentiate.
13. Book Creator
Combine text, images, audio, and video elements to design interactive stories, digital student portfolios, research journals, poetry books, lab reports, how-to manuals, personal narratives, and comic strips.
14. TinyTap
Create personalized learning apps and play thousands of learning apps shared daily by a global community. Teachers can create fun educational activities for a variety of content areas and age groups.
Essentially a whiteboard for remote learning, Explain Everything allows you to share recorded video lessons, collaborate among teachers and students, and livecast your whiteboard.
16. Edmodo
Teachers and students can take advantage of this essential edtech tool, as it offers a Facebook-like environment where classes can connect online.
17. Grockit
Get your students connected with each other in study sessions that take place on this great social site.
18. EduBlogs
EduBlogs offers a safe and secure place to set up blogs for yourself or your classroom.
19. Skype
Skype can be a great tool for keeping in touch with other educators or even attending meetings online. Even cooler, it can help teachers to connect with other classrooms, even those in other countries.
20. Pinterest
You can pin just about any image you find interesting on this site, but many teachers are using it as a place to collect great lesson plans, projects, and inspirational materials.
21. Schoology
Through this social site, teachers can manage lessons, engage students, share content, and connect with other educators.
22. Quora
While Quora is used for a wide range of purposes, it can be a great tool for educators. It can be used to connect with other professionals or to engage students in discussion after class.
23. Ning
Ning allows anyone to create a personalized social network, which can be great for both teachers and students alike.
24. ePals
One of the coolest benefits of the Web is being able to connect with anyone, anywhere. ePals does just that, but focuses on students, helping them to learn languages and understand cultures different from their own.
Learning Content
These essential edtech tools can help you to make lessons fun, interesting, and more effective.
25. Prodigy
Motivate learners and differentiate math content with Prodigy — an adaptive gamified learning platform for students in grades 1-8.
26. NoRedInk
Assign authentic assessments, adaptive practice, and high-interest content to help students grow as readers and writers. The NoRedInk curriculum library includes lessons on parts of speech, commonly confused words, citations and plagiarism, and organization, to name a few.
27. CommonLit
Over 75,000 schools use Common LIt, which allows educators to filter through an expansive library of content based on grade level, content type, lexile range, genre, theme, literary device, language, or standard. Assign formative assessments or questions meant to prompt reflection and discussion.
28. Newsela
Newsela publishes up-to-date articles on a range of topics — the coolest thing about this tool is that it allows teachers to differentiate a news article based on a student's lexile level. Content is also categorized according to its subject-specific standard.
29. Code.org
This nonprofit platform grants access to curated resources designed to help students learn how to code. Students can access coursework on their own and progressive through more difficult lessons on block-based coding tools and written code.
30. IXL
Used by over 12 million students, IXL provides comprehensive K-12 curriculum in mathematics, language arts, science, social studies, and Spanish. Educators can access analytics, make recommendations, conduct real-time diagnostics, and grant awards for student performance.
31. GeoGebra
GeoGebra offers free online tools for lesson activities, graphic, geometry, and collaborating whiteboard use.
32. edpuzzle
Teachers can choose any video (i.e. YouTube, Khan Academy, or Crash Course) and add questions to turn it into a formative assessment. Students can progress at their own pace.
33. Nearpod
Nearpod gives live insights into student comprehension via interactive lessons, videos, gamification, and activities.
34. Quizizz
Discover and design gamified formative assessments and interactive lessons to engage students in any content area and grade level.
35. Formative
View student work in real-time, provide feedback, track student growth, and collaborate with other teachers all in one platform.
36. Pear Deck
Use this interactive presentation tool (which integrates with Google Slides) to engage students in individual and whole class learning. Teachers can design, share, and present their Pear Deck slides from any device.
37. Desmos
Desmos offers a free suite of math software tools, including a graphic calculator and scientific calculator. Digital classroom activities are guided by a pedagogical philosophy that prompts students to explore content in depth, collaborate meaningfully with peers, and apply knowledge as mathematicians.
38. Floop
Provide student feedback through drag-and-drop comment banks and feedback anchored to specific locations on student work. Empower students to provide constructive feedback through guided peer review sessions. Scaffold prompts to differentiate among learners. Provide prompts to encourage student metacognitive.
39. SplashLearn
SplashLearn lets teachers differentiate instruction by assessing gaps in learning and grouping students. Create personalized learning plans for students and gain insights on class progress.
40. Google Lens
Translate text in live time, look up word meanings, schedule events to your calendar, make phone calls, identify plants and animals, get help on math homework — is there anything this app doesn't do?
41. playposit
Create interactive video content where learners can apply new information at their own pace in a digital environment. Teachers can select from multiple choice questions to fill-in-the-blanks, provide feedback to students, track performance, assign grades, address areas of needed improvement, sync rosters, and enrich a flipped classroom.
42. Whiteboard.fi
A Kahoot company, Whiteboard.fi is a free online whiteboard tool where teachers can ask questions, wait for student responses to appear, and assess learning in real time.
43. bulb
bulb is the only online teaching platform that tracks instructor curriculum and PD and student work for life. Embed almost 2,000 apps and essential edtech tools with this comprehensive platform.
44. EducationCity
EducationCity specializes in instructional resources for elementary school students. Teachers can access curriculum-mapped content and rigorous assessments with measurable outcomes to support student progression.
45. Khan Academy
Many teachers use this excellent collection of math, science, and finance lectures and quizzes to supplement their classroom materials.
46. MangaHigh
MangaHigh offers teachers a wealth of resources for game-based learning in mathematics.
47. FunBrain
If you're looking for a great collection of educational games, look no further than FunBrain. On it, teachers can take advantage of fun tools for math and reading.
48. Educreations
Educreations is an amazing online tool for the iPad that lets teachers (or students) create videos that teach a given topic. Perfect for studying or getting students to show off their knowledge.
49. Animoto
Animoto makes it simple to create video-based lessons or presentations for the classroom and to share them with students or anyone else.
50. Socrative
Available for computers, mobile devices, and tablets, this student response system engages students through games and exercises on any device they have on hand. Even better, teachers can easily assess student progress and track grades.
51. Knewton
Adaptive learning has been a hot topic in recent months, and with Knewton it's something that any teacher can access and use. The site personalizes online learning content for each student according to his or her needs.
52. StudySync
With a digital library, weekly writing practice, online writing and peer reviews, Common Core assignments, and multimedia lessons available, this site is a fully-featured tool for teaching and learning that can be a big help in the classroom.
Lesson Planning and Tools
Use these essential edtech tools to pull together great lessons and design amazing and memorable student projects.
53. Canvas
Canvas is the ultimate learning management system. Upload curriculum, integrate your favorite education apps, differentiate assessment, track student progress, and access teacher-generated curriculum using this brilliant platform.
54. HyperDocs
Build or borrow digital lesson plans called HyperDocs, which are essentially a lesson embedded in a 1-page document that includes links to outside content and assessments.
55. Google Sites
Build a website to host files, links, lesson plans, discussion forums, and other important course information. We love the idea of using Sites to create a digital binder template that students can reproduce and personalize for remote learning use.
56. Google Forms
Create and share surveys and formative assessments easily with Google Forms. Teachers can export responses to an Excel spreadsheet to conduct item analyses and gain insights on student learning and preferences.
57. Mentimeter
Mentimeter eases the flow of remote and hybrid learning through interactive presentations, polls, formative assessments, and word clouds.
58. Wakelet
Create, organize, and share content with students, teachers, and professional learning communities.
Have great lessons to share? Looking for something to add to your classes? On this site you can do both, selling your own class materials and buying high-quality resources from other teachers.
60. Timetoast
Timetoast is useful cool for student projects, allowing them to build sleek, interactive timelines in minutes.
61. Prezi
Want to build presentations that will wow your students? Make use of this online tool that makes it simple to do all kinds of cool things with your lessons, even allowing collaboration between teachers.
62. Quizlet
Quizlet makes it easy for teachers to create study tools for students, especially flashcards that can make memorizing important information a snap.
63. MasteryConnect
How are your students performing with regard to state and common core standards? MasterConnect makes it simple to track and analyze both, as well as other elements of student performance.
64. YouTube
Not all schools allow YouTube, but they are missing out as the site contains a wealth of great learning materials for the classroom.
65. TED-Ed
TED isn't just a great place to find inspiration anymore, the site also contains numerous videos that are organized by subject and can help you to teach everything from how pain relievers work to Shakespearean insults.
66. Duolingo
67. Snap!
Developed by innovators at UC Berkeley, Snap! is a visual, drag-and-drop programming language that allows users to build their own blocks. It's added capabilities make it a great pick for a thorough introduction to computer science for high school or college students.
68. Scratch
Developed by MIT, the nonprofit Scratch is the world's most expansive free coding coding community for students. Program interactive stories, games, and animations to share with others.
69. Bubbl.us
Create engaging concept maps and notes, brainstorm ideas, and collaborate — the Bubbl.us interface is specifically designed to reduce distractions and increase focus.
70. Anchor
Anchor (by Spotify) allows users to create, distribute, and profit off of self-created podcasts, all for free! Its capabilities include hosting and distribution, analytics, monetization, and creation.
Useful Tools
These essential edtech tools can help you to stay connected, organized, and increase the ease of building multimedia lessons and learning tools.
67. Remind
Send text messages, video/audio/image files, and emojis to individual students, entire classes, or groups within a class — all without using your phone #! Once students are added, you can also connect their parent to their account.
68. Google Voice
When you sign up for Google Voice, you are assigned a random phone number that will show up when you call parents. This is an essential edtech tool for teachers who don't want to stay at school to conduct their parent phone calls, but who also want to maintain appropriate communication boundaries with parents or students. Text and voicemail features are included.
69. Zoom
Stream live video lessons using Zoom, an excellent remote learning tool. Zoom includes chat forums, unique background (to ensure privacy), and breakout room functioning. Schedule meetings ahead of time and restrict access to certain attendees.
70. Loom
Loom enables efficient screencasting for users to share and comment on. Set your notifications to learn when a screencast is viewed or commented on.
71. iMovie
Generate compelling video content — with audio, text, and narration — using iMovie. Share and export completed projects to YouTube or download them as MP4 files.
72. Canva
Canva is the ultimate design tool — choose from a massive library of templates, elements, text, audio, and animation files to create virtually any document you want! From class newsletters to infographics to invitations and announcements, Canva is your go-to tool for creating enticing visuals.
Create a custom QR code for free and fast by inputting a URL, MP3, image, PDF, or social media post. Add QR codes easily to business cards, flyers, brochures — among countless other innovations, teachers have used QR codes in hyperdocs, as bathroom passes, and for checks for understanding.
74. Storyboard That
Create a storyboard using graphics, text, and other multimedia elements using this free digital storytelling tool.
75. Grammarly
Compose clear, concise, and error-free writing content with a virtual, AI-powered, free writing assistant extension on Google Chrome.
76. Zipgrade
Create custom answer sheets and grade student submissions instantly without even clicking a button! Zipgrade allows users to conduct item analyses and tag questions according to standard. This is a seriously useful tool for saving time while grading multiple choice or true/false questions.
77. mote
Send voice messages for free using this platform that integrates directly into Gmail.
78. Kami
The Kami extension allows users to upload PDFs and then highlight, annotate, and type notes on the document, which can then be saved to Google Drive.
79. Touchcast
Turn a class or lesson into an interactive experience with live feedback capabilities, audience polls, and Q&A sessions. Touchcast will also automatically transcribe video content and turn it into an article.
80. Storybird
Boost student writing skills with hundreds of challenges, lessons, quizzes, and writing prompts designed by educators, authors, and content area experts.
81. Draw.io
Draw.io is a free diagramming app that lets users design and share diagrams, charts, and maps in a web browser, and works great with Google Drive.
82. Adobe Scan
Scan, share, and upload physical documents into PDF format with the click of a button.
83. MIT App Inventor
This tool has strong potential for classrooms that use PBL. This tool is an intuitive, visual programming environment that allows users of all ages to build fully functional apps for smartphones and devices.
84. Discord
Host school clubs, student groups, and professional learning communities with this online discussion platform.
85. Piktochart
Create high-quality infographics, compelling presentations, illuminating reports, classroom posters, and more with Piktochart.
86. Poster My Wall
Create vibrant and engaging social media graphics, videos, presentations, posters, and more using Poster My Wall.
87. Countdown Timer
Display this live timer on the board so students can hold themselves accountable and you can focus on supporting students instead of keeping time.
88. Classroom Q
How do you make sure you're assisting all the students who need your help? With ClassroomQ, students can raise their virtual hands by adding their name to a list that the teacher can view in real time. Once a student is assisted, the teacher can remove their name from the queue and move to the next student.
89. Coolors
This cool site helps you create perfect color palettes with the click of a spacebar! Save your palettes to your account, browse other curated palettes, and create palettes generated from uploaded photos with ease.
90. Evernote
Capture great ideas, photos, recordings, or just about anything else on your Evernote account, access it anywhere, and keep it organized. A truly essential edtech tool for lesson planning.
91. Twitter
There are so many ways Twitter can be used in education. Teachers can connect with other educators, take part in chats, share their ideas, or even use it in the classroom to reach out to students.
Google offers a number of great edtech resources for teachers, including email and collaborative apps, videos, lesson plan search, professional development, and even educational grants.
93. Dropbox
Easily store, share, and access any kind of data from anywhere with the easy-to-use and free Dropbox service.
94. Diigo
Diigo lets you treat the web like paper-based reading material, making it simple to highlight, bookmark, take notes, or even add sticky notes.
95. Minecraft Education Edition
Minecraft: Education Edition is an engaging learning tools that hosts learning content and curriculum guides across subjects, includes features and tutorials to support teachers, allows collaboration in a gamified, secure environment, and integrates with Windows, Mac, Chromebook, and iPad.
96. Popplet
You and your students can use Popplet to brainstorm ideas, create mindmaps, share, and collaborate.
97. Google Earth
From geography projects to learning about geological processes, Google Earth can be an amazing and fast way to show students anywhere in the world.
98. DonorsChoose
Need funding for a classroom project? You can get it through this site that hooks up needy teachers with willing donors.
99. SlideShare
With SlideShare, you can upload your presentations, documents, and videos and share them with students and colleagues. Even better, you can take advantage of materials that other have uploaded as well.
100. LiveBinders
Like a real-life three ring binder, this essential edtech tool allows you to collect and organize resources. Much better than a binder, however, the site also comes with tools to connect and collaborate and a virtual whiteboard.