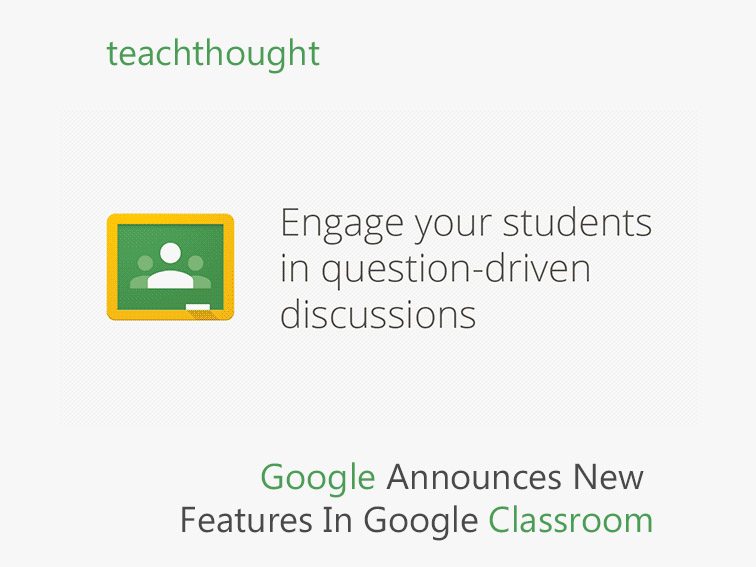 Google Announces New Features In Google Classroom
by TeachThought Staff
At TeachThought, while we love Apple's products, app ecology, and general aesthetic, we tend towards recommending Google for most classrooms. Though they're not mutually exclusive, rare is the classroom that has the budget for Chromebooks and iPads. 1:1 is rare; 2:1 is rarer still.
Google Classroom is the result of Google bundling Google Calendar, Google Drive, Gmail, and other services into something simpler for teachers to use. We recently shared 60 ways to use google classroom, and it's likely we'll need to follow that post up with an updated version as Google continues to iterate their academic side.
Below, courtesy of the Google Education blog are the latest changes to Google Classroom for the 2020 school year. Below those changes are previous changes to Google Classroom towards the bottom of the page.
See also 30 Of The Best Google Classroom Tools For Teachers
1. Drag & Drop On The Classwork Page
"Last fall, we rolled out the new Classwork page, where instructors can stay organized and map out their classes. But, we know that teachers organize their classes in distinct ways and need additional flexibility in their classroom tools. So now, you can drag and drop entire topics and individual Classwork items, rearranging them easily on the page. You can drag an entire topic to a specific location on the Classwork page, or drag individual items within—and in between—topics. This functionality launched last year on mobile, and now it's time for it to hit the web."
2. Refreshed Ux
"Starting today (January 2019), you'll also see that Classroom has a fresh new look and feel, first on the web, and soon in the Classroom mobile apps. Back in 2014, we introduced Google's new material theme to have more consistency across Google products and platforms. Among the changes, you'll see a more intuitive design flow—plus a new approach to shape, color, iconography, and typography, on both the web and the mobile app. We're also making the class code easier to access and project so students can easily find and join. And finally, we're introducing 78 new themes with custom illustrations, ranging from history to math to hairdressing to photography. Now, you can customize your Classroom more than ever before."
3. Updated Training & Support
"With new tools and changes comes the need for more support. In the Teacher Center, you'll find updated videos in our First Day of Classroom trainings with the new design and features we rolled out in 2018. While we're at it, we built a new and improved Help Center, combined with our Community and product forum."
Below are previous changes to Google Classroom.
Other/Previous Changes To Google Classroom Prior To 2019-2020 School Year
1. Post Questions
Phan explains, "You can post questions to your class and allow students to have discussions by responding to each other's answers (or not, depending on the setting you choose). For example, you could post a video and ask students to answer a question about it, or post an article and ask them to write a paragraph in response."
2. Reuse Assignments
If you reuse curricula year after year–or at least reuse documents, there is an update you might like. Phan explains, "Now you can reuse assignments, announcements or questions from any one of your classes — or any class you co-teach, whether it's from last year or last week. Once you choose what you'd like to copy, you'll also be able to make changes before you post or assign it."
3. Improved Calendar Integration
We love changes that improve workflow. Phan: "In the next month, Classroom will automatically create a calendar for each of your classes in Google Calendar. All assignments with a due date will be automatically added to your class calendar and kept up to date. You'll be able to view your calendar from within Classroom or on Google Calendar, where you can manually add class events like field trips or guest speakers."
4. Bump a post
Sticking posts on blogs, tweets, or facebook updates has long been a thing. Now you can do it on Google Classroom as well by moving any post to the top.
5. Due dates optional
Project-based learning, Self-directed learning? Maker ed? If you use long-term projects or other due-date-less assignments, you can now create assignments without due dates in Google Classroom.
6. Attach a Google Form to a post
If you're a fan of Google Forms (here's a post on using Google Forms to create a self-graded exam), this is a change you'll appreciate. Phan explains, "Many teachers have been using Google Forms as an easy way to assign a test, quiz or survey to the class. Coming in the next few weeks, teachers and students will soon be able to attach Google Forms from Drive to posts and assignments, and get a link in Classroom to easily view the answers."
7. YouTube Functionality
Love YouTube, but concerned with objectionable content? Google hears you. "Because it also contains content that an organization or school might not consider acceptable, last month we launched advanced YouTube settings for all Google Apps domains as an Additional Service. These settings give Apps admins the ability to restrict the YouTube videos viewable for signed-in users, as well as signed-out users on networks managed by the admin. Learn more here."