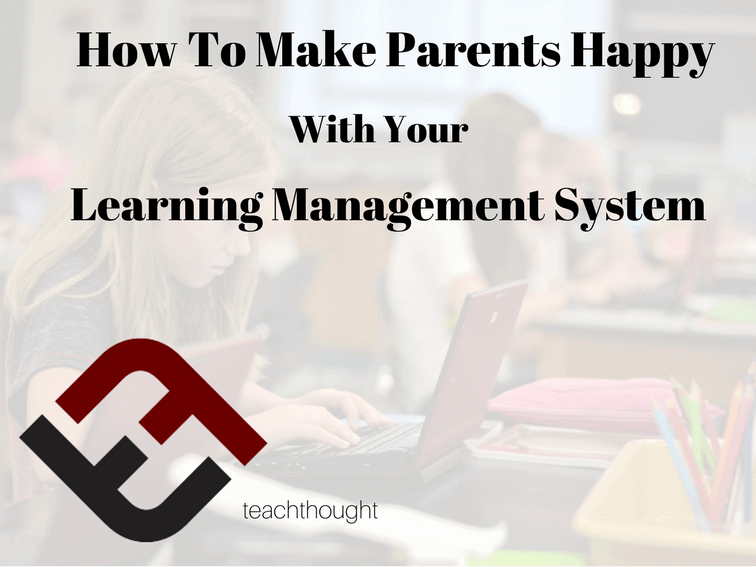 5 Ways Your Learning Management System Can Make Parents Happy
This is sponsored content
by Gary Falcon, choosetwine.com
School-to-home communication is changing. Parents are more connected than ever before, and they have increasingly high expectations about the frequency and quality of interactions with teachers. Technology has opened a wide window, through which parents can view their children's education experience. In this era of transparency, teachers are reminded how important it is to involve parents in day-to-day school activities.
Classroom technology can help build parent satisfaction – particularly when a learning management system (LMS) is implemented. Through the LMS, parents have immediate access to their child's grades and academic progress, as well as the ability to connect with teachers and administrators. The result is an environment that encourages collaboration, transparency and engaging conversations among parents and educators.
Here are five ways to get started.
How To Make Parents Happy With Your Learning Management System
1. Use technology to your advantage
LMS technology makes it easier and faster to communicate with parents. Online discussion threads, mobile apps and email notifications make it possible for teachers to connect with ever-busy parents. An LMS can streamline interactions between the school and highly engaged parents while keeping the lines of communication open. Parents appreciate frequent updates – even if they're brief.
2. Involve every parent
"What'd you learn at school today?" The classic parent question. They want to know what's happening in the classroom on a daily basis. But it's difficult to manage work schedules and find time to play an active role in the education process. An LMS helps teachers involve every parent, regardless of career demands, travel and other complicating factors.
Parents no longer need to physically visit schools to meet with teachers. They can interact through an LMS's conversation thread, send messages via a Group page reserved for parent feedback and even receive updates specific to their children from teachers. Regardless of a parent's circumstances, an LMS can make them feel like a part of their child's life at school.
3. Build an active online community
More and more LMS platforms are adopting features often seen on popular social media sites, such as Facebook. Developing a cohesive community of teachers, administrators, students and parents is critical to sharing information and understanding what is happening in the classroom.
For example, sharing information in a class portal within the Twine LMS feels a lot like sharing a status update in a private Facebook group. Rather than simply providing a space for students and parents to log in and download what they need, create a space that encourages the sharing of ideas and engaging with others. Writing concerns or questions open up a space for reflection where parents can share insights that students wouldn't otherwise share.
4. Help students succeed
When parents have questions, teachers are usually the first people they contact to learn more about what's happening. Teachers often see greater success and a larger response from the parent community when classroom resources and homework materials are posted online. The LMS acts as an information hub for parents, hosting the necessary resources to help their children with homework.
5. Provide a single space for parents
Too often parents are asked to check a public website for school announcements, a second system for reporting grades & attendance, and other systems for homework and class updates. A full-featured LMS brings this all together so parents can log-in once and see announcements from the school, class updates and resources for every class, and a single, consolidated calendar showing all school events, class activities, homework and assessments that are coming up for all their children.
The use of technology – and the selection of the right LMS based on a school's needs – is foundational to supporting and managing school resources, teacher success, student learning, and parents' high expectations.
Gary Falcon is the founder and CEO of Twine, an LMS built specifically for the needs of small to medium private and charter schools. To learn more about Twine, visit choosetwine.com
Disclosure of Material Connection: This is a "sponsored post." The company who sponsored it compensated us via payment, gift, or something else of value to write it. Regardless, we only recommend products or services we use personally and believe will be good for our readers. We are disclosing this in accordance with the Federal Trade Commission's 16 CFR, Part 255: "Guides Concerning the Use of Endorsements and Testimonials in Advertising."